Grassroots Success: More than 1,700 Dartmouth Women Raise $25 Million for Dartmouth Hall
The College's largest alumnae-led collective fundraising effort hits a major milestone; alumnae leaders seek 2,500 donors for the historic renovation.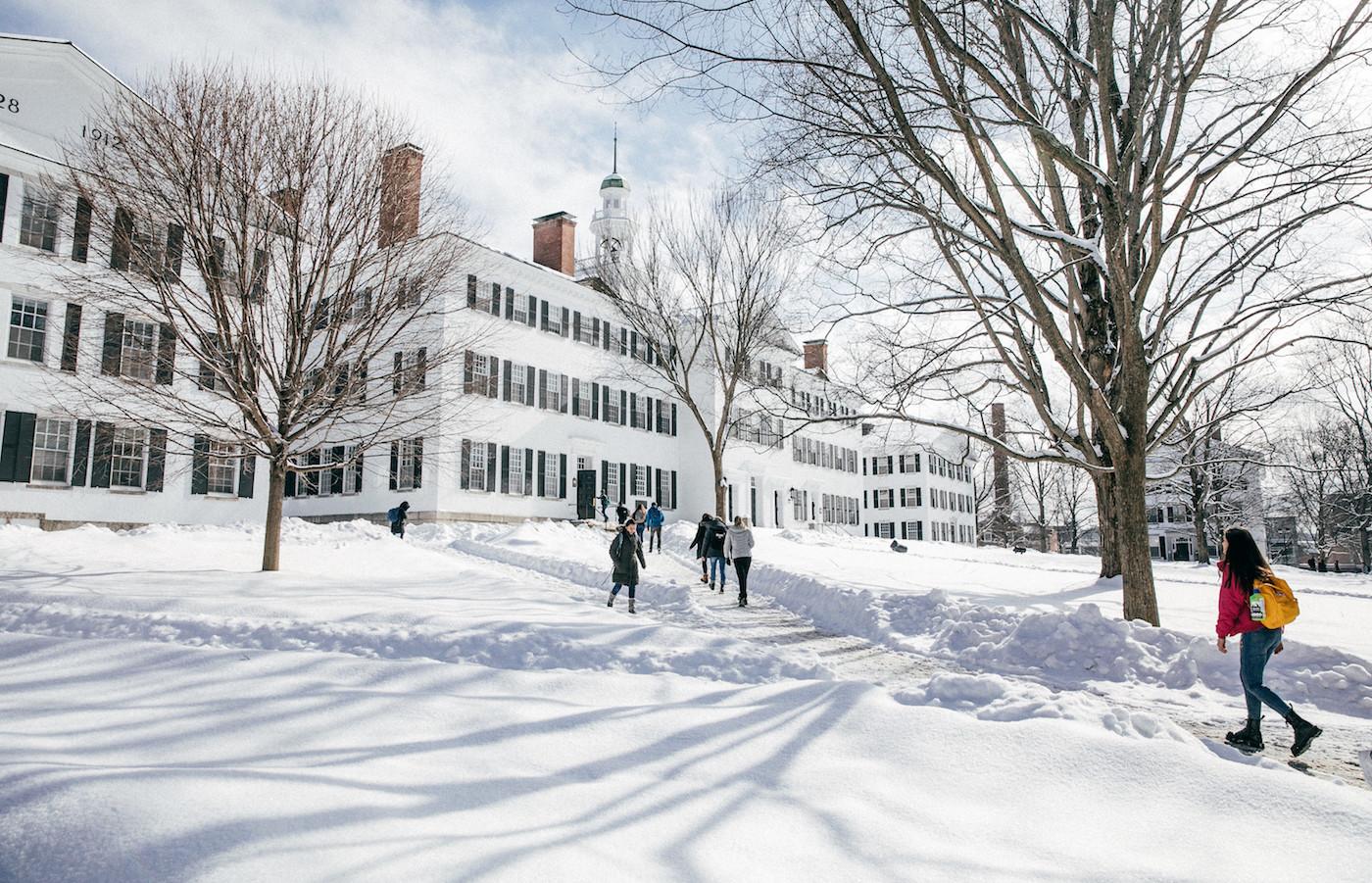 The most ambitious collective women's fundraising effort in Dartmouth history has secured $25 million to restore the heart of the College's undergraduate academic experience—Dartmouth Hall.
Through the generosity of more than 1,700 alumnae and others in the Dartmouth community making gifts through The Call to Lead campaign, Dartmouth Hall will be renovated to meet the needs of future generations of students.
The College has received more than 1,300 gifts and pledges since November, when Trustee Emerita Denise Dupré '80 pledged $5 million to the renovation project once 1,000 alumnae made a gift of any size toward Dartmouth Hall.
Gifts ranged from $10 to $1 million and were received from members of every Dartmouth class from 1969 onward, including current undergraduates.
"We often say you should never underestimate the power of Dartmouth women, especially when working together, but we may have surprised ourselves," said Dupré. "The magnitude of what has been achieved this quickly, with so many talented women taking on leadership roles and generating action, has really caught people's attention." 
Energized by Dupré's challenge, alumnae, students, and friends topped the 1,000-donor mark in less than a month—and the momentum continued into the new year, with the gift tally topping $25 million in early February. All donors will be recognized on a wall of honor in the renovated Dartmouth Hall.
The total cost of the comprehensive renovation project is $42 million, and alumnae leaders have announced their intent to continue fundraising for Dartmouth Hall with a new goal of having 2,500 women participate in this historic endeavor by 2023, when the renovated building is scheduled to reopen.
"From alumnae who were on campus half a century ago at the start of coeducation to current first-year students, women across the generations have come forward to take ownership of this project on behalf of Dartmouth faculty, staff, and students," said Beth Cogan Fascitelli '80, a trustee and member of The Call to Lead Campaign Executive Committee. "We're pausing to celebrate this unbelievable achievement with the community—but only briefly. We hope more and more alumnae will spread the word."
National Leaders
Kathleen Loehr, a senior consultant at the Aspen Leadership Group and an expert on women's philanthropy, said Dartmouth alumnae are at the forefront of a national trend toward bolder alumnae involvement in collegiate fundraising.
"For decades, alumnae-led philanthropy set modest goals. Only recently are we seeing alumnae taking on significant philanthropic challenges, particularly in campaigns, and Dartmouth women are unquestionably leaders in this shift," said Loehr.
Exceeding the $25-million mark for Dartmouth Hall is the latest in a series of achievements recorded by Dartmouth alumnae, who are redefining the role of women in higher education philanthropy. The Centennial Circle of Dartmouth Alumnae now has 259 members who give $100,000 to financial aid through the Dartmouth College Fund or another annual fund; and 77 women—toward a goal of 100—have committed at least $1 million to date to Dartmouth through The Call to Lead campaign. Women serve among the co-chairs of the campaign and have leadership positions in every one of campaign's regional committees.
There has been 100 percent support of the Dartmouth Hall initiative among alumnae serving on the Dartmouth Board of Trustees, Campaign Executive Committee, and the Dartmouth College Fund Committee.
"When we launched The Call to Lead campaign, we knew this ambitious undertaking would strengthen our entire community," said President Philip J. Hanlon '77. "Beginning with the creation of the Centennial Circle, we realized this was a transformative moment in Dartmouth's history, with our alumnae coming together to proudly proclaim their role in shaping the future of the College."
Home to the Humanities
The comprehensive renewal of Dartmouth Hall, one of the most iconic buildings on campus, will preserve the traditional exterior while giving the interior a complete update to meet the needs of current and future students and faculty.
Dartmouth will upgrade classrooms and meeting spaces with modern technology and make the entire building accessible to all. Open, flexible spaces will encourage collaboration across the humanities. In addition to housing several foreign language departments, the renovated building will be home to the Leslie Center for the Humanities and a new writing center. Room 105 will once again become a venue for high-profile gatherings and community discourse.
"For more than two centuries, Dartmouth Hall has represented and embodied the College, serving as the center of its academic life," said Elizabeth Smith, dean of the Faculty of Arts and Sciences. "Honoring the building's remarkable history and embracing the new possibilities that we'll realize through this renovation, the reimagined Dartmouth Hall will produce an intellectual energy that reaffirms its centrality as the crossroads of the campus."
Dupré said she has particularly been moved by the giving of younger women and added that she hoped their participation in Dartmouth Hall's renovation will provide the foundation for all of them to become regular donors who support the College for many decades.
"So many young alumnae and current students are part of this effort," she said. "If this has engaged them meaningfully early on in their Dartmouth alumnae days, how good is that? This perhaps becomes the spark that lights new bonfires."
See how else Dartmouth is answering the call to lead