Priority 1: Affirm Dartmouth's Distinctive Model of Education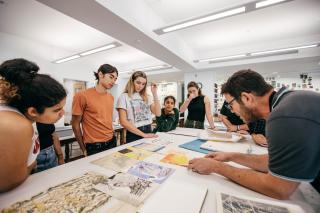 Dartmouth occupies a distinguished niche in higher education: at the intersection of the very best liberal arts colleges and highest-quality research universities. Faculty are both outstanding classroom teachers and leading scholars in their fields. Dartmouth is not only committed to maintaining this distinctive position—it is dedicated to being the preeminent institution for the teacher-scholar model.
Priority 1 Goals
Click to Open
Priority 2: Revolutionize the West End of Campus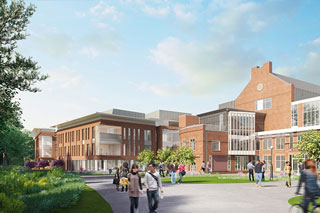 The West End will be the epicenter of Dartmouth's technology- and entrepreneurship-driven collaboration. Home to liberal arts-infused academic programs for both majors and nonmajors, as well as graduate students, the West End will foster the kind of creativity and innovation that prepares future leaders to solve real-world problems and improve the well-being of people everywhere.
Priority 2 Goals
Click to Open
Priority 3: Nurture Creativity Through a Vibrant Arts District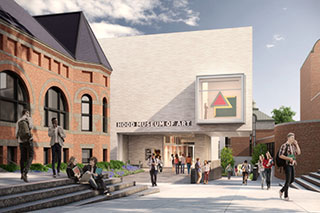 The Hood Museum of Art and Hopkins Center for the Arts have long served the Dartmouth community as hubs of creativity in fine art, performance, and experiential learning. Together with the recently constructed Black Family Visual Arts Center, these two facilities anchor a burgeoning Arts District that is now on the cusp of renewal through renovation. The cultural ripples of this development will ignite campuswide creativity and open new opportunities for incorporating the arts in curricula across all departments and schools.
Priority 3 Goals
Click to Open
Priority 4: Make Big, Strategic Bets on Discovery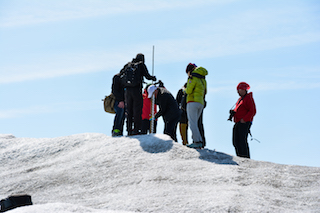 Dartmouth faculty have pushed the boundaries of human knowledge for decades, and they're tackling some of the most urgent challenges facing humankind today. Fueled by early gifts to the campaign, the College has created 10 interdisciplinary academic clusters, each targeting a major global concern. Now Dartmouth is pursuing even more ambitious initiatives, aiming to improve the well-being of entire societies.
Priority 4 Goals
Click to Open
Priority 5: Create a Nationally Recognized Graduate School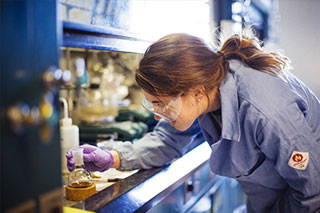 Already nationally recognized for its undergraduate teaching, Dartmouth is committed to raising the profile of its graduate programs. Led by a generous gift, donors are providing a substantial endowment for the graduate school that will allow Dartmouth to offer more fellowships, expand professional development opportunities, and recruit the strongest faculty and graduate students possible, which in turn will benefit undergraduates working alongside them.
Priority 5 Goals
Click to Open
Priority 6: Transform the Residential Life Experience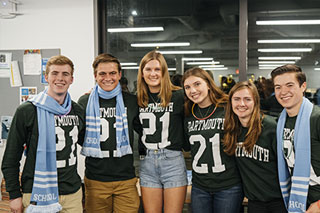 Dartmouth has embarked on the most ambitious transformation of residential life since the introduction of coeducation in 1972. With its six new house communities, Dartmouth is dissolving the barriers between the College's residential and curricular experiences; developing meaningful ways to involve faculty and staff in undergraduate residential life; and creating vibrant hubs of intellectual engagement, community, and continuity.
Priority 6 Goals
Click to Open
Priority 7: Develop Leaders Through Experiential Learning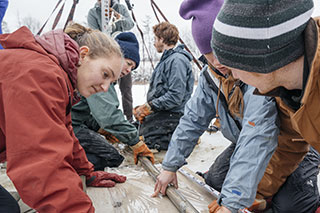 Dartmouth has a long and storied history of minting leaders in every field—some well-known, others recognized for their impact within their respective professions and communities. Dartmouth is now poised to capitalize on its tradition of educating tomorrow's leaders by creating a four-year comprehensive leadership program for every student. The Dartmouth Leadership Project will be the first among the College's top-20 peers with the resources, depth, and capacity to enable every undergraduate to participate.
Priority 7 Goals
Click to Open
Priority 8: Expand the Availability of Financial Aid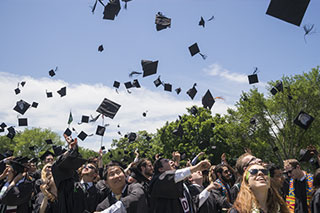 Dartmouth is committed to creating the most highly talented and diverse undergraduate community—young women and men from all backgrounds who, together, realize their greatest capacities as lifelong learners and leaders. Financial need should not prevent any talented, motivated prospective student from attending Dartmouth. The key to ensuring all accepted students can attend Dartmouth: a robust financial aid program that meets their needs.
Priority 8 Goals
Click to Open