Priority 1: Make Dartmouth the preeminent institution for the teacher-scholar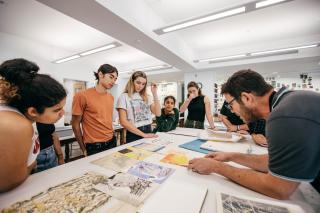 Dartmouth is at the apex of the finest liberal arts colleges and topflight research universities. Faculty are outstanding classroom teachers and leading scholars in their fields. Dartmouth will be the preeminent institution for this distinctive educational model with the liberal arts at its core.
We intend to attract outstanding teacher-scholars committed to Dartmouth's model of teaching; nurture all faculty throughout their careers; and invest strategically to establish new faculty lines in innovative programs that push the frontiers of knowledge.
THE RESULT: Dartmouth will be the unparalleled leader in liberal arts education, with faculty guiding student learning in the classroom and engaging them in the creation of knowledge outside of the classroom.
Priority 1 Principal Initiatives
Click to Open
Support the Teacher-Scholar Model
Priority 2: Create leaders through experiential learning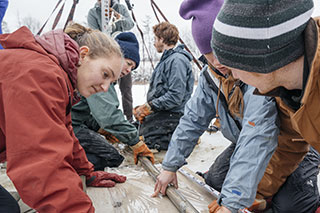 Dartmouth prides itself on preparing the most promising students for a lifetime of learning and responsible leadership through The Nelson A. Rockefeller Center for Public Policy, the John Sloan Dickey Center for International Understanding, the Center for Social Impact, the Dartmouth Outing Club, athletics, and other programs and resources. We are poised to capitalize on our tradition of educating tomorrow's leaders by creating the only four-year, comprehensive cocurricular leadership program among our peers.
We intend to offer a suite of diverse, life-enriching leadership programs that build on Dartmouth's liberal arts tradition. Our program will be the first with the resources, depth, and capacity to enable every undergraduate to participate.
THE RESULT: Leadership for life becomes the guiding principle of every Dartmouth student.
Priority 2 Principal Initiatives
Click to Open
Support Leadership through Experiential Learning
Priority 3: Transform the West End of campus into a collaborative, creative hub for innovation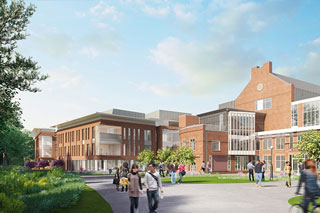 The West End will be Dartmouth's epicenter of technology- and entrepreneurship-driven innovation. Liberal-arts-infused academic programs for both majors and nonmajors will exist side by side with leading-edge, collaborative research among faculty, graduate students, and undergraduates. 
In this compact space on Tuck Drive, we will develop a dynamic, integrated model of teaching computer science and engineering that dovetails with Dartmouth's renowned liberal arts program; strengthen and broaden the global features of the Tuck School of Business's MBA program; and encourage all students to conceive and create new technologies and opportunities for entrepreneurial ventures.
THE RESULT: The West End will foster the creativity and innovation that prepare future leaders to solve real-world problems, allow new and unprecedented discoveries, and improve the well-being of people everywhere. 
Priority 3 Principal Initiatives
Click to Open
Priority 4: Elevate Creativity Through our Vibrant Arts District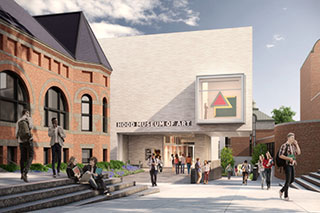 The Hood Museum of Art, Hopkins Center for the Performing Arts, and Black Family Visual Arts Center anchor a burgeoning arts district on the cusp of renewal through renovation.
A major renovation of the Hop will provide more flexible and varied spaces for creation and performance, and will embrace new technologies to document and share Dartmouth-originated artistic performances with communities around the globe.
The expansion of the Hood Museum will provide new spaces for object-based, hands-on, educational encounters with art that will also create new cross-disciplinary points of engagement with Dartmouth's professional schools.
THE RESULT: Dartmouth will be a catalyst for the creation and performance of fine and performing arts within a rich liberal arts tradition, leveraging new and emerging technologies to enhance the study, teaching, creation, and expression of the arts across campus and out into the world.
Priority 4 Principal Initiatives
Click to Open
Priority 5: Make big, strategic bets on discovery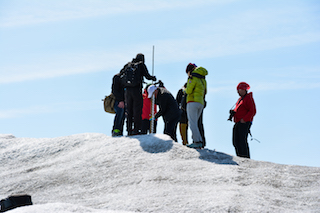 Dartmouth is poised to lead the world in tackling some of our most urgent global issues:
Meeting the energy demands of the future in a sustainable manner
Advancing the fight against cancer
Developing effective and affordable health care systems
Understanding climate change effects on the Arctic and its communities
We will invest in facility and programmatic needs for the new Arthur L. Irving Institute for Energy and Society; recruit new faculty and expand programming for the Norris Cotton Cancer Center, the Dartmouth Institute for Health Policy and Clinical Practice, and the Institute of Arctic Studies; and support the student and faculty programmatic needs of the Academic Cluster Initiative.
THE RESULT: Using Dartmouth as their base camp, our faculty will make world-changing discoveries that benefit the planet and its people and provide our students at all levels with unparalleled experiential learning opportunities across disciplines.
Priority 5 Principal Initiatives
Click to Open
Priority 6: Solidify Dartmouth's role as a knowledge creator through the new graduate school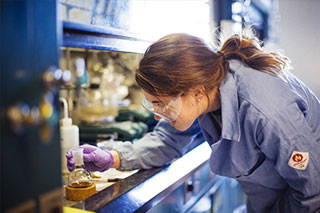 Great research is built on teamwork, and graduate students play a vital role. The Frank J. Guarini School of Graduate and Advanced Studies is built on that model and reflects Dartmouth's core commitment to the liberal arts. Created in 2016 from a longstanding graduate program that enrolls nearly 1,000 students in 35 programs across 12 disciplines, it is the first new school to be established at Dartmouth in over a century.
The graduate school's mission is to cultivate diverse talent and promote groundbreaking work involving graduate and undergraduate students.
In April 2018, Dartmouth named the school in honor of Frank J. Guarini '46, a former congressman, delegate to NATO, and U.S. representative to the United Nations, who has made a historic commitment to endow the school.
THE RESULT: Dartmouth will graduate high-impact teacher-scholars and globally minded problem-solvers who will go on to the faculties of major institutions of higher education as leaders in their disciplines.
Priority 6 Principal Initiatives
Click to Open
Priority 7: Build a stronger community through strategic investments in the residential life experience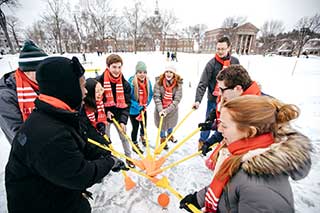 Dartmouth has embarked on an ambitious transformation of the undergraduate residential experience. Our new House Communities, led by members of our world-class faculty, are promoting intellectual engagement, building community, and providing more continuity. The House Communities give every student a home base and a residential community to come back to, wherever the D-Plan takes them.
House Communities endowments will support programming such as events with distinguished alumni, visiting artists, and guest speakers; intramurals and outdoor activities; House trips; and social impact projects.
THE RESULT: Dartmouth undergraduates will have a stronger, more connected, and more vibrant residential experience.
Priority 7 Principal Initiatives
Click to Open
Priority 8: Expand financial aid to ensure that every student has access to the full Dartmouth experience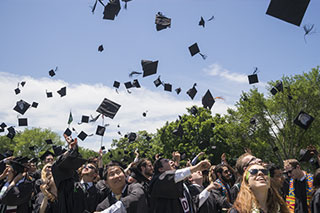 Bringing together students from different backgrounds—socioeconomic, cultural, geographic—creates a richer learning environment for all. Building and maintaining this diverse student body requires a strong, competitive financial aid program that meets the needs of every student enrolling at Dartmouth.
We intend not only to maintain our policy of need-blind admissions for domestic students, but also to eliminate the Dartmouth student-loan burden for all families; expand need-blind admissions for foreign applicants; and provide financial support to make foreign study available for every Dartmouth undergraduate.
THE RESULT: Dartmouth will be one of only a few global institutions that offers need-blind admissions to U.S. and international students, creating an economically and socially diverse student body that reflects the world.
Priority 8 Principal Initiatives
Click to Open
Priority 9: Energize annual giving to keep Dartmouth affordable for all students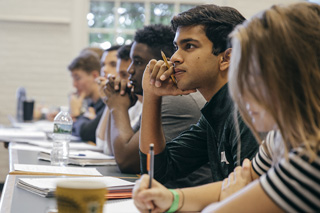 Few schools do what Dartmouth does: Through the collective support of our community—more than 24,000 alumni each year—we deliver the equivalent of a $1 billion endowment. Robust annual giving advances the Dartmouth tradition of alumni working together to support new generations of students. The Dartmouth College Fund is the primary source of financial aid at Dartmouth and plays a central role in our ability to compete for students. Half of our undergraduates rely on financial aid, and gifts to the Fund are the largest source—58 percent—of Dartmouth financial aid.
For our professional schools, annual fund gifts are vital to attracting the best students and responding nimbly to strategic opportunities. Annual giving is crucial to ensuring today's students have rich experiences in and out of the classroom, and is a vital part of The Call to Lead.
THE RESULT: Over the life of the campaign, Dartmouth will maintain one of the nation's highest giving participation rates, enabling every part of the Dartmouth experience for every Dartmouth student.
Priority 9 Principal Initiatives
Click to Open