Record Gift Will Enhance Athletic Excellence at Dartmouth
Stephen and Diana Lewinstein support Dartmouth's Ivy League competitiveness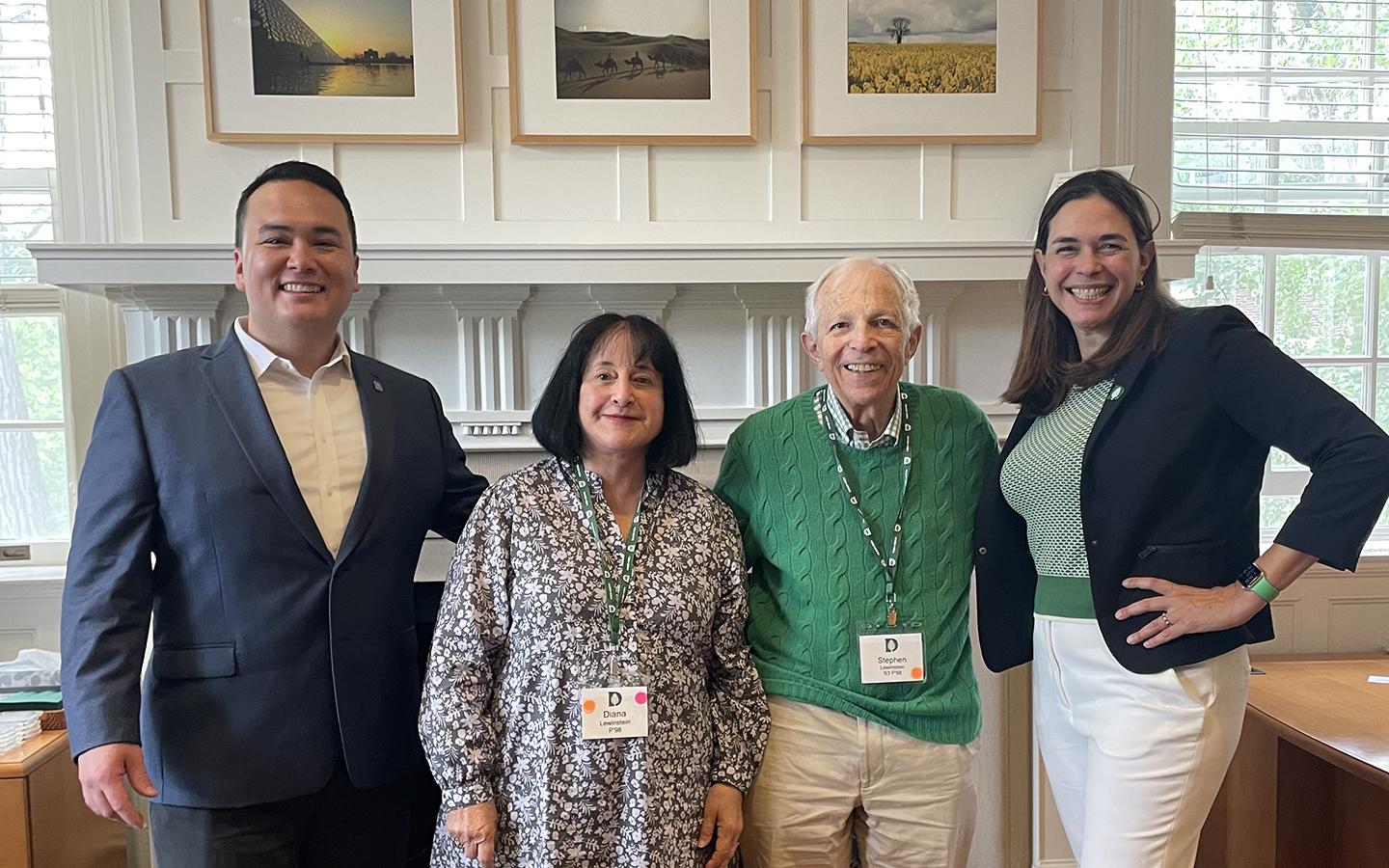 President Sian Leah Beilock and President Emeritus Philip J. Hanlon '77 jointly announced that Diana and Stephen Lewinstein '63 P'98 have committed the largest gift in the history of Dartmouth athletics. The gift comes during Stephen's 60th reunion.
A combination of current-use funds and bequest, the gift will enable investments in the health, wellness, and competitiveness of Dartmouth's varsity student-athletes.
"This gift sends a powerful message that our students will have the world-class resources they need to support their health, wellness, nutrition, physical conditioning, and competitiveness" says Hanlon, who led the discussions with the Lewinsteins. "It will enable personal development and put our students on a path toward a lifetime of leadership." 
"Over time, this generous gift will transform our ability to support all students who participate in athletics," says Haldeman Family Director of Athletics and Recreation Mike Harrity. "To further enhance the unsurpassed  education through sport we offer to students, Dartmouth Athletics and Recreation must develop a support system that empowers students to strive for excellence. This gift will help position our students, coaches, and staff to achieve our championship aspirations."
President Beilock adds, "Dartmouth makes history today. We thank the Lewinsteins and share in their enthusiasm for the vision that Mike Harrity has set out in his first year as Dartmouth's athletics director. Prospective student-athletes everywhere will take notice that Dartmouth is a place that will support their competitive goals and help them thrive in achieving them."
The Lewinstein Family, Stalwart Supporters of Dartmouth Athletics
The Lewinsteins are inspired by the power of athletics to instill resilience and develop leadership skills on and off the field as they become innovative, productive members in their communities. 
Stephen Lewinstein '63 is a real estate developer, a co-owner and board member of the Boston Celtics, and holds a law degree from Cornell Law School. He also holds a master's degree in taxation from Boston University Law School. Diana Lewinstein holds degrees from Lesley College, Columbia Teachers College, and Rhode Island School of Design. Their son, Marc '98, also holds a law degree from Cornell Law School, was active in athletics as an undergraduate, and played on Dartmouth's rugby football club team. He is also an Ironman triathlete.
"As avid Big Green supporters of Dartmouth Athletics, and in recognition of the important role athletics play in the Dartmouth experience, we are delighted to help advance Dartmouth's mission of athletic excellence. We look forward to seeing students take advantage of this opportunity to reach their full potential in competitive college athletics." says Stephen Lewinstein. 
In honor of the gift, Dartmouth will rename Alumni Gym the Lewinstein Athletic Center, signaling planned improvements in the facility and the eventual creation of a centralized athletic training facility on the ground floor that will add functionality, efficiency, and cutting-edge therapeutic tools to support the health and wellness of student-athletes. In turn, West Gym, home to the indoor running track and basketball courts, will be renamed Alumni Gym to honor the original group of alumni who, in 1909, raised funds to create what was at the time one of the finest collegiate athletic facilities in the country.
The Culminating Act in a Major Resourcing of Athletics Through the Call to Lead
The Lewinstein gift will enable significant investments in training and support programs over time, providing student-athletes with the tools and environment to compete for Ivy League championships. Proceeds will also provide critical resources to recruit and retain top coaching talent and introduce new sports science training technologies. The Dartmouth Peak Performance program (DP2), the College's innovative and holistic approach to athletic excellence at the varsity level, will also benefit.
The Lewinstein gift is The Call to Lead campaign's capstone of major investments in Dartmouth Athletics, now totaling $178 million, far surpassing the original athletics goal of $90 million. Over the last eight years, generous supporters have endowed 21 coaching positions and the Peak Performance program and supported a well-organized Friends program for athletic boosters of individual sports.
The campaign also introduced and renovated a range of training facilities including the Graham Indoor Practice Facility, Friends of Dartmouth Rowing Boathouse, Reilly Pavilion, and improvements to the ski locker rooms, Oak Hill, and squash courts. 
"Athletics play a vital role in bringing the community together, whether it's on the field as teammates or as cheering fans. These investments, including this incredible vote of confidence by the Lewinsteins, will help us enhance our comprehensive roster of varsity teams – and win more games," says Board of Trustees Chair Elizabeth Cahill Lempres '83 TH'84. 
One of the first changes funded by the Lewinsteins' gift is a new video display scoreboard in Leede Arena. Renovation is also planned for the lobby area of Lewinstein Athletic Center, as are plans to create a space to honor the outstanding athletes throughout Dartmouth's history. 
Student Engagement in Dartmouth Athletics
Today, nearly 1,000 Dartmouth undergraduates participate in 35 Division I varsity teams. Over 75 percent of the student body participates in athletics, whether on varsity, club, or intramural teams, or pursuing general fitness activities—illustrating Dartmouth's "learning by doing" ethos.
Tracy Hagan Mallory '92, chair of the Dartmouth Athletic Advisory Board, says, "We thank the Lewinstein family for their longtime support of Dartmouth Athletics and their commitment to athletic excellence. This visionary gift will advance programs to develop the whole student-athlete, from elite competitors on the playing field today to leaders in their communities tomorrow." 
THE FINAL THREE WEEKS
The Call to Lead will formally conclude on June 30, and Dartmouth invites all members of the community who haven't yet made a campaign gift to join this historic endeavor. Giving priorities in the final weeks include the Dartmouth College Fund and the annual funds of the professional and graduate schools; expansion and renovation of the Hopkins Center; and support for the Class of 1982 Engineering and Computer Science Center.

Photo, Left to right: Haldeman Family Director of Athletics and Recreation Mike Harrity, Diana and Stephen Lewinstein '63 P'98, President Sian Leah Beilock
See how else Dartmouth is answering the call to lead