Teaching Student-Athletes to Lead on and off the Field
Thanks to The Call to Lead, endowed coaching positions and Dartmouth Peak Performance are shaping Dartmouth leaders for life.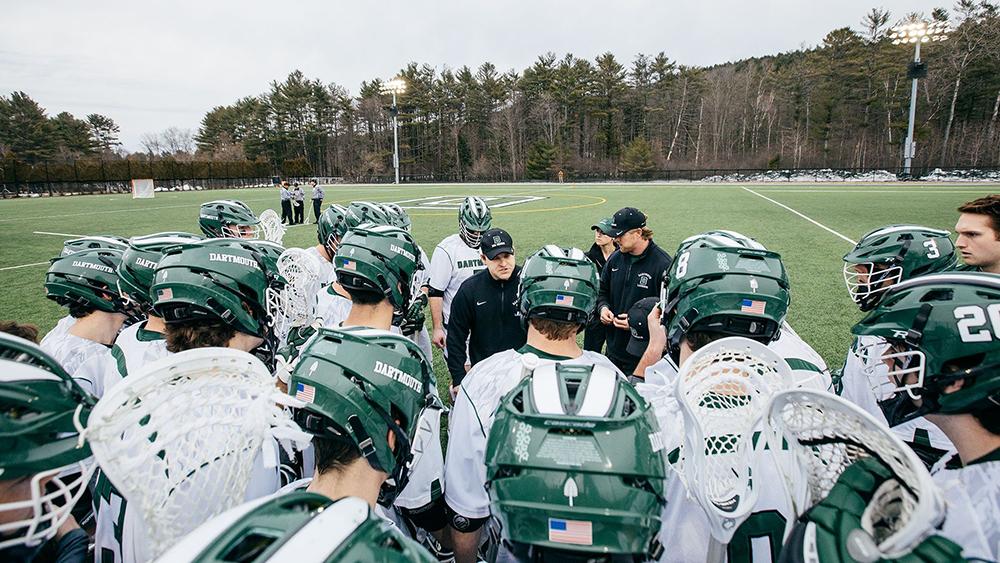 In early April 2023, Dartmouth announced an anonymous gift to endow the men's lacrosse head coaching position, the 21st position in the Department of Athletics to be endowed during The Call to Lead campaign.
"Endowed coaching positions are a remarkable endorsement of the educational role that a coach plays in the holistic development of student-athletes," says Haldeman Family Director of Athletics and Recreation Mike Harrity. "We are grateful for the extraordinary generosity of this anonymous donor and the sustained support it will provide the men's lacrosse program."
The $2 million men's lacrosse head coaching position brings the total number of coaching positions endowed during The Call to Lead campaign to 19 for a total of $29.5 million. 

The responsibilities of Big Green coaches extend far beyond the game. These leaders are instrumental in developing student-athletes who can take the lessons they've learned from the field of play to life, all while competing at the highest level.
Gifts to support Dartmouth athletics are not only a game-changer for enhancing the level of competitiveness among Big Green programs, but also provide crucial support for leadership-learning opportunities.
Leadership Learning Opportunities in Action
Dartmouth Peak Performance (DP2) is making these opportunities possible for all varsity student-athletes. As of 2023, a sampling of DP2 resources will also be made available to Dartmouth club sports leaders.
A variety of gifts have transformed DP2, a top priority within the campaign's three bold goals to educate wise leaders. Former Dartmouth men's hockey student-athlete Fritz Corrigan '64, his wife Glenda, and the Class of 1964 were instrumental in the creation of DP2. In total, the Class of 1964 contributed nearly $5 million to DP2.
With funds provided in a 50th Reunion gift, Fritz and Glenda endowed the Corrigan Family Assistant Athletics Director for Leadership and Mental Performance position. Today, that position is held by Dr. Stephen Gonzalez, who oversees all aspects of leadership development and mental performance. Gonzalez likens his work with varsity student-athletes to that of a lab component to an academic class. Except this class is a team, and it lasts roughly four years.
"Sometimes you inherit a program that's been very high-performing, and you're trying to maintain that performance," Gonzalez says. "Sometimes you're trying to change the trajectory of a program. There are a lot of dynamics when it comes to understanding how you lead yourself and others to get your teams to effectively work well together and perform at a championship level."
It's this skillset that transfers to a variety of post-Dartmouth experiences, Gonzalez says, such as aspiring doctors who may one day own their own practice and lead a team of providers, or future surgeons responsible for a team working on a life-saving procedure.
From meeting individually with students to working with coaches on captain selections and hosting leadership lunches, Gonzalez leads a variety of impactful programming, all made possible through generous gifts from The Call to Lead campaign.
"I've been very fortunate to have that support from various donors, but most notably Fritz and Glenda Corrigan," Gonzalez said. "And because of that our student-athletes, especially when we look at the Ivy League, are getting some of the best education in leadership that they possibly can, not just through me, but through campus partners over in Tuck or the Rockefeller Center. We leverage the entire Dartmouth community to provide great insights into helping our student-athletes lead."
Among the opportunities available to student-athletes, the summer DRIVE program is central to the leadership curriculum. For approximately five weeks during their sophomore summer, student-athletes attend a two-day program with experiential activities, interacting with peer student-athletes they might not interact with on a regular basis.
For example, Gonzalez pairs sailing student-athletes with equestrian athletes, adding in skiing and baseball athletes to form as diverse teams as possible.
"Once you have your cohort of all kinds of different specialties, student-athletes are given tasks and they have to find unique ways to leverage the experience they have received in the classroom with these small challenges throughout the summer," Gonzalez said.
While student-athletes don't receive academic credit for the program, the summer DRIVE program is more than just a resume building experience.
"Student-athletes have the opportunity to invest in themselves, in their teams, and in the Dartmouth athletics community," Gonzalez said. "And none of this is possible without the financial support to help foster this sense of community."
Connecting Campus Partners to Improve Mental Performance
With a PhD in sport and exercise psychology, Gonzalez also works with student-athletes in a nonclinical aspect, working across campus to help student-athletes with mental performance work.
Working closely with the Counseling Center and Dartmouth Sports Psychology Director Mark Hiatt, DP2 works to connect everyone with the goal to help student-athletes strengthen their mental skills training and work through performance issues from a holistic standpoint.
"If a student athlete comes in and they're complaining of low energy, we ask: Could it be depression? Could it be a diet issue? Are they overtraining? You can't systematically get at the core or root of an issue through just one lens," Gonzalez said. "DP2 provides a variety of lenses to help problem-solve and find solutions so student-athletes have a high level of enjoyment and wellbeing, and hopefully the ability to chase high performance in their time here. DP2 is here to provide that for the student-athletes."
Gonzalez's position is one of the 21 total positions in the Department of Athletics to be endowed during The Call to Lead campaign, accounting for a $38 million investment to enhance the total development of Dartmouth student-athletes.