"The Mind as a Muscle"
Middle- and long-distance runner Abbey D'Agostino '14 talks about overcoming anxiety, accepting limitations, and the 2016 Olympics.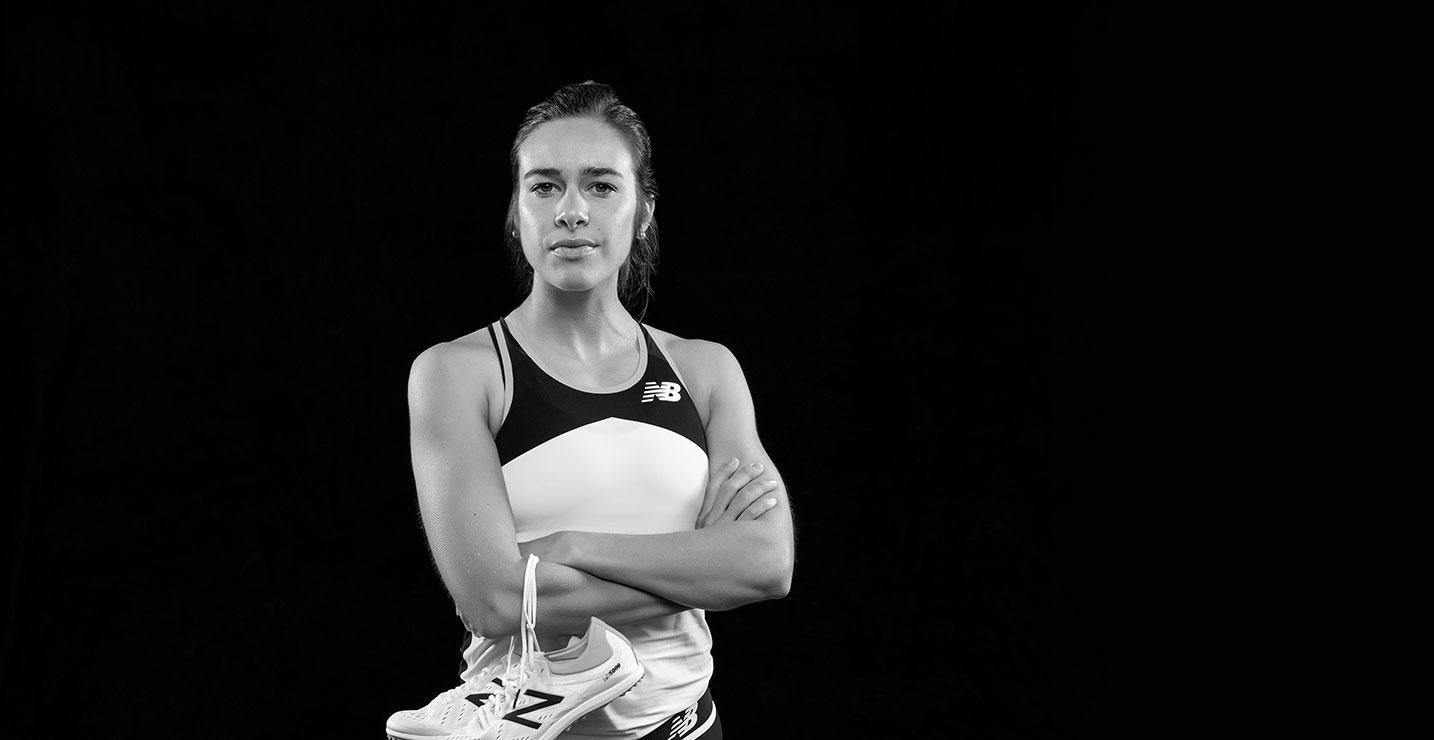 Abbey D'Agostino is the most decorated Ivy League athlete in track and field and cross country, winning seven individual NCAA titles. She is the only woman in NCAA history to win both the 3,000- and 5,000-meter races twice at the NCAA Indoor Track and Field Championships, and she has since represented the U.S. at the 2015 World Outdoor Championships, the 2016 World Indoor Championships, and the 2016 Olympic Games in Rio de Janeiro. Recipient of an honorary degree from Dartmouth in 2017, Abbey runs professionally for New Balance and is training for the 2020 Olympics.
---
How did Dartmouth prepare you to be a leader as an athlete? As a person?
By my junior year at Dartmouth, I had much more athletic success than I had ever expected. I had a good GPA. But being a perfectionist, I was never satisfied. I had that inner tyrant eating away at me, creating anxiety. I had been training hard the whole year, preparing for the U.S. championships. By the end of the year, I had a huge amount of physical and mental stress that I was hiding inside, to the point I had an intense anxiety attack. I finally realized I couldn't live this way anymore. I thought I had so much control over my life, but it was just an illusion.
With the help of my coach, teammates, and faith, I learned how important it is to recognize the beauty of those moments of vulnerability. They are opportunities to accept your limitations and share them with others. This is the only way to truly relate to people. Humanizing myself made me a much stronger, more approachable leader.
How did Dartmouth alter your attitudes toward competition and perseverance?
The more success I experienced, the more pressure I felt internally and externally, and the more I recognized a deep need to ask for help. It took a lot of humility to recognize this need and be bold enough to face the pressure straight on and speak honestly about it. I had so many loving older teammates, my coach Mark Coogan, the Dartmouth Athletics Department staff, professors, and Christian mentors who genuinely cared about my well-being and were so helpful. Challenges are also magnified when they're kept solitary. The process of sharing them with others makes them manageable because they are known. That was a tool I began to develop at Dartmouth.
At the 2016 Rio Olympics, you and New Zealand runner Nikki Hamblin fell in a 5,000-meter qualifying heat, and you helped her back to her feet. Talk about that moment and your takeaways from the experience.
That moment happened so quickly and was so instinctual that I know deep within my heart it was a supernatural experience. The ability to act selflessly is not instinctual to human nature, only to God. I had been seriously injured leading up to the race, and became so desperate for God's help that he'd prepared my heart to let him work through me.
As I'd experienced in college, my brokenness and vulnerability were the means through which I became open to receiving help.
People's reaction was so cool. When we see an act of mutual kindness and helping, we know that is what life is all about. I think it's in our DNA as human beings and is why we respond so warmly to philanthropy and other acts of kindness.
What leaders, past or present, do you admire and why?
I am drawn to leaders who leverage their strengths, traditions, and platforms to serve others. The most important person for me, since I'm a Christian, is Christ. His model of leadership through service is foundational in my life. I've also been reading early American history recently and admire George Washington for the bold, daring choices he made.
You were a captain on the Dartmouth Women's Track and Field team. How did you develop your leadership skills?
The best part of that experience was working with my co-captain and classmate, Arianna Vailas. Her heartbeat was service. She set a powerful example in the way that she put herself behind the rest of the team and was able to magnify the talents of the rest of us to create a better culture. From her I learned how to be a strong role model and encourage my teammates. It was a reality check to say to myself, "Hey, people are looking up to you."
You majored in psychological and brain sciences at Dartmouth. Can you talk about the connections you've discovered between psychology and running?
With the tough races I've run and injuries I've had since Dartmouth, I have a growing respect for the mind as a muscle. It needs just as much love, recovery, care, and attention as my body does. When athletes are injured, there's a tendency to just force yourself through it, get through the season without letting it change you for the better. You need to train your mind in those cases to be resilient, which helps you make willful and joyful decisions, even within the valleys of sport.
What does a typical day in the life of Abbey D'Agostino look like?
My first training session is at 9 a.m., which consists of a distance run of eight to ten miles, followed by ancillary drills, strides, or other exercises. Then back home for lunch, administrative work, and a second training session. Once a week I also do volunteer assistant coaching at Montreat College, a nearby liberal arts Christian school. I also spend time with my husband, writing. He's finishing up his PhD in counseling psychology and is interested in becoming a sports psychologist, so our interests merge in a cool way. We're both writing down our experiences with injuries and thinking about how to utilize those experiences for the benefit of others, through coaching and speaking opportunities.
See how else Dartmouth is answering the call to lead