Education with Real-World Impact
Undergraduate research broadens learning experiences for hundreds of Dartmouth students every year.
Dartmouth is known for its distinctive model of education and its commitment to recruit faculty who are both outstanding teachers and leading scholars in their fields.
As a result, our undergraduates not only learn in the classroom from teacher-scholars who are doing groundbreaking work, they have opportunities to join faculty in research projects and receive mentoring on their own original research.
"We understand that our students' work doesn't stop in the classroom," says Dean Lacy, professor of government. "We want them to produce research rather than just read about it."
The breadth of undergraduate research achievements across our campus is impressive. Here are just a few examples of current students and recent graduates whose lives have been changed by participating in research at Dartmouth.
Working to Save Lives
During his first year at Dartmouth, Josh Lange '17 wanted to participate in cancer research. So, he approached Yolanda Sanchez, associate professor of molecular and systems biology at the Geisel School of Medicine and associate director for basic sciences at the Norris Cotton Cancer Center, and she gave him the chance. That work led to an honors thesis and the discovery of a promising treatment for two deadly cancers—glioblastoma and pancreatic cancer.
"Because of the mentorship and resources I was given as an undergraduate at Dartmouth, not only was I given the chance to continue my career at incredible institutions, I was also able to enter graduate school with an unmatched level of knowledge and experience that usually requires years of postgraduate education to achieve," says Josh, now a PhD candidate at UC San Diego. "For that I will always be grateful."
Learning to Be an Earth Scientist
The Stretch program takes two dozen undergraduates, six to eight faculty members from the Department of Earth Sciences, and six graduate student teaching assistants into the field for an eight-week geological tour of the American West, from the glaciers of the Canadian Rockies to the floor of the Grand Canyon. Over the course of the term and with the close mentorship of the faculty members and graduate students, undergraduates measure glacier depths, map mountain bedrock formations, collect data from rivers and dunes, analyze their findings, and more. In short, they get a hands-on, personal taste of what it's like to be an earth scientist.
"Now that I'm here, I can see all the formations we talked about, and I can gather the data myself. It brings it closer to home," says Rachel Rubin '20. "This is what glaciology really is—being out in the field and looking at glaciers. You really can't get the sense of it in the classroom."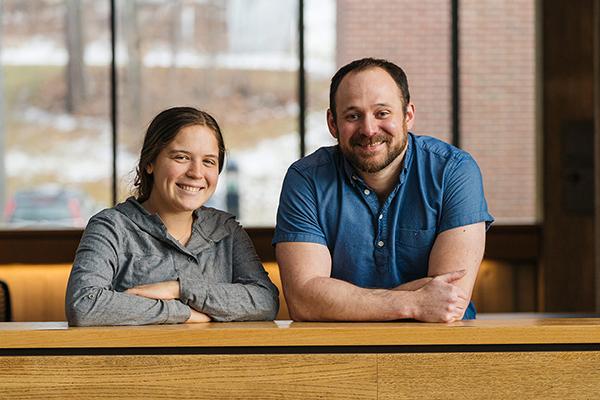 Examining the Amazon Basin
Proceedings of the National Academy of Sciences is one of the most selective science journals in the world, and Shannon Sartain '21 is one of a very few undergraduates anywhere who can say she has written an article published by this prestigious publication. Working with lead author Evan Dethier Gr'15 Gr'20 and Research Assistant Professor David Lutz (photographed left with Shannon), she co-authored an article examining the effects of artisanal-scale gold mining on the Madre de Dios River watershed in Peru, one of the first studies to examine the environmental impact of this industry on rivers and streams in the Amazon Basin.

"Shannon did a lot of the work, and she was also part of the conversation about the articulation of the project and its methodological approach, and that's what got her the second author spot," says Frank Magilligan, the Frank J. Reagan '09 Chair of Policy Studies, who helped prepare the article for submission. "She was a fundamental part of the intellectual exchange that went into that article."
Revealing Campus Consensus
Katie Clayton '18 co-authored a book with John Carey and Yusaku Horiuchi, both professors in the Department of Government, that summarized their research findings into the high level of consensus on seemingly intractable issues. The book, Campus Diversity: The Hidden Consensus, was published by Cambridge University Press. Katie is now a PhD student in political science at Stanford.
"Katie started out as a research assistant. With research assistants, you give them a task, and then check to make sure it gets done right," says John. "Then you assign another task, a little more demanding, a little more open-ended, and you keep ratcheting up to see how far your assistant can go. Katie was different from the start. She arrived with great skills, but then she taught herself new ones faster than Professor Horiuchi and I could keep up. And her work ethic matches the skill set. That's the kind of student that makes teaching at Dartmouth the best job I can imagine. And it's the kind of student Dartmouth needs to keep attracting."
Helping People with Replacement Joints
In 2014, two engineering sophomores began exploring various materials to enhance and extend the life of replacement joints. Advised by Doug Van Citters, an associate professor at Thayer who works with orthopedic biomaterials and joint replacement technology, Hayden Chun and David Cook created an graphene-polymer composite that loses conductivity with changes in shape or loading—meaning its strength can be monitored. Their research has been published in the Journal of Engineering Materials and Technology and it is a component of a $20 million National Science Foundation grant awarded jointly to Dartmouth and the University of New Hampshire. There is now a patent pending on their work.
"On their own, Hayden and David developed a research project and then wrote up the proposal for our original pilot study. These were two awesome undergraduates," says Doug. "I love working with students, and they give back to me."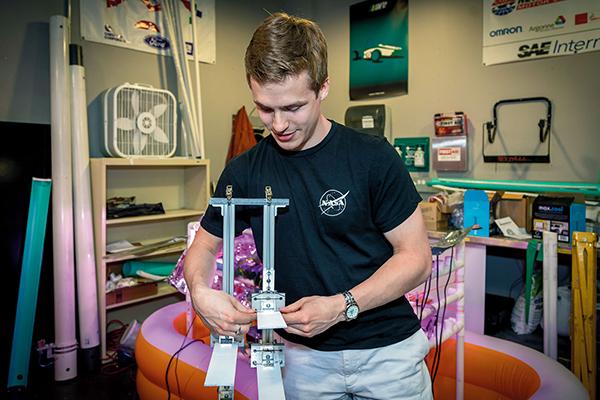 Making Salad on Mars
When a group of Thayer students agreed to focus their engineering design capstone course project on designing a greenhouse for Mars—and then enter the project in NASA's 2019 Breakthrough, Innovative, and Game-changing (BIG) Idea Challenge—they weren't concerned that none of them had taken a course in aerospace engineering or had studied agriculture. They knew the breadth of their liberal arts-infused engineering education had prepared them to think creatively and collaborate across disciplines. Their submission—named DEMETER, after the Greek goddess of harvest—won the competition.

"As students here, we're used to not being boxed into one specific type of engineering," says Zoe Rivas '18 Th'19, one of the students on the DEMETER team. "My background and training are as an environmental engineer, but to work on a project of this magnitude, I had to step outside of that. We might not have had the opportunity to work on and contribute to all the different parts of this project if we were only trying to stay in our corners."
Fighting Cystic Fibrosis
Sam Neff '21 began receiving care for cystic fibrosis (CF) at Dartmouth-Hitchcock's Manchester, New Hampshire, clinic when he was a young child. Today, he continues to fight CF every day by following a strict regimen of exercise and treatments. But Sam is doing even more: Taking advantage of the opportunities available to undergraduates at Dartmouth, he's contributing to CF research in the Geisel School of Medicine's Lung Biology Center, and he's participating in a clinical trial at Dartmouth-Hitchcock Medical Center.
"Growing up in New Hampshire, I always wanted to come to Dartmouth. In particular, I was really excited by the fact that undergrads get to do primary research," says Sam. "But I didn't realize the extent to which Dartmouth leads CF research. I found that out when I met Bruce Stanton, director of the Lung Biology Center, and asked to get involved with researching my own medical condition. I met with Bruce in the lab and, within a few days, got down to working on CF research."
Dynamic Duos
Faculty-student pairs model experiential learning at its best
During the past two years' regional campaign celebrations, faculty-student pairs presented brief, TED-like talks on their collaborative research and the benefits of Dartmouth's distinctive educational model. Through this model, students can initiate ideas, work closely with outstanding teacher-scholars, and gain invaluable experience through hands-on learning. Click on one of the photos below to learn more.