Dartmouth Eliminates Student Loans for Undergraduates
Relief for middle-income families caps a historic year of financial aid achievements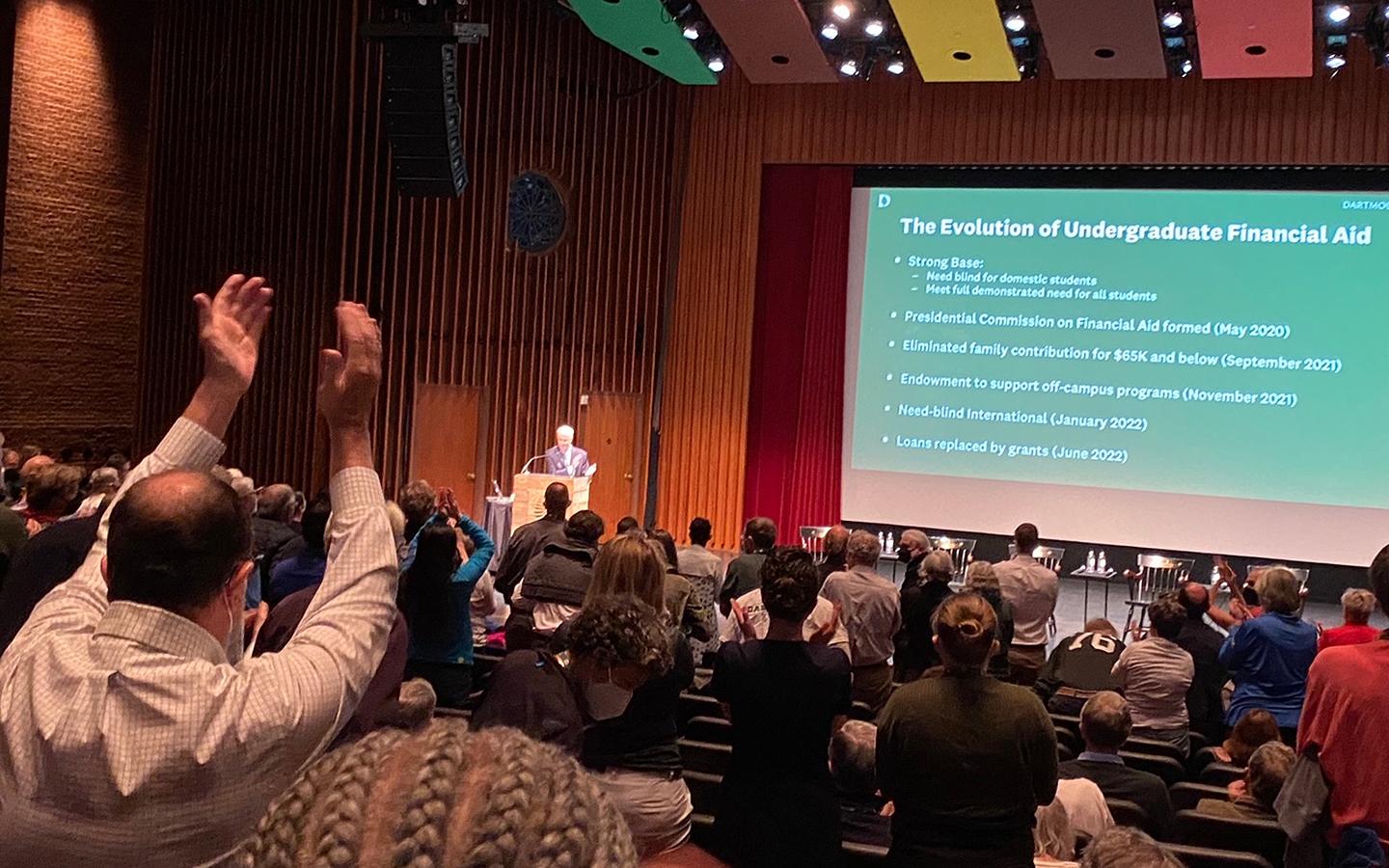 Speaking to several hundred alumni attending Reunions, President Philip J. Hanlon '77 announced that Dartmouth is removing all federal and institutional loans from its undergraduate financial aid awards and replacing them with expanded scholarship grants. This historic change in the College's financial aid policy will take place beginning with the 2022 summer term, which starts June 23.
The immediate transition to a no-loan financial aid policy, which will benefit AB undergraduates from middle-income families, is the culmination of a remarkable series of achievements that have transformed Dartmouth's financial aid resources and policies over the past year, propelled by more than $120 million in scholarship gifts and pledges to the endowment since September 1. Other accomplishments announced in recent months include providing additional financial relief to families earning less than $65,000 per year, extending need-blind admissions to non-U.S. citizens, and supporting students who are participating in off-campus programs, including foreign study.

Giving to financial aid through The Call to Lead campaign has deepened Dartmouth's commitment to make a college education accessible and affordable for the most promising and talented students from around the world and from all economic backgrounds.
"Thanks to this extraordinary investment by our community, students can prepare for lives of impact with fewer constraints," says President Hanlon. "Eliminating loans from financial aid packages will allow Dartmouth undergraduates to seek their purpose and passion in the broadest possible range of career possibilities." 
Two recent gifts capped the push to eliminate student debt through the campaign. In May, Anne Kubik '87, a member of the Presidential Commission on Financial Aid and one of the first supporters of the initiative, added $10 million to an earlier commitment to bring the effort closer to reality. An anonymous donor then committed $25 million to complete the campaign, establishing one of the largest scholarship endowments in Dartmouth history.
"Our gratitude for these extraordinary acts of generosity knows no bounds," says President Hanlon.
"Both donors shared with me their excitement about making certain more applicants can pursue a Dartmouth education without concerns about their financial means." 

- President Philip J. Hanlon '77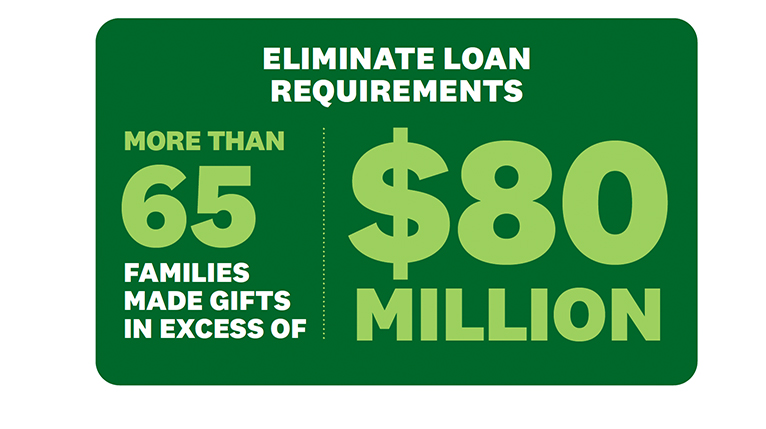 Currently, Dartmouth undergraduates from families with annual income of $125,000 or less who possess typical assets are offered need-based aid without a required loan component. Dartmouth is now removing the loan requirement for undergraduates from families with annual income of more than $125,000 who receive need-based financial aid. The elimination of required borrowing extends to all AB undergraduate degree candidates. Fifth-year bachelor of engineering students are covered by a different financial aid structure; providing them with larger scholarship awards and reducing their need to borrow remains a campaign aspiration. 
This policy change will decrease the debt burden for hundreds of middle-income Dartmouth students and their families by an average of $22,000 over four years. This in turn will open opportunities for young graduates to consider career opportunities or advanced degrees that they might not otherwise have been able to pursue.
More than 65 families supported the campaign goal to eliminate loan requirements from Dartmouth's undergraduate financial aid awards, committing more than $80 million in gifts to the endowment.
"This gift honors the Dartmouth tradition of service," says Kubik.
"Over the years, I've been fortunate to serve beside alumni who dedicate hundreds of hours to strengthen Dartmouth for future students. The presidential commission has embodied the best of this alumni altruism. Dartmouth is more welcoming than ever because of it."

- Anne Kubik '87
Successful applicants in the Class of 2027 will be the first undergraduates to matriculate with the benefit of this landmark investment in Dartmouth's endowment.
During the past week, members of the Dartmouth community rallied to pledge another $5 million to eliminate required loans in financial aid awards for all current AB students, many of whom had their college experience disrupted by the global pandemic. President Hanlon thanked several families for their commitment to extend the no-loan policy to current students: Dana Banga and Angad Banga '06; Leslie Davis Dahl '85 and Robert Dahl; Katherine Dunleavy and Keith Dunleavy '91; Karen Frank and James Frank '65 (honoring Peggy Epstein Tanner '79); Julie McColl-McKenna '89 and David McKenna '89; Hadley Mullin '96 and Daniel Kalafatas '96; Robin Bryson Reynolds '91 and Jake Reynolds '90; and Victoria Ershova and Mike Triplett '96.
"Dartmouth's commitment to meeting 100% of demonstrated need for all students is longstanding and a point of pride," says Lee Coffin, vice provost for enrollment and dean of admissions and financial aid. "These new policies enhance that deep and enduring commitment to full and equal access to a Dartmouth education. Expanding scholarship grants by removing loans from all aid packages further levels the playing field as we invite students from all socioeconomic backgrounds to join the Dartmouth community."
Relief for middle-income families
Approximately 450 Dartmouth undergraduates have financial aid offers for the upcoming 2022–23 academic year that include loans. Replacing federal and institutional loans with larger grant awards will eliminate as much as $5,500 in required borrowing for each student per year.
"Dartmouth already offers generous assistance to students from low-income backgrounds, and this move to a universal no-loan policy will help middle-income families who often have to stretch their budgets to meet the cost of higher education," says Director of Financial Aid Dino Koff.
To date, members of the Dartmouth community have committed more than $388 million in endowed financial aid funds toward an overarching campaign goal of $500 million through June 2023. Alumni, parents, and friends have established 434 new or enhanced endowed scholarships during The Call to Lead. This is a significant increase over Dartmouth's previous campaign, when donors endowed 188 financial aid funds with gifts totaling $139 million.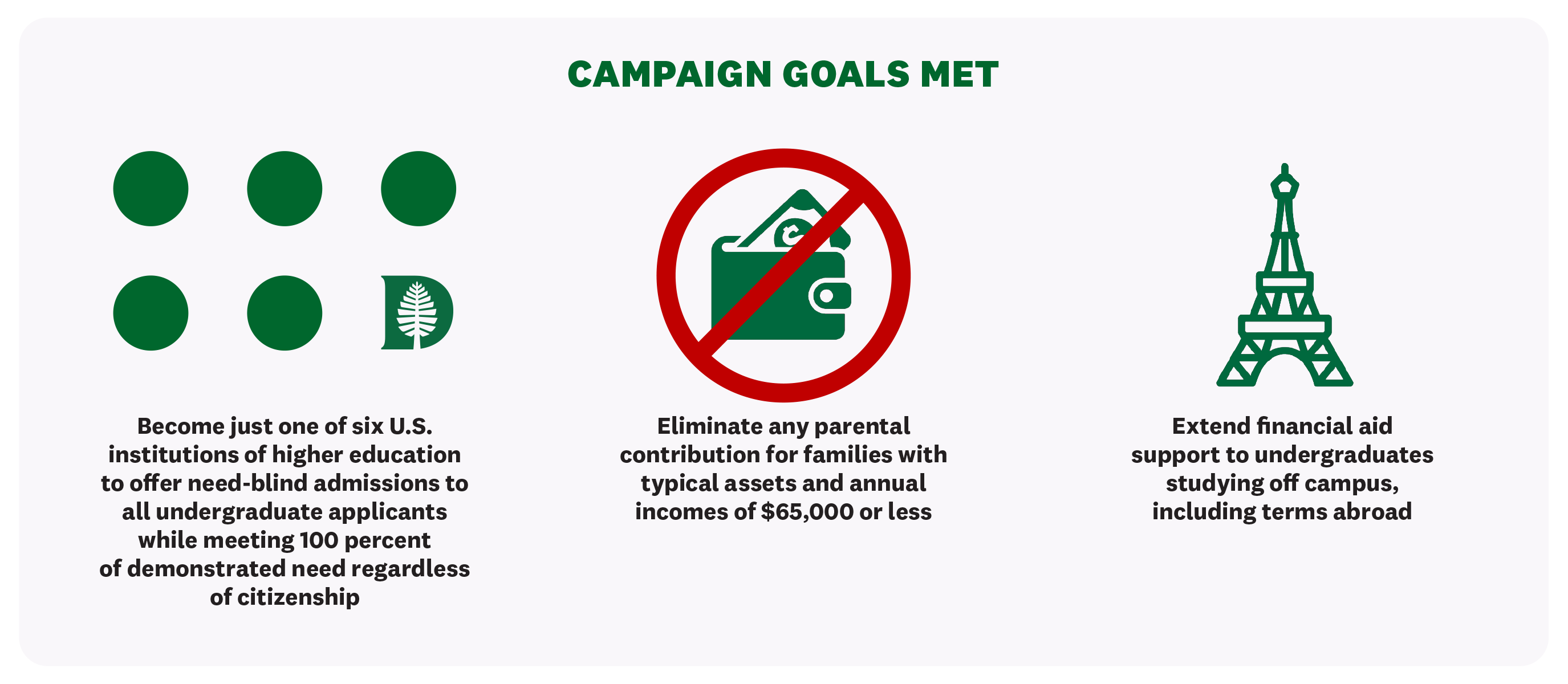 Giving to the endowment during The Call to Lead has enabled Dartmouth to:
Become just one of six U.S. institutions of higher education to offer need-blind admissions to all undergraduate applicants while meeting 100 percent of demonstrated need regardless of citizenship;
 
Eliminate any parental contribution for families with annual incomes of $65,000 or less and typical assets; and
 
Extend financial aid support to undergraduates studying off campus, including terms abroad.
"The presidential commission takes pride in this announcement as we conclude our two-year charter," says Leslie Dahl, a commission co-chair. "President Hanlon's resolve to undertake the full complement of these measures continues to transform Dartmouth's financial aid program from generous to now standing among the very best in our extremely competitive peer group." 
President Hanlon established the Presidential Commission on Financial Aid in 2020 as hundreds of Dartmouth students and their families were facing tremendous hardship due to the pandemic. Working in partnership with the Office of Financial Aid, the commission has focused on three overarching goals: to secure immediate financial aid funding to help students whose families had been affected by the pandemic; educate the Dartmouth community about the role that financial aid plays in the experience of all students, including those who do not receive it; and develop a long-term, sustainable plan of action ensuring a financial aid program that guarantees access, affordability, and inclusiveness in support of Dartmouth's educational mission.
Ellie Loughlin '89, a trustee and campaign co-chair, notes that the historic news comes with responsibility, citing the need to continue investing in scholarships and the Dartmouth College Fund to preserve the financial aid program.
"Today, the Dartmouth community takes great pride in what's been achieved. I'm equally overwhelmed with gratitude to those who made it possible. It's just incredible. When I think of the exciting and transformational opportunities now available to these students without this financial barrier, I believe its one of the most meaningful achievements of the campaign."

- Ellie Loughlin '89


 
See how else Dartmouth is answering the call to lead