Dartmouth Creates $100 Million STEM Program
$25 million gift from Jim and Penny Coulter to seed STEM opportunities for underrepresented groups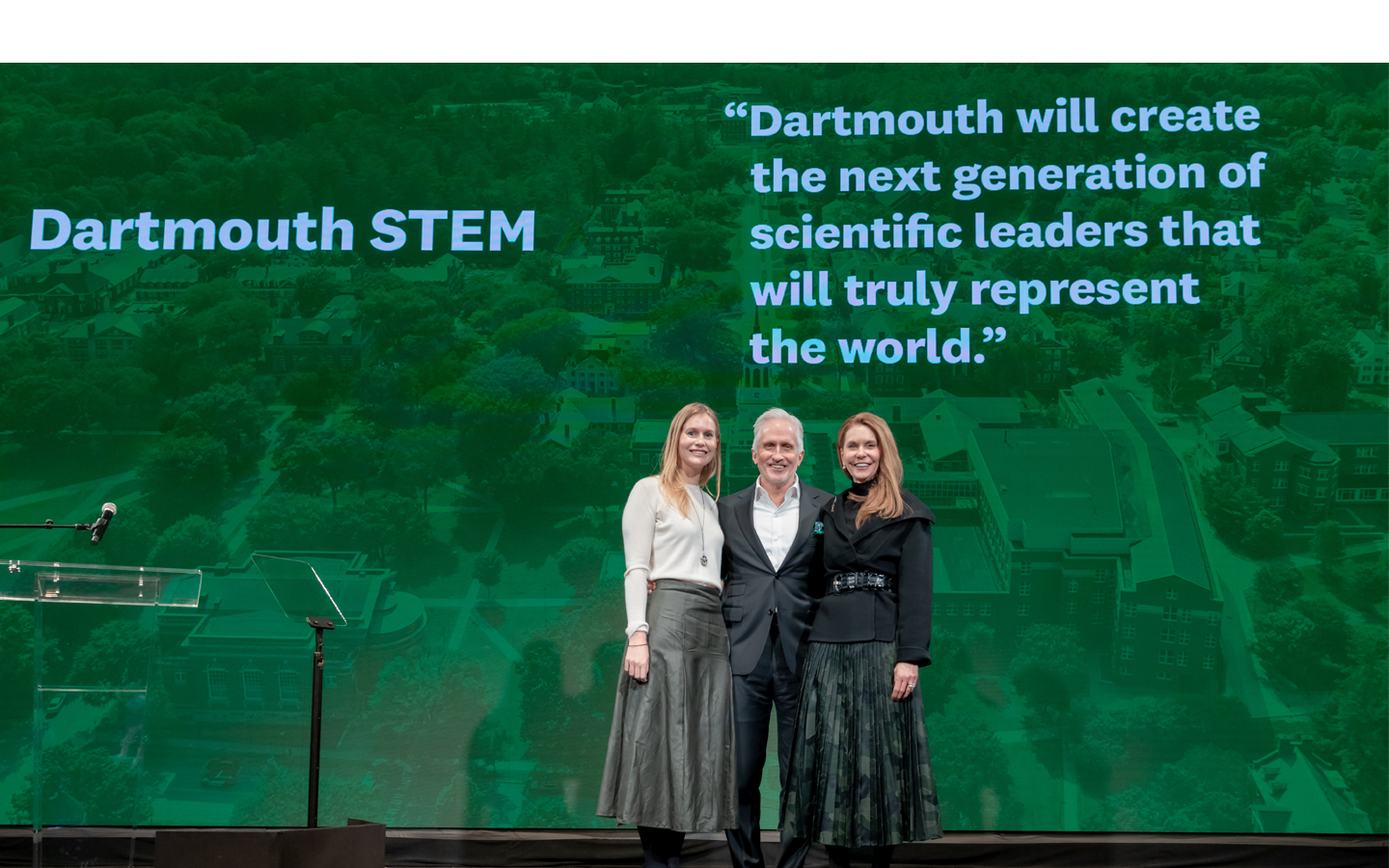 Dartmouth has launched a $100 million program, the Dartmouth STEM initiative to increase access and leadership opportunities for historically underrepresented groups in science, technology, engineering, and mathematics (STEM), and prepare the next generation of leaders in these fields, President Philip J. Hanlon '77 announced at a forum for alumni, technology leaders, and entrepreneurs in San Francisco on December 6.  
A $25 million gift from Penny and James Coulter '82 will serve as a foundational component of the Dartmouth STEM initiative, said Hanlon. STEM is the latest in a series of historic investments by Dartmouth in STEM academic programs, student and faculty recruitment, and facilities made over the past five years. The Coulters' gift to support STEM brings total investment in the program to $60 million; Dartmouth is focused on raising $40 million in additional funds to fully endow the program. 
"We are acting on two contrary truths—American innovation benefits greatly when diverse perspectives are applied to a problem, and yet the pipeline of advanced-degree recipients in STEM from underrepresented groups falls far short of representation levels in our society," said Hanlon. "The Coulters join us in tackling this challenge head-on with the goal of dramatically improving the U.S. innovation ecosystem through the development of a broad-based and diverse talent pool in the STEM fields." 
The Coulters' gift will scale several pilot and discipline-specific initiatives under one university-wide strategy, bringing together participants who are committed to increasing the representation of otherwise historically underrepresented groups in STEM-related advanced-degree programs, policy roles, and industry. With that goal in mind, the gift will also establish and endow an undergraduate scholarship program with the goal of enhancing STEM participation by students from underrepresented groups. 
Speaking at the event, Jim Coulter, co-founder of TPG, a global alternative asset management firm, and vice chair emeritus of Dartmouth's Board of Trustees, said that his family's gift to support the Dartmouth STEM initiative is focused on the future. 
"The stakes for society are high. We must channel the creativity and innovative thinking of today's students to shape the creation and implementation of new technologies," said Jim Coulter. "To meet the challenges of tomorrow we need all the talent we can muster and teach. Dartmouth can do its part by embracing diversity as we recruit and educate future STEM leaders." 
"Jim and I are heartened that Dartmouth is stepping forward to prioritize the development of a strong pipeline of diverse STEM talent," said Penny Coulter. "Through this gift we hope to help support an equitable system of STEM education that removes obstacles and propels scores of students into impactful careers."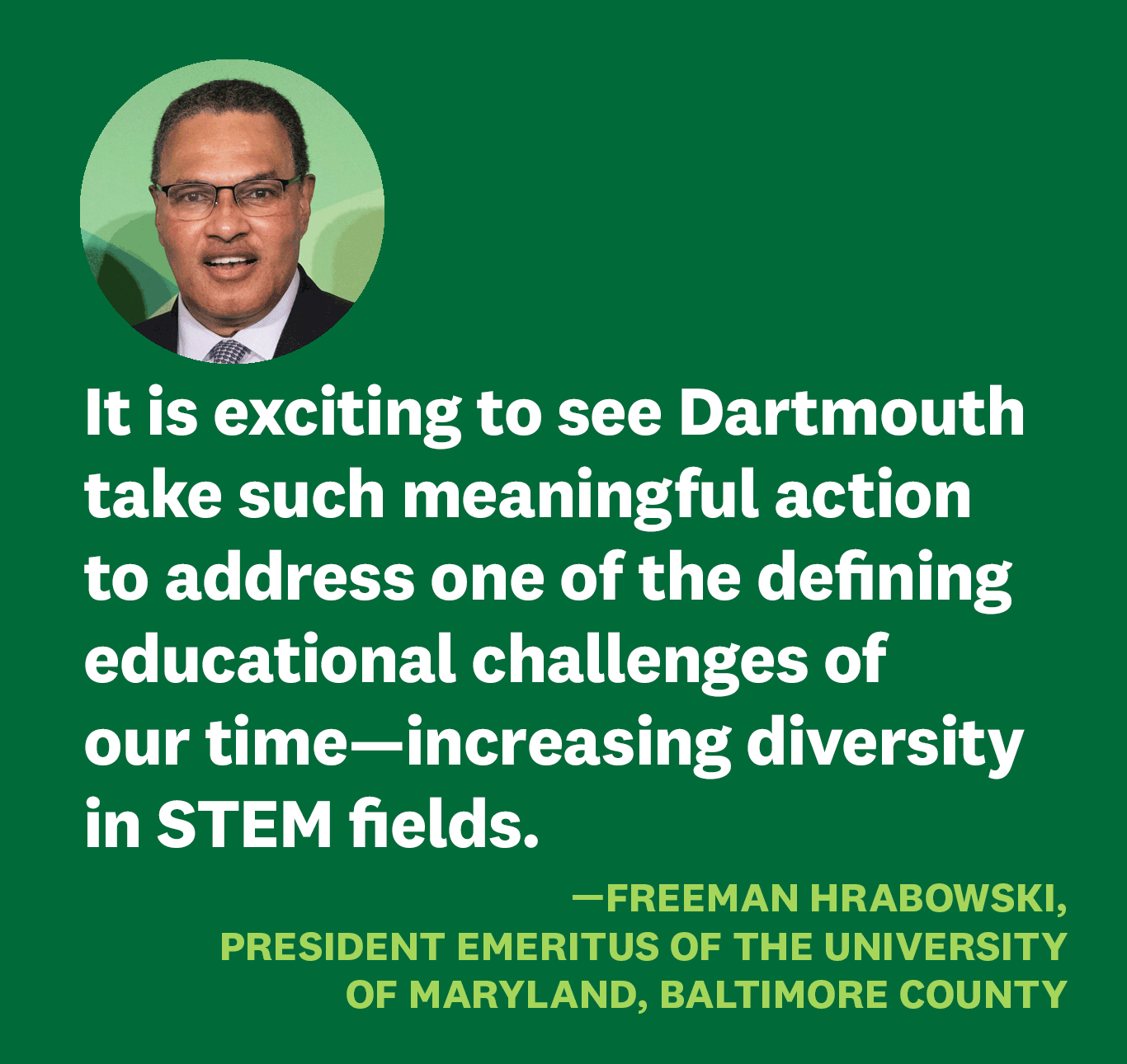 Addressing a Critical Need 
In the U.S. today, Black, Latinx, and Native Americans are underrepresented in STEM fields, as are women and first-generation students, directly impacting the quality of the national scientific research enterprise and its potential to improve society, say experts in the STEM fields. The shortage has far-reaching implications in the private sector, public policy, and in academia. 
"The institutions in the Association of American Universities (AAU) are on the leading edge of innovation, scholarship, and solutions that contribute to scientific progress, economic development, security, and well-being," said Barbara R. Snyder, president of the AAU. "The AAU will remain at the forefront of discovery only if—collectively—we can close the diversity gap in STEM fields. Dartmouth, along with many other AAU universities, is showing what universities can do to grow the pipeline of young scholars from groups traditionally underrepresented in the STEM fields." 
Related: Meet Four E.E. Just Program Undergraduate Fellows and Learn About Their Research 
Dartmouth STEM will harness the power of existing programs across the institution to create an integrated approach to supporting all students' learning and achievement and to increase the number of students from underrepresented groups who pursue advanced degrees and leadership roles in research, policy, and business. 
"Few institutions are tackling this national challenge at the core of their teaching and learning mission, and fewer still are looking at it systematically, across the comprehensive university," said Dean of Thayer School of Engineering Alexis Abramson. "High school students who are serious about STEM should know universities like Dartmouth are deeply committed to creating pathways that will ensure their success."  
Over the past two years, several Dartmouth alumni have made landmark gifts that are already influencing student and faculty recruitment and retention and teaching and research.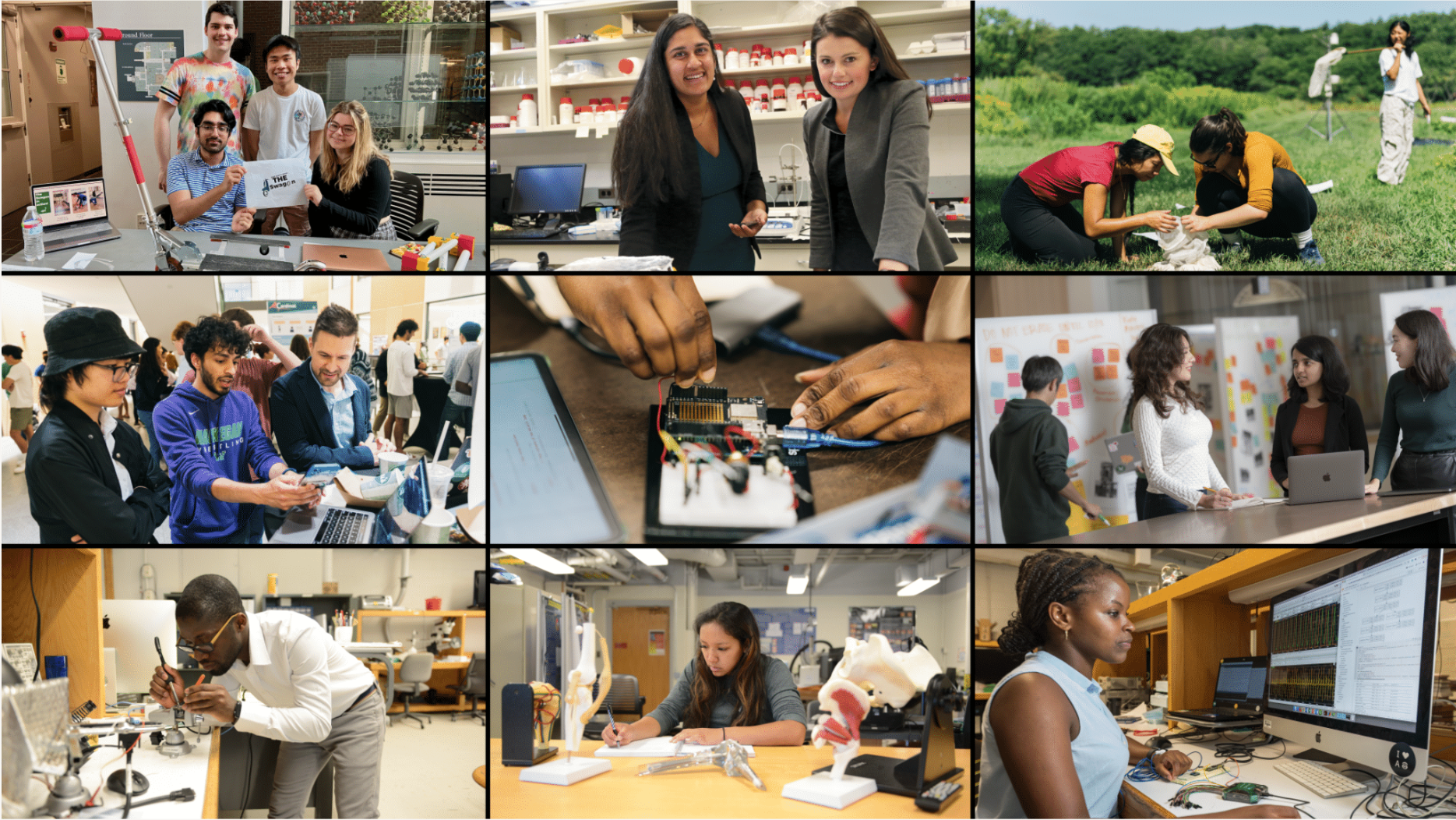 The Coulters join donors Eileen Chamberlain Donahoe '81, executive director of the Global Digital Policy Incubator at Stanford University, and her husband, John Donahoe '82, the CEO of Nike, Inc.; Lou Gerstner '63, a former chairman of the board and CEO of IBM; and Sally and Bill Neukom '64, former general counsel for Microsoft. With the Coulters' gift, this group has committed more than $60 million to programs addressing student diversity in STEM programs, faculty recruitment, first-generation student achievement, and scholarship at the intersection of the computational science and the rule of law.
"For decades Jim Coulter has anticipated the future of global industry, making savvy investments that helped shape that future. Eileen and I are proud to join Jim and Penny in this important investment in Dartmouth STEM and invite others to join with us," said John Donahoe, who, like Coulter and Neukom, is a former Dartmouth trustee. Eileen Donahoe is a current member of the Board of Trustees.
When fully funded, the program will include continued curricular innovation to advance STEM participation and leadership of underrepresented groups by supporting all students' learning achievement and an expanded program for mentored undergraduate research—including the Women in Science Program. The Dartmouth STEM initiative will include enhanced career and graduate school advising, as well as an expansion of Dartmouth's undergraduate policy of meeting 100% of demonstrated financial need to fifth-year bachelor of engineering degree candidates.
"As an experienced researcher and teacher," said Elizabeth F. Smith, Dean of the Faculty of Arts and Sciences "I have seen the creative friction that develops when a multiplicity of views, perspectives, and backgrounds collide to produce fresh insight and new ideas—informed, at least in part, by the first-hand experience of who might benefit from certain scientific advances, and who might be left out. The Dartmouth STEM initiative will catalyze the creation of a more dynamic environment for both learning and discovery at Dartmouth."
The Dartmouth STEM initiative is part of the $3.5 billion The Call to Lead campaign, Dartmouth's mission to prepare a new generation of leaders to address the great global challenges of this century. The campaign includes more than $500 million in investments in the STEM-focused West End campus district, which houses expansions of computer science and engineering faculty; new centers for entrepreneurship and energy-related research; and more than 205,000 square feet of new state-of-the-art facilities.
Dartmouth STEM is a priority initiative in Dartmouth's recently announced Toward Equity plan, which is a three-year, cohesive diversity, equity, and inclusion strategic plan that cuts across both academic and administrative areas of the institution.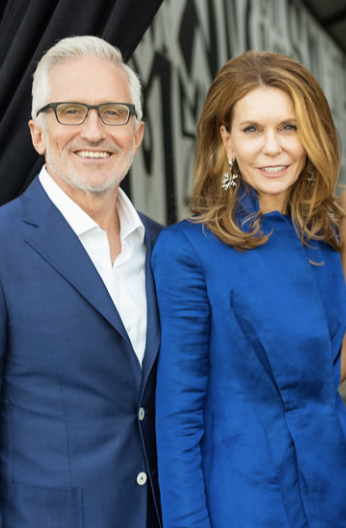 The Coulters' gift will unify six undergraduate-oriented programs across the arts and sciences, engineering, and the medical school under a new executive director for undergraduate STEM diversity. The gift will also create the Coulter Scholars Program, a 16-member, four-year cohort and academic enrichment experience to recruit and develop the students' potential in STEM disciplines and prepare them for lives of leadership and impact.
Unifying Areas of Strength
Dartmouth has long been noted for its educational model, a distinctive fusion of a renowned liberal arts college and robust research university where undergraduate and graduate students work with faculty to take on the world's greatest challenges. Dartmouth's size, proximity, and the collaborative culture of its business, graduate, and medical schools offer undergraduate students in any major unprecedented access to leading-edge research and scholarship opportunities across disciplines.
The Coulters' gift will unify six undergraduate-oriented programs across the arts and sciences, engineering, and the medical school under a new executive director for undergraduate STEM diversity. The new director will work with partners across the institution to design, direct, and assess efforts to advance STEM educational opportunities and postgraduate placement and create an alumni-student network for mentorships and networking support.
The gift will also create the Coulter Scholars Program, a 16-member, four-year cohort and academic enrichment experience to recruit and develop the students' potential in STEM disciplines and prepare them for lives of leadership and impact. The program will support students academically, personally, and professionally, and includes generous scholarship support for those who qualify for financial aid from Dartmouth.
Building on Success and Positioned for the Future
Dartmouth has long been committed to expanding representation in the STEM disciplines. The E.E. Just Program, Women in Science Program, and the First-Year Student Enrichment Program have yielded strong positive results and are now intrinsic components of Dartmouth's commitment to diversity in STEM, as evidenced by the following highlights:
Dartmouth today hosts one of the largest undergraduate academic enrichment programs for students from historically underrepresented groups outside historically Black colleges and universities.
 
At 40 percent, Dartmouth is well above average in the proportion of under-represented students who graduate with a STEM major.
 
Among comprehensive research universities, Dartmouth's Thayer School was the first to graduate a majority female engineering class.
 
Women regularly make up more than 30 percent of those graduating with computer science degrees from Dartmouth, among the highest in the nation.
"It is exciting to see Dartmouth take such meaningful action to address one of the defining educational challenges of our time—increasing diversity in STEM fields," says Freeman Hrabowski, president emeritus of the University of Maryland Baltimore and global leader on building diversity in the STEM workforce.
"For America to continue to innovate in technology, engineering, and health care it is essential that we educate and produce more diverse scientific researchers. It is both fitting and inspiring that Dartmouth, the place where the groundbreaking Black scientist EE Just was educated over 100 years ago, is making a significant investment that honors his legacy and paves the way for a brighter future."
When the Dartmouth STEM initiative is fully realized, Dartmouth will be recognized as a national leader in tackling underrepresentation in STEM with a concerted strategy, acknowledged for the quality of its programs, success rates in recruitment, representation in STEM majors, and post-graduate placement in academia, business, and the policy sector.
"Underrepresentation in STEM is a systemic problem that requires a systemic solution," said President Hanlon. "Dartmouth is uniquely positioned to tackle this head on by virtue of our core commitment to inclusivity and the outstanding collaborations between our undergraduate and graduate programs. Enhancing and expanding our existing strengths through STEM will allow Dartmouth to be the leader in creating the next generation of scientific leaders that truly represent our world."