Meet Four E.E. Just Program Undergraduate Fellows and Learn About Their Research
After a landmark gift in 2021, an expanded E.E. Just Program continues to create pathways to success for underrepresented students in STEM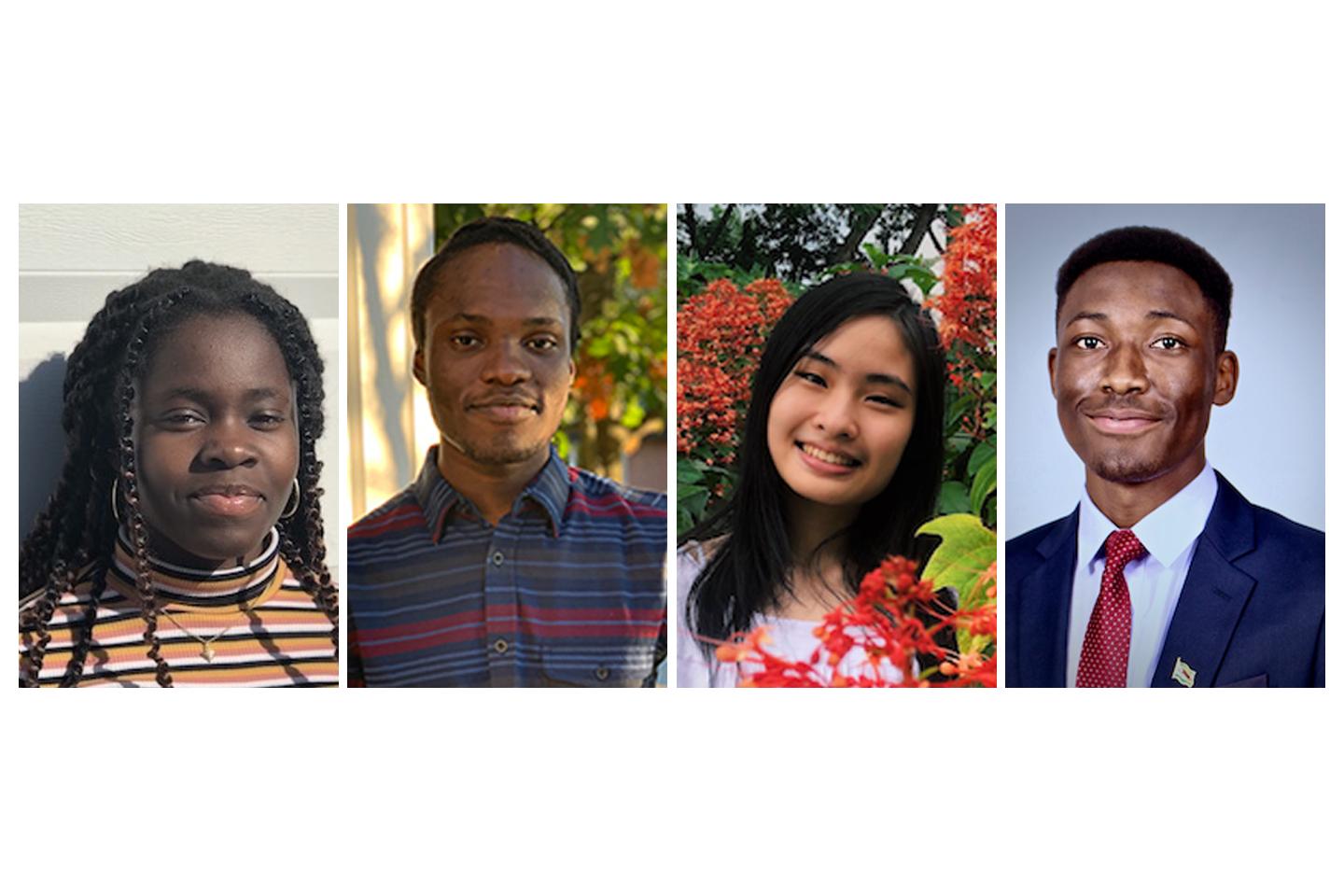 Historically, across nearly all colleges and universities, students from underrepresented populations have received little encouragement to enter studies in the fields of science, technology, engineering, and mathematics (STEM).
Dartmouth's E.E. Just Program is challenging this trend by creating pathways to students' success through opportunities for intellectual engagement, professional growth, and mentorship.
One year after a $20 million landmark gift from Eileen Chamberlain Donahoe '81 and John Donahoe '82 to endow and expand the E.E. Just Program, E.E. Just students and Fellows are continuing their research in labs across campus, creating new knowledge with real-world impact.
Here, four current Fellows discuss their current research and the difference that the E.E. Just Program has made in their academic careers.
Anyoko Sewavi '23
Biology, African & African American Studies
Anyoko Sewavi is interested in studying the genetic mechanisms behind embryonic development in C. elegans, one of the simplest organisms with a nervous system. "The E.E. Just Program not only allows me to pursue research that excites me, but it also helps me grow as a well-rounded scientist," Sewavi says.
John Ejiogu '23
Economics
Over the course of the summer of 2021, John Ejiogu was a member of the Thermodynamics of Metal-Protein Interactions lab under Professor Dean Wilcox. "I very much appreciate the opportunity that the E.E Just Internship afforded me in this regard," he says, "because not only did I acquire new academic knowledge, but also discovered an interest in conducting research, a process that fosters continuous and better understanding of our world."
Pam Pitakanonda '22
Biology
Pam Pitakanonda is exploring mechanisms in cell, molecular and developmental biology and their applications to solve real-world problems through biotechnology or bioengineering. She is working to identify the role of developmental factors on the process of gastrulation in Drosophila using imaging techniques and analysis, which will provide a better understanding of pathways involved in cell morphogenesis that are useful in tissue engineering and regenerative medicine. "I am excited to explore this project and its applications with the E.E. Just Program," she says, "as well as getting to know and learn from other dedicated fellows from various STEM fields."
Tinotenda Kuretu '22
Economics, Global Health
As an E.E. Just scholar, Tino Kuretu has pursued wide-ranging academic and research experiences, including working in an antifungal drug discovery lab at the Veterans Affairs Hospital with a Giesel professor. He is now conducting research with Professor Carrie Colla on the health economics of low-value care focusing on opioid prescribing practices, and exploring intervention methods that can be used to reduce low-value care in the U.S. "The E.E. Just Program has provided the Dartmouth experience I imagined… (which) I hope to use very soon in graduate school as a Ph.D. student."
 
Dartmouth Adventures in STEM program returns
In other news, E.E. Just Program Director and Associate Professor of Mathematics Craig Sutton is pleased to announce the return of the Dartmouth Adventures in STEM program after a two-year absence due to the pandemic. The five-day pre-orientation course is led each summer by Dartmouth faculty and welcomes incoming undergraduates to the world of scientific inquiry. This year's event runs July 31 through August 5.
Also, this year's cohort of students is being finalized for summer research internships at the Marine Biological Laboratory in Woods Hole, Massachusetts, the same institution where the program's namesake, E.E. Just, made many of his important scientific discoveries. These internships provide valuable opportunities to conduct groundbreaking research alongside leading scientists in biology and biodiversity.