Darija, Tagine, and Starry Nights
Ameena Razzaque's Dartmouth experience, including her term in Morocco, has been made possible by the generosity of donors.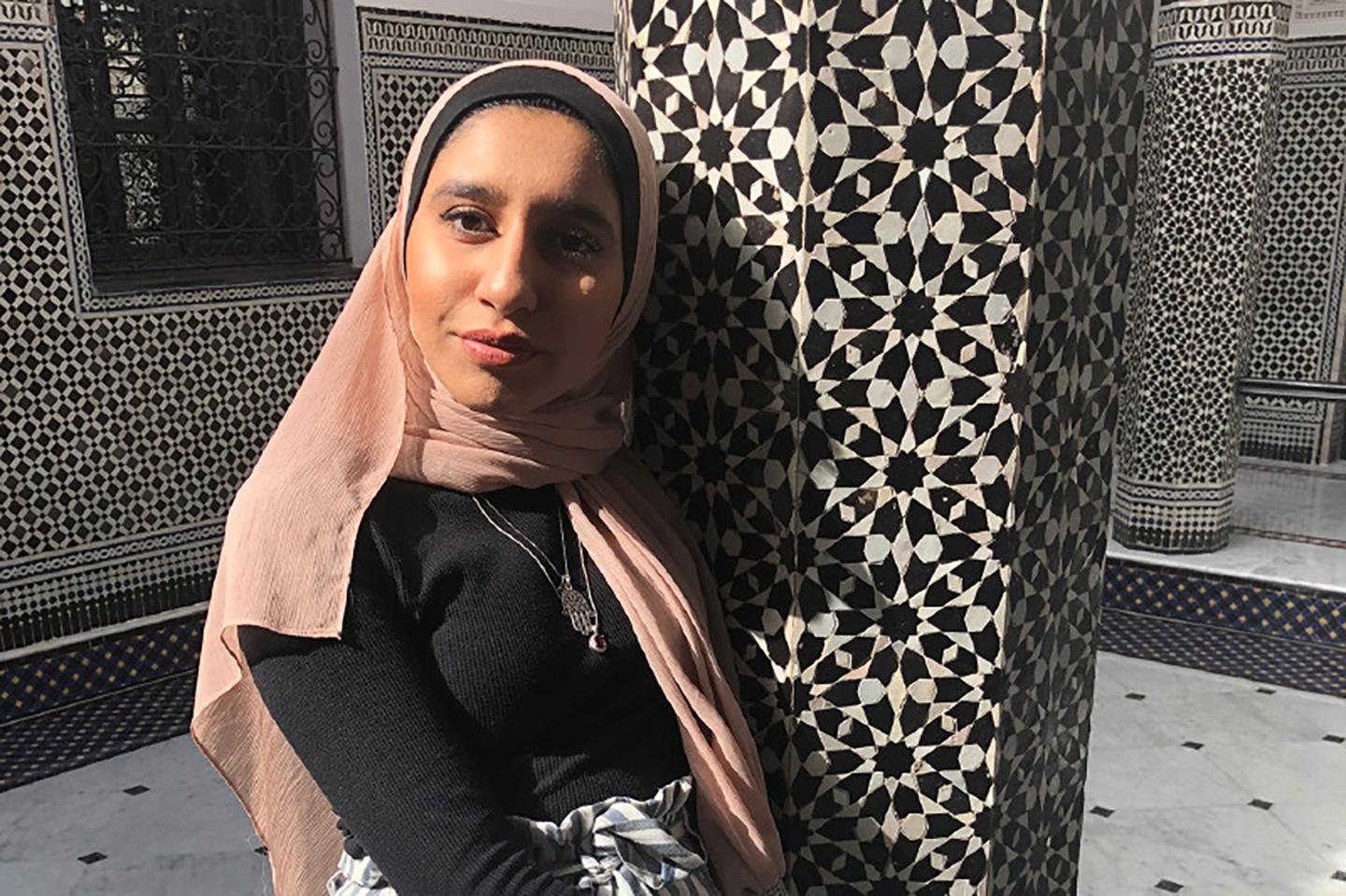 Living in Morocco during the summer of 2018 was a life-changing experience for Ameena Razzaque '21. It was a journey that began more than a year before when she traveled from Texas to Hanover for the Dimensions program—and immediately fell in love with Dartmouth.
"I loved the close-knit community and classes, and how invested the professors were in the students," says Ameena, who grew up in San Antonio, one of three children in a family who had emigrated from Lahore, Pakistan. "Most important, Dartmouth was very welcoming to students of all backgrounds, socioeconomic and religious. Students were very dedicated to Al-Nur, the student Muslim organization, which meant a lot to me. After a year here, I can say Dartmouth has become my home away from home."
Choosing Dartmouth, however, wasn't easy. Cost was a huge issue for Ameena, whose family has limited financial resources. "My parents were nervous at first about me going far away to Dartmouth," she says. "They wanted me closer to home, possibly going to a Texas state school."
Dino Koff, Dartmouth's director of financial aid, "gave my parents a whole new perspective on how Dartmouth could be possible through various financial aid options," she says. "He was so patient and caring."
Ameena is a Middle Eastern studies major and thinking of a second major that combines sociology, anthropology, and Asian studies. She is also a pre-med student, with a strong interest in global health and social justice. Her dream is to work for Doctors Without Borders and be an international health care journalist, "giving a voice for people who don't always have that privilege," she says.
Making Foreign Study Possible
"Taking a term abroad was something I wanted to do as soon as I could," says Ameena. She signed up for a term in Morocco, the summer after her freshman year. Because the cost of airfare was so high, she wasn't sure she could do it.
"I discovered that Dartmouth works very hard to make foreign study possible," she says. "With help from the financial aid office, I was able to locate funding for a plane ticket. I am so grateful for their guidance."
Before taking her trip to Morocco, Ameena took a course in Darija, an Arabic dialect spoken widely in Morocco. In one term, she learned to speak the language quite well to help her converse with her host family.
Finding Family Abroad
"Living with my family was phenomenal," says Ameena. "I became very close to my Moroccan dad and mom and their children. I treated them as my actual siblings."
"The experience made me think hard about health care issues in Morocco."
She quickly learned that her host mother recently had been diagnosed with diabetes. She had given birth to the family's fourth child, and the baby had been in the hospital since birth, having difficulties breathing and eating. Later during her time in Morocco, Ameena came back to her family after an excursion, and they were having a huge celebration, wearing lavish, traditional Moroccan clothing. The baby was finally home.
"But it was bittersweet," says Ameena, "because the doctors could not do anything more for the baby, so they just sent him home. I remember my Moroccan mom feeding him milk with a syringe since he still could not eat well."
"This experience made me think hard about health care issues in Morocco," says Ameena. "I'd love to go back there some day and do something about it."
A Life-Changing Experience
One of her most memorable experiences was spending the night in the Sahara Desert with a community of Berbers, indigenous people of Morocco. Her favorite meal with them was tagine, a sweet stew made in a large bowl with chicken or beef, as well as prunes, potatoes, vegetables, and spices. "We rode our camels to their little oasis, and spent the night in their tents," says Ameena. "We played drums with them, it was very cool."
"Riding a camel into the Sahara," says Ameena, "sitting out at night and gazing at the stars was amazing, they are so bright, beautiful, and plentiful in the sky. It's just you, the sand dunes, and the stars. You are disconnected from the whole world. That was a life-changing experience."
"Dartmouth has given me a strong sense of my self."
"I do not think I would have found a way to experience global health or mesh my love for humanities, science, and medicine had it not been for Dartmouth," says Ameena. "At Dartmouth, through travel abroad and being vice president of Al-Nur, I have gained a deeper understanding and love for my own culture, what it means to be Pakistani-American. Dartmouth has also given me a stronger sense of my self and has made me even more open-minded."
She adds, "Having survived a whole summer in Morocco, in that hot Mediterranean climate with no AC or fan, I feel ready to travel anywhere."
See how else Dartmouth is answering the call to lead