Connecticut Alumni, Parents Celebrate Approach to 250th Anniversary as Campaign Progresses to $1.8 Billion Milestone
$10 million gift from Lisa and Scott Stuart strengthens design capabilities at intersection of engineering and computer science.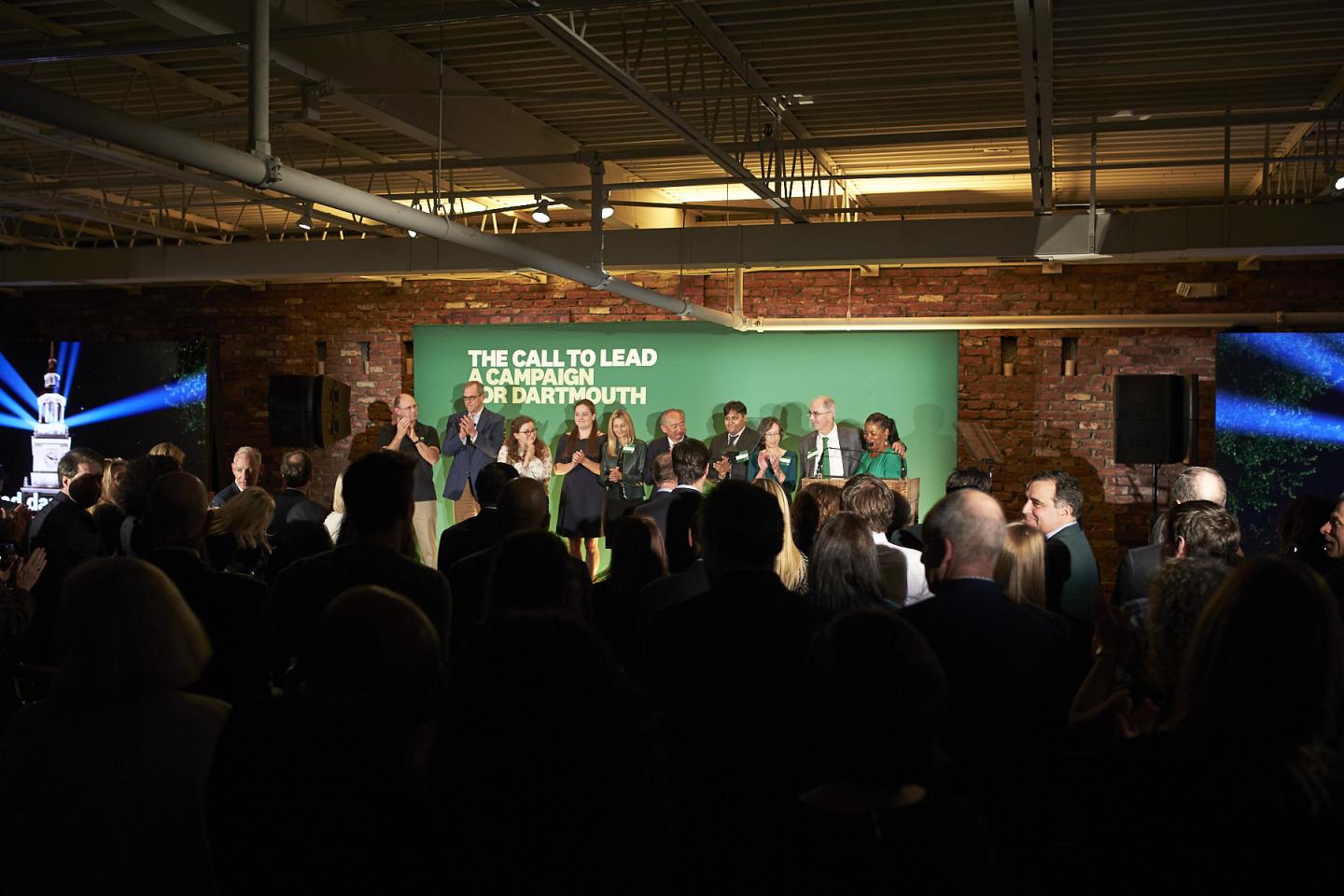 Dartmouth is a significant step closer to transforming technology education on campus—building powerful new connections between engineering and computer science and emphasizing project-focused design learning—thanks to a $10 million gift from a multi-generation Dartmouth family.
Announced Tuesday evening at a campaign celebration in Fairfield County, Connecticut, the gift from Lisa and Scott Stuart '81 P'16,'20, members of The Call to Lead Campaign Executive Committee, represents a major step toward the construction of a landmark building that will put engineering and computer science under one roof.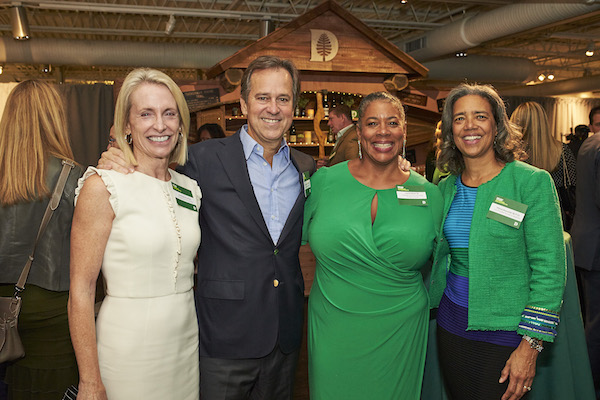 With the Stuarts' gift, fundraising for the new engineering-computer science building has reached $136 million. Dartmouth is working to secure another $24 million in gifts or pledges toward the project by the end of October, with hopes of breaking ground on the $200 million building in early 2019, Dartmouth's 250th anniversary. 
A central component of The Call to Lead campaign, the 160,000-square-foot building at the West End of campus will reshape how Dartmouth delivers technology education by clustering engineering and computer science into thematic "neighborhoods" focused on topics such as biotechnology, advanced materials, machine learning, security and privacy, robotics, and design. The new facility will also incorporate the Magnuson Family Center for Entrepreneurship and house the electron microscope center.
Approximately 70 percent of all undergraduates take at least one engineering or computer science course during their time at Dartmouth. This new building, located in close proximity to the Tuck School of Business and the Arthur L. Irving Institute for Energy and Society, will attract even more nonmajors to technology courses, further broadening their liberal arts experience.
"I want to thank Lisa and Scott for this powerful expression of support for our transformation of the West End and our commitment to include technology as a vital element of a 21st-century liberal arts education," President Philip J. Hanlon '77 said during the celebration.
"Our design-centric approach to technology is a major factor in our achieving gender parity in engineering, and in allowing extraordinary numbers of liberal arts students to incorporate engineering design into their Dartmouth education, regardless of major. Having a facility that allows for—and encourages—students to discuss, sketch, design, and fabricate, all in one location, will be a game-changer."
In an interview before Tuesday's event, the Stuarts said they were delighted to make a campaign gift that will advance the ambitious vision of The Call to Lead.
"The plan for Dartmouth, and specifically for the West End, that Phil and the Board of Trustees have developed is visionary," said Scott Stuart. "Due to its size and intimate setting, Dartmouth encourages more collaboration across departments and schools than is possible at most universities. This new building is going to fuel even more interdisciplinary research and classroom learning experiences."
Record-setting community response to The Call to Lead
Also at the celebration event—the first of a series of programs open to all alumni and parents—President Hanlon announced that Dartmouth has now raised $1.8 billion toward its overall goal of $3 billion through the campaign, in part powered by $422.6 million in philanthropy during the fiscal year that ended in June. 
"Just last month, we announced record-breaking fundraising results for fiscal year 2018, demonstrating a swell of community support for The Call to Lead," Hanlon told a cheering audience of more than 200 alumni and friends. "While the road may feel long to our ultimate $3 billion goal, it's much shorter when we walk it together."
Hanlon noted that gifts of all levels contributed to Dartmouth's success, including more than 20,000 alumni gifts of $250 or less. 
Publicly launched this spring, The Call to Lead will advance Dartmouth's distinctive model of education, accelerate discoveries that improve the human condition, and prepare students for lives of wise leadership—in the classroom, in their residence halls, on the athletic field, and throughout cocurricular activities. 
Highlights of the campaign, scheduled to run through 2022, include:
Ensuring need-blind admissions for all students, including international students, and eliminating loans from the College's financial aid packages to reduce the financial burden on low- and middle-income families
Investing in areas of research where Dartmouth can accelerate the pace of discovery, such as the study of the Arctic, the intersection of energy and society, and the development of cancer treatments
Strengthening Dartmouth's ability to attract highly sought-after scholars and expanding support for all faculty during each stage of their academic career
Creating a four-year leadership program for all undergraduates, with an emphasis on hands-on learning—the only comprehensive program among Dartmouth's peers
Transforming the West End of campus into a hub of entrepreneurship, business, and design, including the colocation of computer science and engineering
Fostering creativity and hands-on learning in the Arts District through an expansion of the Hood Museum of Art and renovations to the Hopkins Center for the Arts
Building new residence halls to provide 350 beds and continuing the early success of the House Communities Initiative
Supporting Dartmouth at a key moment
Speaking at the Fairfield County event, Laurel Richie '81, chair of the Board of Trustees and a co-chair of the campaign, noted the importance of alumni across generations rallying as Dartmouth approaches its 250th anniversary. 
"This is our moment. Dartmouth is counting on us," Richie said, adding that the College deliberately began its 12-city series of campaign celebrations in Connecticut, the birthplace of Dartmouth founder Eleazer Wheelock.
"Connecticut is where Dartmouth's story starts," Richie said. "And now, on the eve of Dartmouth's 250th anniversary, we're asking you to join us to begin the next important chapter in Dartmouth history—and to do nothing less than change the world."
The campaign gathering included faculty and recent graduates describing their groundbreaking work. Long-time Thayer research engineer John Currier '79 and Kendall Ronzano '17 Th'18 discussed how they're expanding applications for Dartmouth's Mobile Virtual Player (MVP)—a robotic tackling dummy that has gained national recognition for helping to reduce head injuries at football practices. The pair described new work in robotics for the U.S. Department of Defense. 
Lindsay Whaley, professor of classics and linguistics, and Rebecca Asoulin '17, discussed published research on the symbolic political act of how places are named and the Native American linguistic history of American waterways.
The next Dartmouth campaign celebration will be in Chicago on October 30, and a Boston event follows on November 7. See the full schedule of regional campaign celebrations through spring of 2019.
See how else Dartmouth is answering the call to lead