Arthur Irving Institute Construction Begins
Already a dynamic addition to Dartmouth, the Irving Institute will fuel even more interdisciplinary collaboration in its new building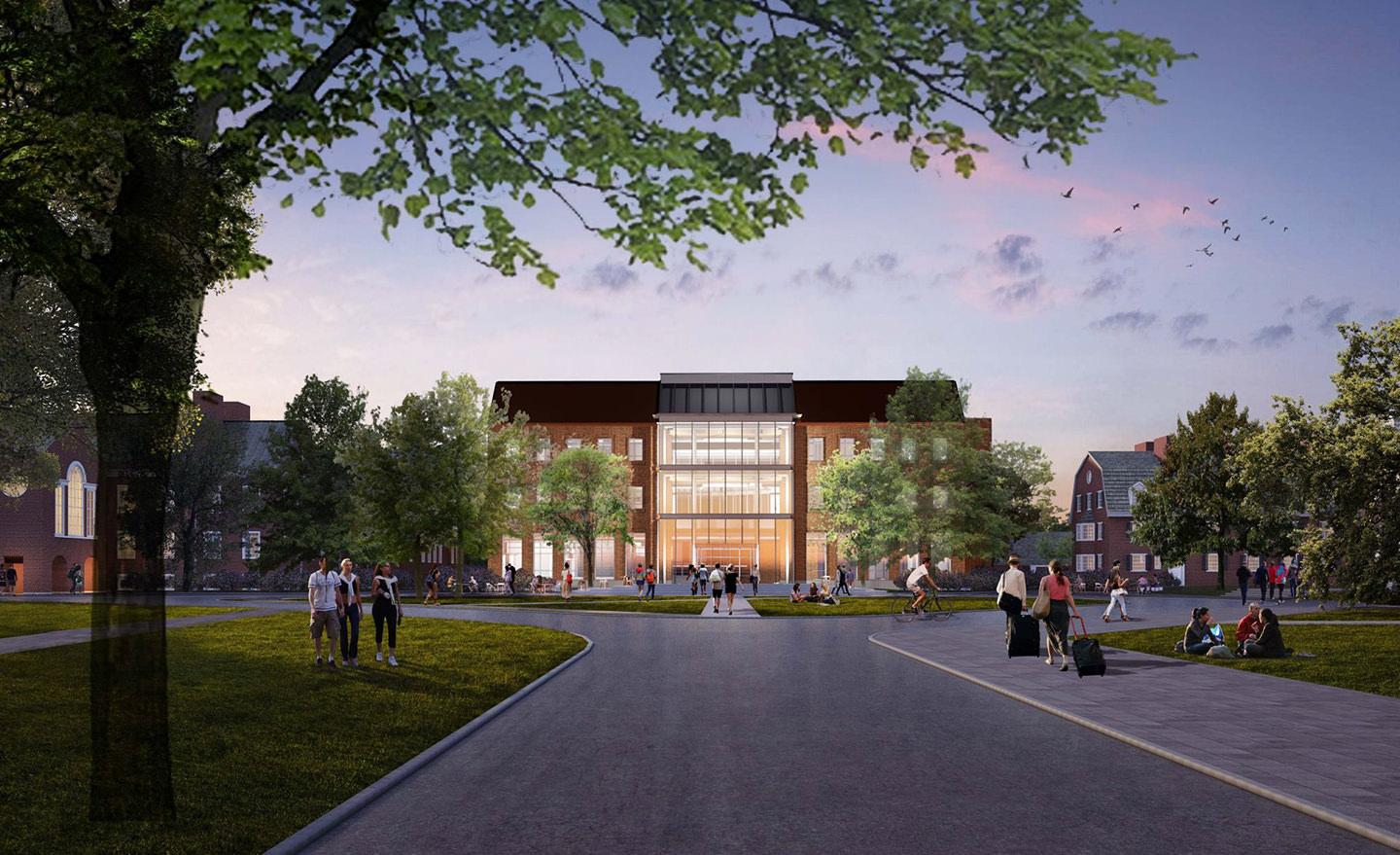 In just three years, the Arthur L. Irving Institute for Energy and Society has become a driver of research and experiential learning at Dartmouth.
The next phase of the Irving Institute's growth is now underway: Dartmouth recently broke ground on the institute's new home, located between the Tuck School of Business and Thayer School of Engineering. Scheduled to open in fall of 2021, the building will serve as a vibrant hub of interdisciplinary learning and research into meeting the future energy needs of societies around the world.
The three-story structure will contain teaching areas, faculty and research offices, demonstration labs, and spaces for meetings and collaboration designed to foster informal interaction among faculty, researchers, and students. Directly facing Baker Library and welcoming students from across campus, the building will feature many naming opportunities.
A Busy First Three Years
Launched in the fall of 2016, the Irving Institute connects faculty and students from multiple disciplines—the sciences, social sciences, arts, and humanities—to frame and examine the complexities of energy systems and transitions within the context of emerging societal needs.
"The Irving Institute has grown quickly to enhance education, research, and engagement on critical issues at the interface of energy and society," says Elizabeth Wilson, professor of environmental sciences and the institute's director. "The building will amplify the institute's impact through its labs, meeting spaces, and classrooms. It has been designed to foster collaboration across all disciplines."
A sampling of the institute's current activities includes:
Seeding research on the Dartmouth campus
The Irving Institute annually seeks proposals from faculty, postdocs, and students for research and education on the energy challenges facing society. Previous seed grants awarded through this program have had both a local focus—such as biofuels in New Hampshire—to a more global scope, including research into electric motor magnetics. This fiscal year's call for proposals has a targeted budget of $500,000.
The institute also administers a mini-grant program to advance student research and experiential learning projects. Funded projects to date include installing a micro-hydro generator in Alaska, traveling to Dublin to attend the Google Earth Engine User Summit, and developing documentation to help expedite widespread adoption of high-efficiency building processes.
Seeing energy systems in action
Immersion trips provide students with opportunities to examine energy systems first-hand from a variety of perspectives, and they frequently link students with alumni. Co-sponsored by the Dartmouth Sustainability Office, the Irving Institute's immersion trips have sent students to West Virginia, Texas, and Louisiana.
Advancing sustainable energy in cold climates
In partnership with Thayer and the U.S. Army Corps of Engineers' Cold Regions Research and Engineering Laboratory, the Irving Institute has received federal funding to assess energy systems in Arctic military installations to optimize energy services, delivery, storage, and mobility. Potential civilian applications include development of smaller, local electric grid installations and the creation of batteries that operate more dependably in extremely cold temperatures.
Dartmouth launched the institute with $113 million in commitments toward a total fundraising target of $160 million. Arthur L. Irving, the chairman of Irving Oil; his wife, Sandra Irving; and their daughter, Sarah Irving '10, TU'14, along with Irving Oil and the Arthur L. Irving Family Foundation provided the lead gift of $80 million.
From supporting postdocs to making the lead gift for a lab in the new building, there are many ways to advance the mission of the Irving Institute. Email calltolead@dartmouth.edu to learn more.
See how else Dartmouth is answering the call to lead