From Vibrant Basecamp to a Global Classroom
Inspired alumni are funding experiential learning that develops tomorrow's global leaders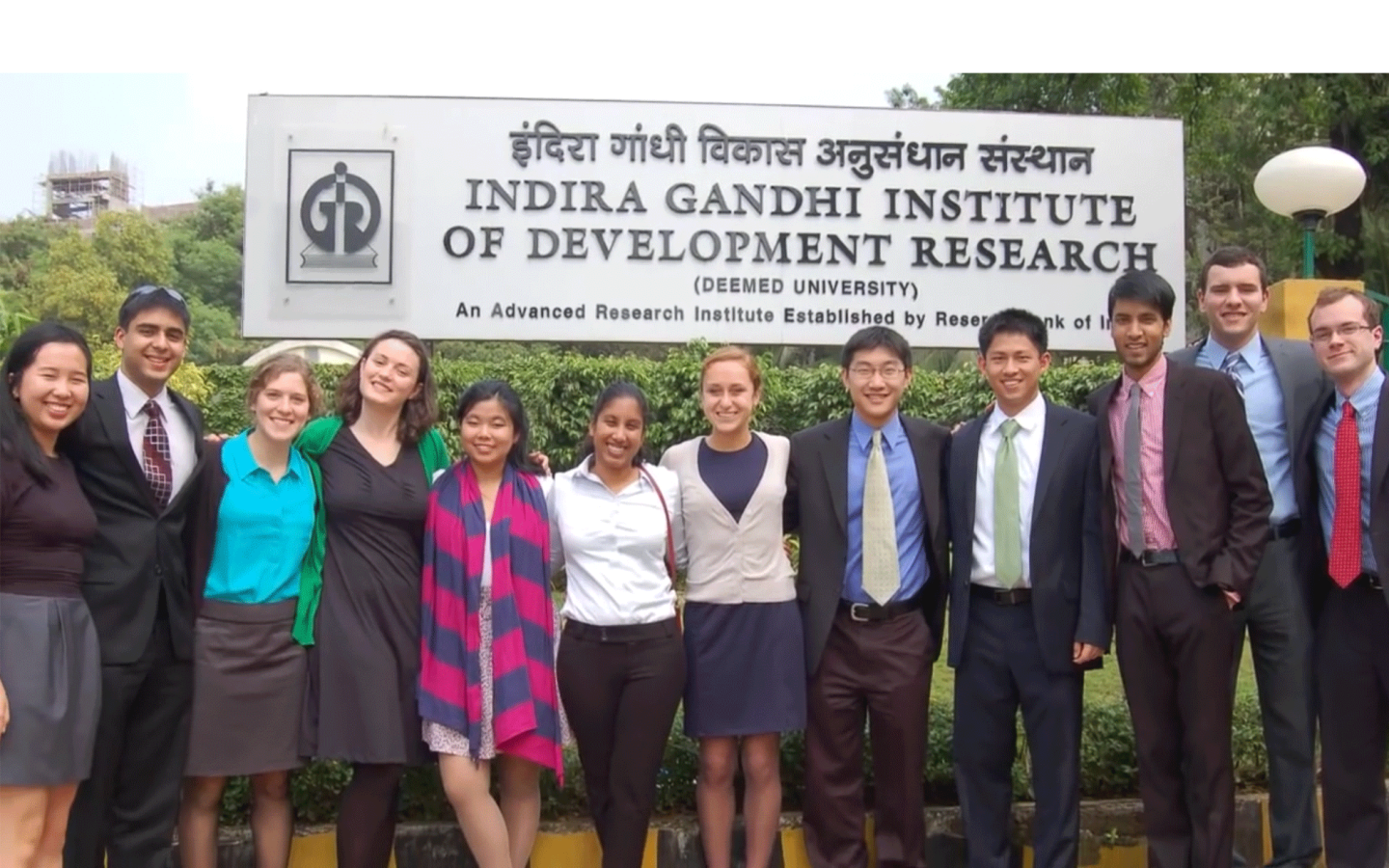 Through The Call to Lead campaign, the Dartmouth community has advanced the College's already illustrious global education programs, expanding access so all students have the opportunity to graduate with the critical-thinking skills necessary to understand and analyze complex transnational issues and develop innovative, sustainable solutions.
Dartmouth's foreign study programs and language study programs are immensely popular across all disciplines, and the uptake of each newly created trip, class, or project is swift. The pedagogy is evolving to be less Eurocentric, with a wider worldview and an emphasis on hands-on, experiential learning.
Dartmouth was an early pioneer in combining classroom teaching with real-world experiential learning, bridging the gap between theory and practice. More than 55 percent of all undergraduates spend at least one term at a foreign university. But not all students are able to take part in these programs, due to on-campus commitments.
"Not everyone can fit in a full-term FSP," says Erica Ruliffson Schultz '95, who together with her husband have established the Erica Ruliffson Schultz 1995 and Brian Schultz Off-Campus Program Fund. "I'm passionate about enabling as many students as possible to have this experience of stepping out of their comfort zone and learning about different worldviews. Whether it's because of athletics, work, or other required coursework on campus, many students are unable to take advantage of the full-term FSP offerings. Providing additional off-campus options—such as programs during the Winterim period—will allow more students and faculty to participate and experience Dartmouth as basecamp to the world."
A Spanish and Latin American Studies major, Schultz had her first experience living abroad during an FSP in Puebla, Mexico.
"It was a gateway experience for me—I had to step out of my comfort zone, navigate life in a second language, and live in a foreign culture.  It was empowering to learn, 'Oh, I can do this: step into the unknown and figure out how to be successful.'
"I also learned so much about different peoples' worldviews. In my 27 years in the field of enterprise technology, I've had the opportunity to lead numerous global teams. I am so grateful for that first Dartmouth experience. It unlocked a lifelong curiosity, and a key leadership skill.  Understanding different cultural worldviews is essential for modern leadership in any field—having empathy and appreciation for how people in different parts of the world see things," says Ruliffson, the president of field operations at Confluent, a digital data streaming platform.
---
Students began to participate in short-term international experiences as part of their course work several years ago. In 2014, participating students shared their experiences in this video after attending a practicum in Global Policy Leadership in India led by Professor Charles Whelan, senior lecturer and policy fellow at the Rockefeller Center. Many stressed the immediacy and importance of being in the studied environment.
---
The need for globally capable leaders crosses all disciplines. With support from The Call to Lead, Dartmouth continues to expand its global education programs and launch new opportunities with real-world reach and impact. In addition to expanding its global classroom, Dartmouth has also increased programs that are taking on some of the world's most pressing problems by combining campus-based learning with experiential research or internship opportunities. Each has been advanced or created during The Call to Lead campaign.
The Center for Global Health Equity serves as the unifying hub for Dartmouth's global health programs, engaging with some of today's most pressing health care problems to cultivate long-term, equitable relationships with partners in medically underserved communities in the U.S. and worldwide. Campaign gifts totaling $7 million from four Dartmouth families are fueling a variety of health equity initiatives, including the expansion of global health equity internships for undergraduates, graduate students, and medical students. 
"We hope that these gifts from four visionary families will inspire others in the Dartmouth alumni community to give to these transformative programs," says program director Lisa V. Adams MED'90. "Their generosity will impact generations of Dartmouth students and advance health equity in medically underserved communities around the world."
Since its founding the Institute of Arctic Studies has pursued a holistic approach to scholarship and policy, recognizing the connected environmental, cultural, and political dimensions of the North and the immediate impacts of rapid climate change. A new gift will fund a Distinguished Visitor in Arctic Policy to bring outstanding practitioners from the eight Arctic nations to engage with students and faculty on questions of community health, resource management, diplomacy, and indigenous studies to Dartmouth's John Sloan Dickey Center.
Similarly, a major private gift is supporting the Initiative for Global Security to advance Dartmouth's leadership in the study of international security and U.S. foreign relations through direct engagement with military leaders, diplomats, journalists and policymakers. The initiative is positioning Dartmouth as a convener for discussions around the future regional security questions. The gift has endowed a new Visiting Scholar/ Practitioner in this field to bring global leaders to campus as well as the undergraduate War and Peace Scholars program which takes delegations of students internationally to study regional security dynamics first-hand.