Two New Trailblazer Scholarships Honor Pioneering Alumni
Campaign gift continues series celebrating groundbreaking achievements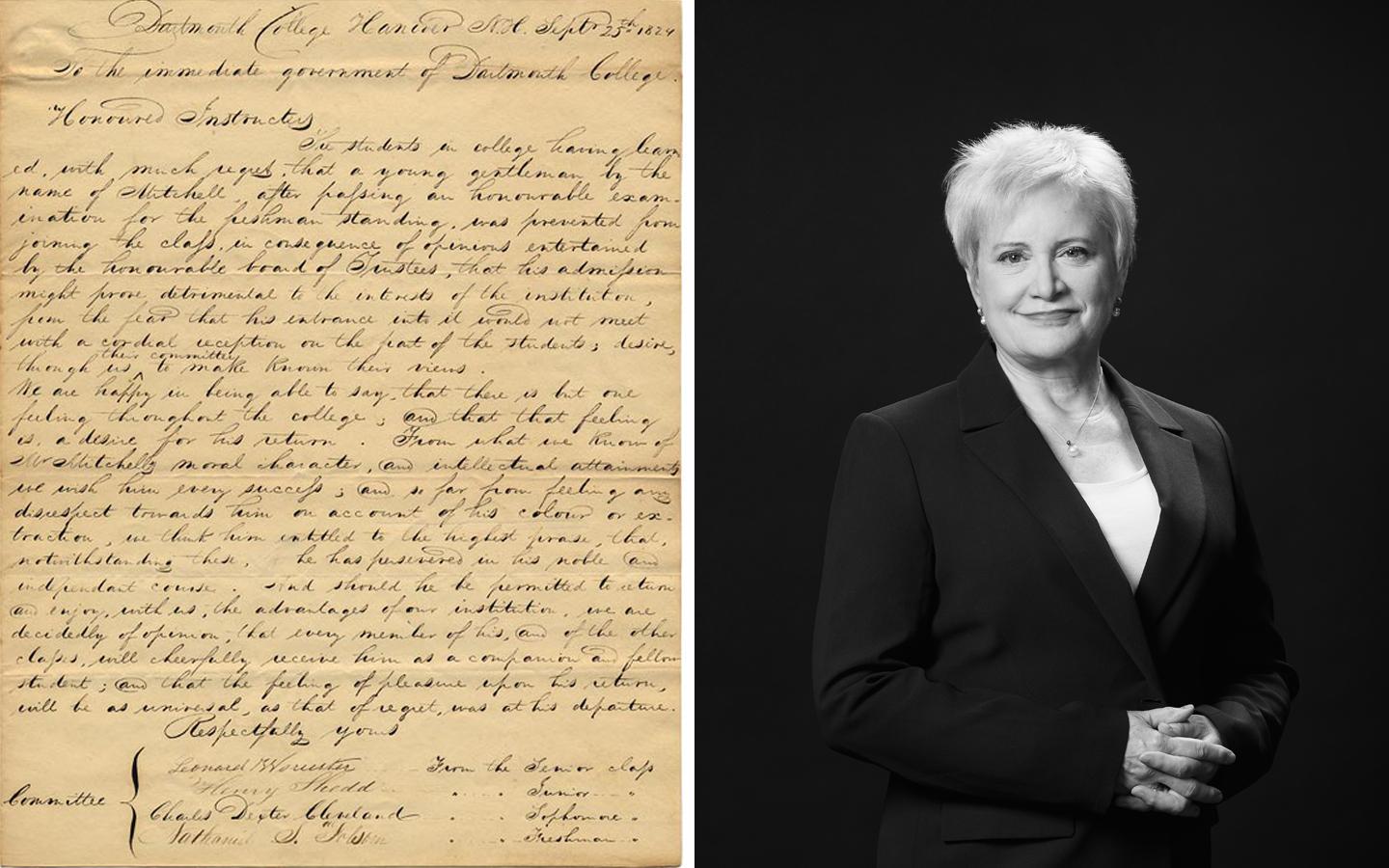 Dartmouth has announced two new Trailblazer scholarships named in honor of alumni "firsts" with an aim to raise the profile of pioneering Black Americans, Native Americans, and women, groups that have been underrepresented during much of the College's history. The scholarships, to be awarded later this year, are intended to support students from these populations.
The new scholarships will be named in honor of Edward Mitchell Class of 1828, the first Dartmouth Black graduate and the first to graduate from any of the universities today known as the Ivy League; and Susan Dentzer '77, the first woman to chair the Dartmouth Board of Trustees.

A total of 10 Trailblazer scholarships will be awarded over five years, made possible by a $10 million gift from an anonymous donor and inspired by three concurrent 50th institutional anniversaries in 2022: coeducation coming to Dartmouth, establishment of the Native American Studies Program (now the Department of Native American and Indigenous Studies), and the founding of the Black Alumni of Dartmouth Association.
Contributing to a more enriching campus life
"We know the individuals honored by these scholarships have changed Dartmouth for the better," says President Philip J. Hanlon '77. "These scholarships will introduce to each new Dartmouth generation powerful examples of how a diversity of backgrounds, perspectives, and life experiences enriches the Dartmouth educational experience."
The first two Trailblazer scholarships, which were announced last year, honored Daniel Simon, Class of 1777, the first Native American to earn a degree from Dartmouth; and Laurel Richie '81, the first Black American to chair the Board of Trustees.
"By virtue of their leadership, the individuals being recognized are pioneers who helped bridge a path for countless students from underrepresented backgrounds to attend Dartmouth and gain access to a lifetime of learning," says Shontay Delalue, senior vice president and senior diversity officer at Dartmouth. "Bringing visibility to Dartmouth's past and honoring these luminaries lays the important groundwork for future innovators."
Edward Mitchell, Class of 1828, the first Black American Ivy League graduate
Edward Mitchell, Class of 1828, (1792–1872) was born in Martinique, West Indies and came to Hanover with the family of Dartmouth President Francis Brown, who served from 1815–1820.
The Dartmouth community regarded Mitchell as a member of President Brown's family and he applied for admission to the freshman class of 1824. After passing the College's examinations, Mitchell was approved by the faculty. However, the Board of Trustees feared that his presence would be unacceptable and rejected his application.
A student committee was formed, headed by a darker-skinned white student named C.D. Cleveland, who made the argument that if color excluded a student from the college, he himself would not be there. The trustees reversed their decision and Mitchell was admitted. He lived first with the Brown family and then with Professor William Chamberlain, Jr., and family for his final three years.
To its credit, the Dartmouth community welcomed the 32-year-old Mitchell and invited him to participate in the Social Friends, one of only two fraternal societies on campus.
The Massachusetts Baptist Education Society funded his college expenses, which Mitchell later repaid. Shortly after graduation, Mitchell was ordained by the church as a Baptist evangelist. He also taught in small-town New Hampshire schools during winter semester breaks.
Employment opportunities for Black men in this time were scarce, as noted in A Noble and Independent Course: The Life of the Reverend Edward Mitchell, by Forrester A. Lee and James S. Pringle: "Like Mitchell, the majority of Black men at Dartmouth in the antebellum…could not find employment in the United States. For Black men with talent and education, few opportunities existed in the United States. By the mid-twentieth century, 133 African American men had attended Dartmouth, comprising the second-largest number of Blacks to enroll in a New England college, after Harvard."
It was only after he had left the United States on his missionary call to Canada that he received public notice recognizing the trailblazing steps he had taken, the authors conclude.
Susan Dentzer '77, the first woman to chair Dartmouth Board of Trustees
Susan Dentzer '77 came to Hanover in the second coeducation class to be admitted to Dartmouth. It was also during the Vietnam War, a tumultuous time on college campuses across the nation, including Dartmouth, where the atmosphere was more tempered.
"As women on a campus that had only recently become coeducational, we were very proud to be at Dartmouth," Dentzer recalls. "Students at Dartmouth seemed very happy to be at home on the picturesque campus, and some of the tensions of the time were less evident than they were elsewhere."
Her career has included reporting at Newsweek, U.S. News & World Report, and PBS NewsHour, where she found a calling covering the policy side of health care. She went on to become Editor-in-Chief of the health policy journal Health Affairs. Today she is the president and CEO of America's Physician Groups, an organization whose nearly 330 members—chiefly large, multispecialty medical groups— are committed to being held accountable for costs and quality as they provide care for nearly 90 million patients nationwide.
Throughout her working life, Dentzer has remained an active alumna, serving on multiple organizations and committees, including the Alumni Council, and chairing the editorial board of the Dartmouth Alumni Magazine. She received both the Young Alumni Award and the Alumni Award from the Alumni Council. As a council member, she was actively involved in revising the process for nominating alumni to the Board of Trustees, little expecting that she would be nominated into the first group of candidates.
"I was pretty darn sure that against two prominent male alumni, I didn't have a chance and would be handily defeated. But I emerged as the nominee, and then I was elected to the board and went on to serve for 11 years, from 1993 to 2004." She served as board chair from 2001 to 2004.
Along with Peter Fahey '68 TH'69, Dentzer co-chaired the board's Committee on the Student Life Initiative, which she cites as her greatest accomplishment during her tenure. The plan, introduced in 1999, implemented widespread changes to Dartmouth's social life and extracurricular environment.
"Susan displayed her intelligence, her journalistic instincts, and her friendliness as a member of the board for a number of years. So, when it came time to select our next chair, it was natural to turn to her," says William H. Neukom '64 H'15, also a former chair of the board. "Susan was one of several remarkable women on the board at that time, along with Christine Burnley Bucklin '84, Karen Francis DeGolia '84, Nancy Kepes Jeton '76, Pamela Joyner '79, and Kate Stith-Cabranes '73. As the chair of the board, Susan did a masterful job of listening actively, encouraging participation by all of us, and finding ways to build consensus."
"These scholarships will introduce to each new Dartmouth generation powerful examples of how a diversity of backgrounds, perspectives, and life experiences enriches the Dartmouth educational experience."
- President Philip J. Hanlon '77