New Gifts Drive Next-Generation Immunotherapy to Overcome Cancer
Dartmouth research on cutting edge cancer treatments receives strong support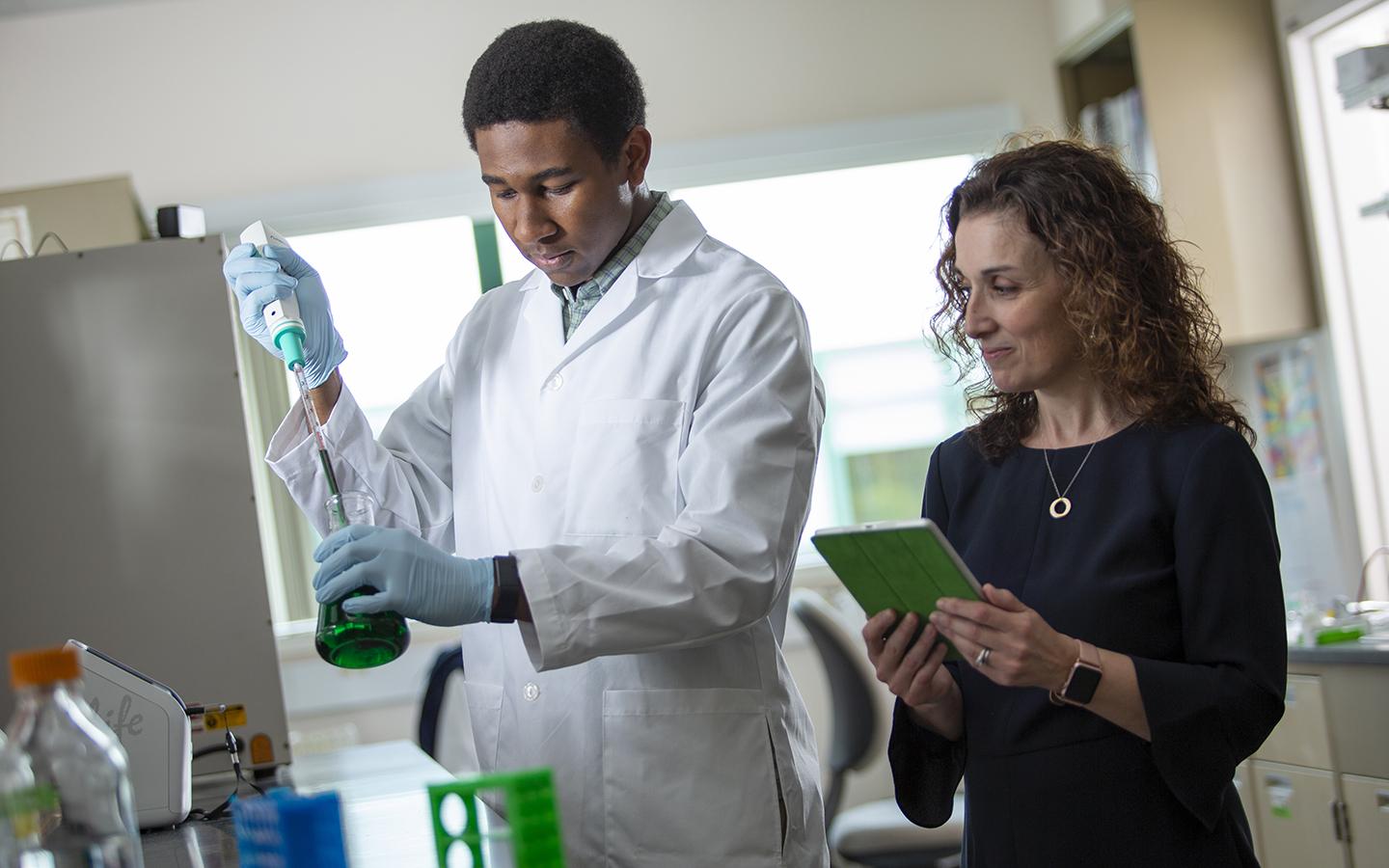 Three gifts, totaling $3.35 million, will advance cancer immunotherapy research and teaching at Dartmouth. The gifts were made by Veronica Guyre and Paul Guyre, a pioneering immunologist, entrepreneur, and emeritus professor of microbiology and immunology at Geisel; Bob Barber, whose wife, Esther, was treated at Norris Cotton Cancer Center; and Justin and Victoria Hall Gmelich '91. These gifts will help accelerate Dartmouth research in the development of multiple, promising, next-generation immunotherapies, getting life-saving cancer treatments to patients more quickly. Dartmouth's Norris Cotton Cancer Center is one of five Big Bets on Discovery in The Call to Lead campaign because of the Cancer Center's national leadership in discovery, innovation, and entrepreneurship.
Paul Guyre has devoted much of his career to developing cancer treatments. He cofounded the company that developed the first successful immunotherapy drugs for cancer. But he also has a personal, painful connection to the disease. His brother passed away from lung cancer, and 15 years ago, he was treated for prostate cancer.
"Fortunately, my cancer was discovered at a very early stage, and I had a successful treatment," he says. "But so often that's not the case with patients and there is still much research to be done to advance more effective, life-saving treatments." The Guyres' gift will help support the development of new and better immunotherapies at the Geisel School of Medicine and the Norris Cotton Cancer Center, which is jointly operated by Dartmouth and Dartmouth-Hitchcock.
The Gmelich family's gift will establish the Victoria Hall Gmelich 1991 and Justin G. Gmelich Professorship, supporting Geisel faculty focused on teaching and/or research in the areas of immunology or oncology. Justin and Victoria have been longtime supporters of both education and medical research. As the son of a pathologist, Justin is especially looking forward to collaborating with Geisel in supporting the advancement of research in immunotherapy and oncology. The Gmelichs are also founders of the all-girls STEM high school, Trinity Hall.
For Bob Barber, the care his wife received at Norris Cotton Cancer Center was very meaningful.
"We were so impressed with the staff's caring attitude," he says. "When we were told that Esther was not going to respond to chemotherapy and she was terminally ill, the discussion was handled with so much care and understanding. There was no sugarcoating. They were very open about it, and we jointly agreed that the goal should be to make her as comfortable as possible as she approached the end of her life. It avoided putting her through treatment that would not cure the disease."
Following her passing, Barber met with Steven Leach, M.D., director of Norris Cotton Cancer Center and the Preston T. and Virginia R. Kelsey Distinguished Chair in Cancer, to talk about his idea of supporting the Center and learned about immunotherapy. Traditional methods to treat cancer, like chemotherapy, use powerful drugs that have painful, lasting side effects. Immunotherapies engage the body's immune system to battle cancer cells, and are often less risky and can be more effective and tolerable for the patient. "I felt that if I could assist Dartmouth in these new therapies that could supplant chemotherapy and other debilitating treatments, that would mean a lot to me and my family." To accomplish this intent, Barber established the Robert L. and Esther T. Barber Cancer Immunotherapy Research Current-Use Fund.
Barber plans to have his two grown daughters come to Dartmouth and meet Leach, so "they can feel ownership in our family philanthropy, supporting future patients. I really want them to be a part of this project. It's a family endeavor."
On the Leading Edge
For cancer, basic science is key, Guyre explains. "Studying the molecular mechanism of our immune system has been important to me all my life," he says. "It's crucial to figuring out how to develop new cancer treatments. More recently, when I heard Steve Leach talk in detail about all the facets of cancer research that go on to become therapeutics, I knew I wanted to make a significant donation to help Dartmouth scientists, and ultimately help people who struggle with cancer.
"Steven is a very empathetic leader who inspires people, and a caring physician. His leadership and the warm, collaborative research culture among basic scientists and clinicians at the Cancer Center convinced Veronica and me to support their work."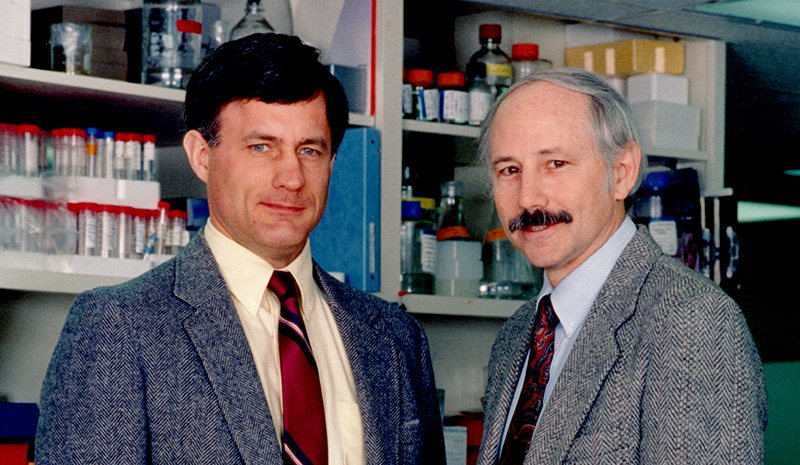 Dartmouth immunologists Paul Guyre and Mike Fanger, circa 1989. Their company, Medarex, developed the first successful cancer immunotherapy drugs.
Dartmouth scientists, like Guyre, have been at the forefront of cancer immunotherapy for decades. Medarex, the company that Guyre cofounded with Dartmouth immunologists Michael Fanger and Edward Ball, went on to develop the first successful blockbuster cancer immunotherapy drugs that supported the 2018 Nobel Prize in Medicine. Since then, 14 biomedical startups have had their roots in Dartmouth's Cancer Center, many of them focusing on immunotherapy.
Guyre's colleagues continue to be on the leading edge of developing new immunotherapy treatments. One such treatment, now in early clinical trials, is based on research by Dartmouth immunologist Charles Sentman. His team created a unique form of CAR T-cells that can target up to 80-90 percent of human cancers and can be compatible with any patient. The therapy is in early clinical trials in Europe and the U.S. for seven different kinds of cancer.
 Immune Cells vs. Cancer: What Are CAR T-Cells and How Do They Work?
Produced by the Geisel School of Medicine at Dartmouth
"Philanthropy will help the next generation of scientists take bigger risks and do innovative things down the road that may only have a 50/50 chance of playing out," says Guyre. "Sometimes those chances lead to big things."
Support cancer research at Dartmouth

For more information, contact Bethany Solomon, Director of Development for the Cancer Center: Bethany.Solomon@Dartmouth.edu or 603-653-0793

 
Dartmouth: Pioneering in Cancer Immunotherapy
A virtual panel session
Paul Guyre and three other top immunotherapy researchers will talk about about the latest efforts to mobilize the immune system to fight cancer.
February 9, 2021 at 5:00 p.m. ET
Registration and more information at: Webinar Registration - Zoom
See how else Dartmouth is answering the call to lead