New Endowment Honors Two Coaches Who Elevated Men's Tennis
A grateful alumnus thanks Dartmouth for his transformative Big Green student-athlete experience
Thanks to the generosity of a two-time tennis team captain, Dartmouth has named the men's tennis head coaching position in honor of two coaches who oversaw the program for more than 40 years and mentored hundreds of student-athletes.
Laurie and Peter Maglathlin '78 endowed the position with a $1.5 million gift and named the position in recognition of Chuck Kinyon, who twice led the team to Ivy League titles, and the late John Kenfield.
"As I've gotten older, I've come to realize that any success I've experienced in large part goes back to my days of playing tennis at Dartmouth and the great life lessons I learned on the court," says Maglathlin, who captained the tennis team in his junior year and both the tennis and squash teams in his senior year. "Those were my first important opportunities to lead by example. They were incredibly fulfilling learning experiences."
With this gift, 16 positions in the Department of Athletics and Recreation have been endowed during The Call to Lead campaign. Endowments generate vital annual income to address a sport's most pressing needs, including competitive salaries, team travel, recruiting expenses, and equipment, and they support other departmental priorities that benefit all sports at Dartmouth. Philanthropic support of Athletics enhances the competitiveness of Big Green teams and expands leadership-learning opportunities for students.
"My sincere thanks to Laurie and Peter for their generosity and leadership," says Interim Director of Athletics and Recreation Peter Roby '79. "Their gift is an acknowledgement of the impact that coaches can have. Endowed gifts give our programs certainty to plan ahead with full knowledge that resources will be available when needed."
Maglathlin, who won more than 100 tennis matches at Dartmouth, was a recipient of the Kenneth Archibald Prize, Dartmouth's highest athletic honor, awarded annually to the member of the graduating class who has been the best all-around athlete, with regard also given to "moral worth and high standing in scholarship." President and CEO of MBI, Inc., a consumer products company, he is forever grateful to Kenfield, who coached the men's tennis team from 1967 to 1983.
"I showed up as a timid freshman trying out for the tennis team, and John Kenfield was like a father figure to me," says Maglathlin. "He took me under his wing and told me I could be a really good tennis player. He had more confidence in me than I did, and without his guidance I wouldn't have been nearly as competitive as I was on that team for those four years."
Kinyon, who came to Dartmouth in 1980 to coach squash, succeeded Kenfield as tennis coach and led the men's team to its first Ivy League championship in 1993 and its second in 1997. He retired in 2010.
"Chuck raised the bar of excellence for Dartmouth tennis," says Maglathlin, who as a young alumnus first met the future Dartmouth coach while Kinyon was the tennis pro at Dublin Lake Club. They played as doubles partners in several tournaments and have remained close friends.
"I'm incredibly honored. When Peter called me to say he was naming this position in honor of John and me, I was flabbergasted," says Kinyon. He adds that the program's need for financial support has never been greater as competition has heightened over the years. For example, as tennis has become a global sport, coaches today need to recruit internationally to find the right mix of talented players who will coalesce and become teammates.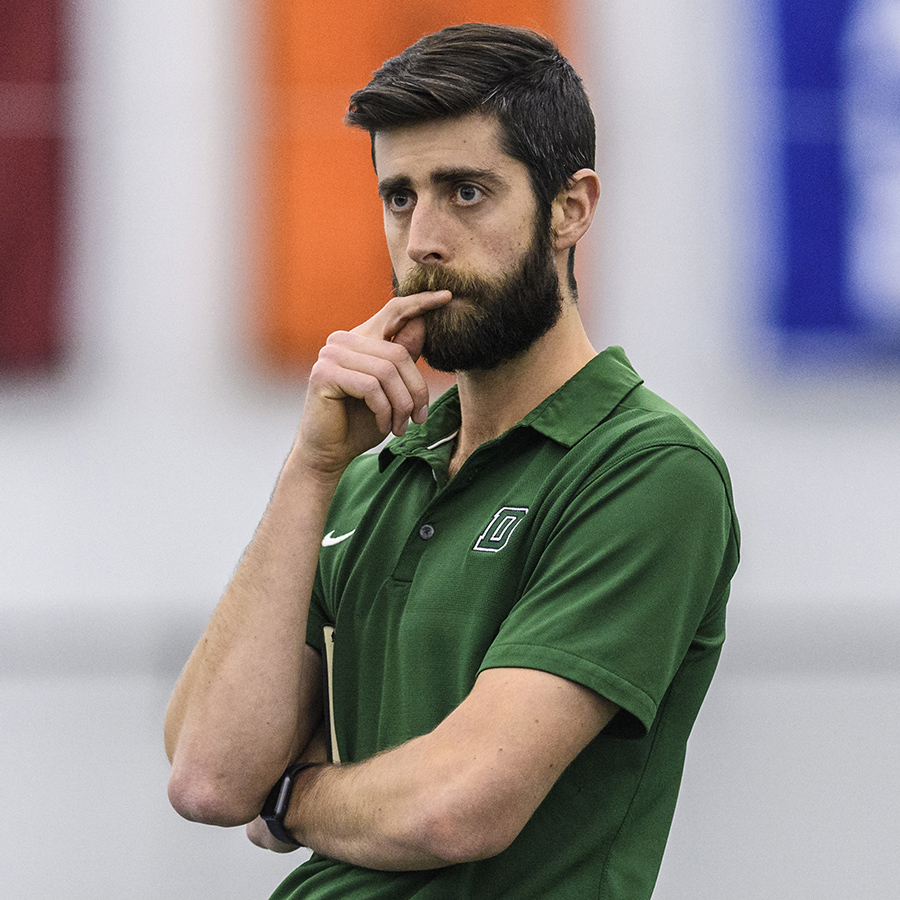 "One of the major challenges of coaching collegiate tennis at this level is that most of the players you're recruiting have never played on a team," says Kinyon. "Many of these young men have been playing in tournaments on their own since they've been nine or ten years old. You have to teach, mentor, and cajole players to be part of a team, which is challenging. It's different than most sports."
Maglathlin also has a personal connection to the current men's head coach, Xander Centenari '13. A friend of Centenari's uncle, Maglathlin was one of the first people to congratulate Centenari when he committed to Dartmouth in 2009, and as a member of the Friends of Dartmouth Tennis advisory board for many years, the two have been in regular touch.
"Peter has been an important part of my journey at every stage, and I couldn't be more grateful for what he's done," says Centenari, the first John Kenfield and Chuck Kinyon Head Coach of Men's Tennis. "In the Ivy League and beyond, there are a ton of great tennis programs out there. It's becoming harder and harder to separate yourself from the competition because top players are looking at a number of schools. This endowment is going to help us immediately and benefit the program for generations."
"I showed up as a timid freshman trying out for the tennis team, and John Kenfield was like a father figure to me. He took me under his wing and told me I could be a really good tennis player."
- Peter Maglathlin '78