"Leadership Is About Confidence and Authenticity"
Dartmouth prepared Lisa V. Adams to be a leader, whether directing health care delivery and training programs in Tanzania and Rwanda or being the College's point person during the pandemic.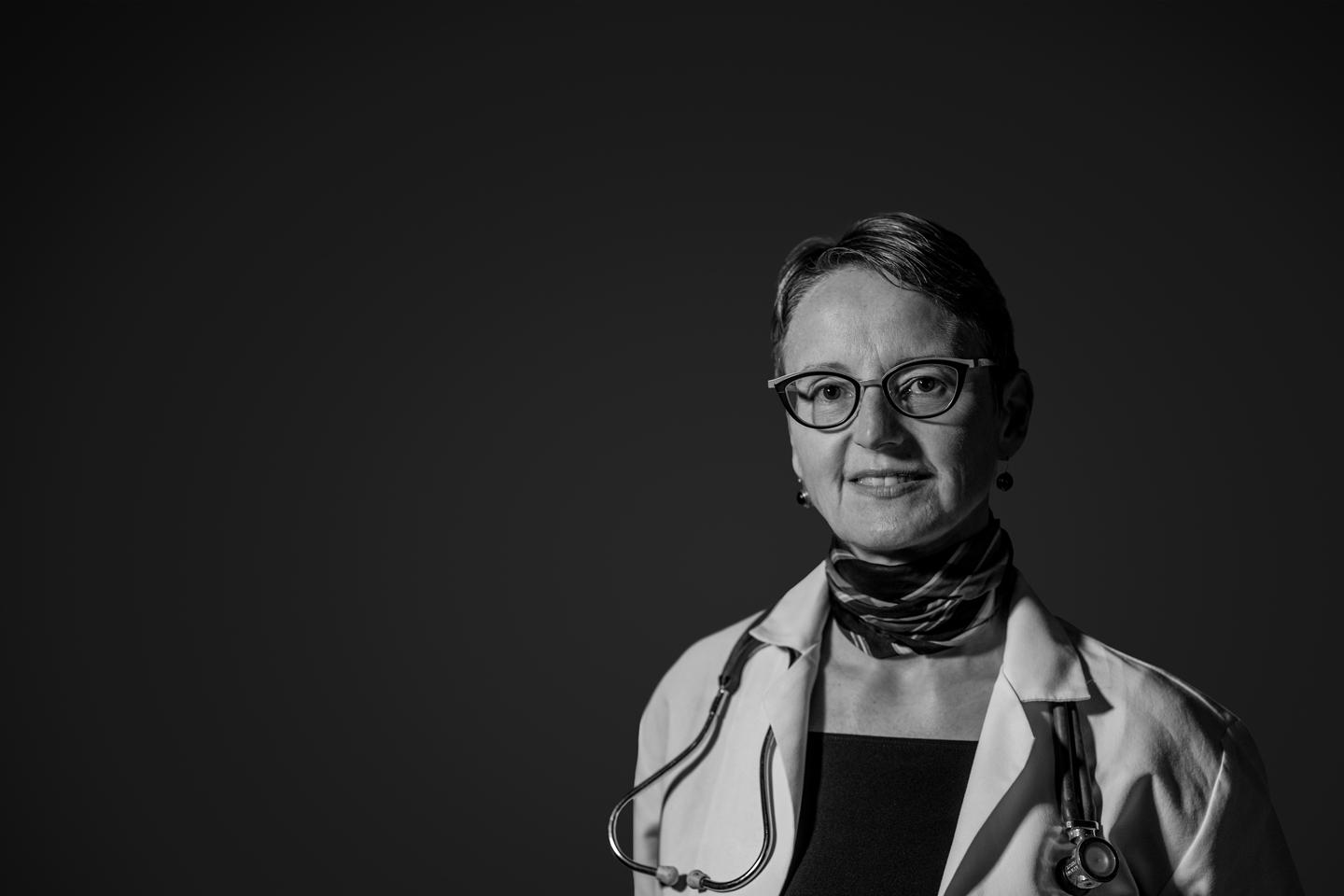 Lisa V. Adams MED '90 serves as the director of the Center for Global Health Equity, associate dean for global health at the Geisel School, and faculty director of the Global Health Initiative at Dartmouth's Dickey Center for International Understanding. Each role relies on her skillful leadership abilities to advance the missions of these groups and ensure Dartmouth's position as a leader in health education and equitable access policy.
 
Lisa V. Adams had a clear goal in mind when she chose a career in medicine.
"I came to medical school with a strong desire to work with underserved populations," says Adams, who graduated from Geisel School of Medicine in 1990 and now directs Dartmouth's Center for Global Health Equity. "I knew that Geisel, with its small size, would provide the level of attention needed to prepare me for a career in medicine. And I felt a real sense of community here—you knew that someone was always looking out for you, that they had your best interests at heart, and they got to know you as an individual. It was a place where I could thrive."
Adams credits her Geisel years for developing the important leadership skills that have served her well through her career—and in turn, have allowed her to effectively serve others.
"Geisel gave each of us the confidence to become leaders in our respective fields. Leadership skills, whether you are leading yourself, a small group, or a larger institution, are all about having confidence and authenticity," Adams explains. Out of this authenticity, she says, comes the ability to articulate credible positions that people can understand.
The Voice of Dartmouth's Pandemic Response
Today, most members of the Dartmouth community know Adams best as a regular guest on the Community Conversations series hosted by Provost Joe Helble during the past year and from the frequent emails sent from the Task Force providing updates on COVID-19. Adams has been a calm, authoritative voice for the community throughout the year's challenges, encouraging readers to adopt behavior and practices that will help us navigate the pandemic and return to a "near-normal" life.
As a public health communicator, Adams and her team go to great lengths to craft these community messages—a more difficult challenge than many might expect. Clarity, empathy, and gratitude are essential, because if messages are misconstrued, they can potentially do more harm than good.
"The messages we prepare are revised, reviewed, and revised again. We try to get different sets of eyes on them, because students will read them through their lens, as will faculty and staff, and even the broader community. You need to have people challenge you on decisions and approaches. Welcoming other voices has fostered a sense of humility in me—and in the process."
The Dartmouth community has done exceptionally well in following recommended practices, Adams says. "The outbreak we saw at the end of February suggested a lapse among our student population, but everyone readily complied with the need for isolation and quarantine and we were able to interrupt further transmission and control the outbreak rather quickly. And for that we are very appreciative."
 
What Will Our Lives Be Like a Year From Now?

"I do think we will be back to more normal lives, but some changes will persist. We're all desperate for more interaction and contact with friends and family, and we want to resume our personal and work-related travel. But there may be still a need for some distancing and masking in certain settings. As health care providers, we're talking about whether we'll continue to wear masks during medical encounters."
 
Collaborative Science Makes the Difference
The pandemic has changed the lives of everyone on the planet, and nothing we have done before could completely prepare us for this moment, Adams says. 
"Working together across borders has been essential—we wouldn't have these vaccines without international collaboration. But disease anywhere is disease everywhere, and the troubling issue that remains is the inequitable worldwide access and distribution of vaccines. We have so much farther to go."
Adams says infectious disease epidemiologists have known that a pandemic would occur; they just didn't know when. "Not if but when the next pandemic emerges, our collective experience from this crisis will allow for a better response. Being in a leadership role during this pandemic will serve me well in the future, with more finely-honed skills. It even spills over into other areas of my work, and my personal life."
 
The Call to Lead
Adams has worked in over a dozen countries conducting HIV and tuberculosis research trials and is currently collaborating with health workers in Tanzania on a HIV research training program. And true to her original inspiration, fostering access to health care for all remains an important motivator.
"I am gratified that the Center for Global Health Equity was chosen as one of The Call to Lead campaign's giving priorities," she says. "It's exciting to see how the campaign is reaching every corner and constituency of our campus.
"The Call to Lead provides us with ways to directly support all the departments and groups across the alumni spectrum. The campaign has also amplified the impact that the women of Dartmouth can make—most recently through the Dartmouth Hall renovation and scholarship initiatives.
"It shows the importance of the liberal arts in education—to have that fire in your belly, that passion that fuels you—that's what we want to foster in all Dartmouth students, faculty, and staff."