Landmark New Scholarships Honor Dartmouth Trailblazers
$10 million gift will recognize alumni leaders who paved the way for others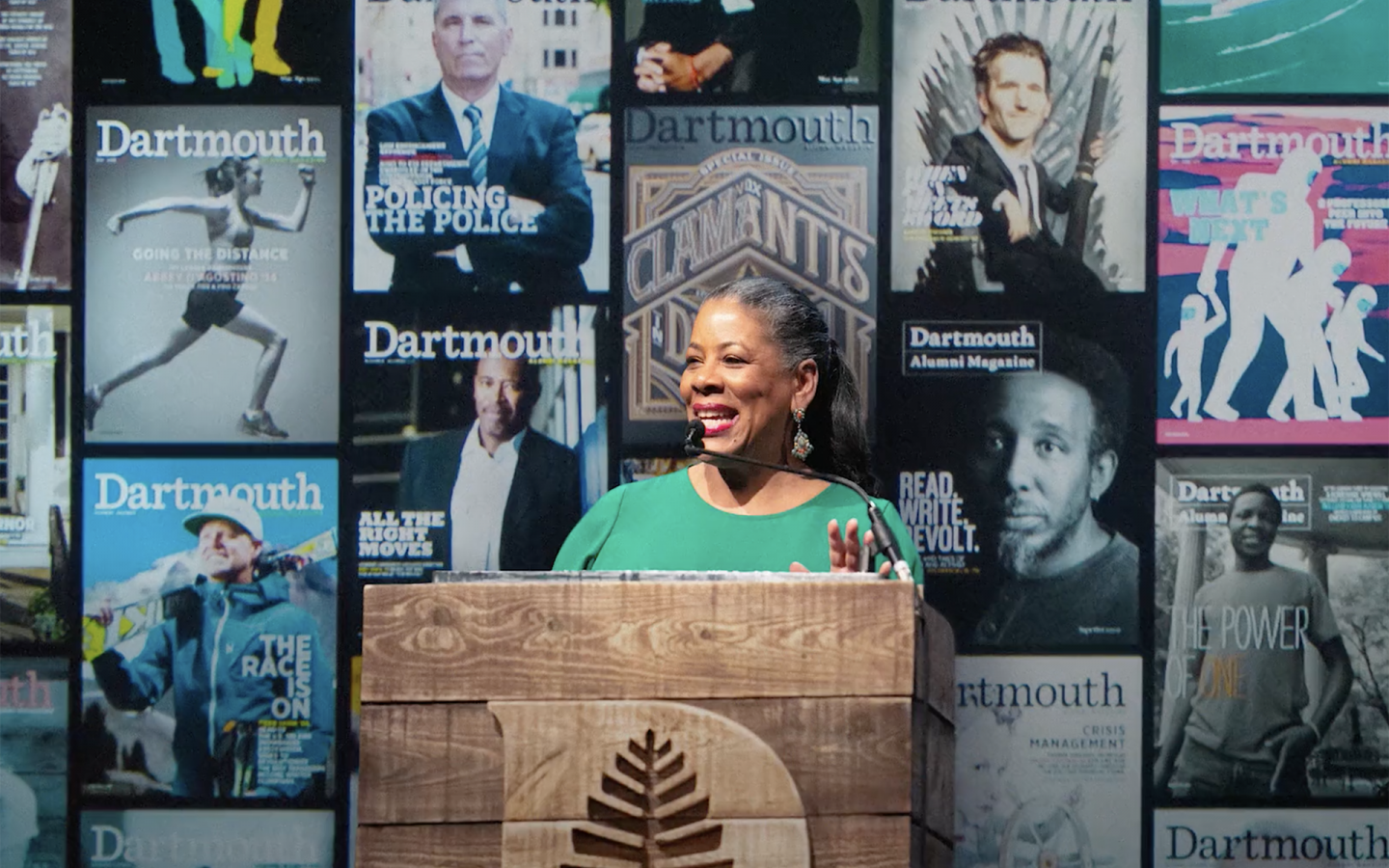 A Gift Inspired by Three Dartmouth 50th Anniversary Milestones
President Philip J. Hanlon '77 has announced a $10 million gift that will establish 10 scholarships named in honor of alumni "firsts" from underrepresented groups—individuals who set precedents and inspired others in the Dartmouth community.
The gift from an anonymous donor, one of the largest commitments to undergraduate financial aid in Dartmouth history, is inspired by three institutional 50th anniversaries next year: those of coeducation, the establishment of the Native American Studies Program (now the Department of Native American and Indigenous Studies), and the founding of the Black Alumni of Dartmouth Association. These transformational developments during the presidency of John Kemeny laid the groundwork for a more welcoming, diverse, and inclusive Dartmouth community.
The scholarships aim to raise the profile of pioneering Black Americans, Native Americans, and women, who were underrepresented during much of Dartmouth's history. The gift will create two scholarships annually over five years, each named for a member of the Dartmouth community who paved the way for others. When fully funded, the 10 scholarships will support approximately 10 undergraduates each year.
Honoring Those Who Changed Dartmouth for the Better
President Hanlon announced that the first two scholarships have been named in honor of Daniel Simon, Class of 1777, the first Native American to earn a degree from Dartmouth; and Laurel Richie '81, the first Black American to chair the Board of Trustees.
"We know the individuals who will be honored by these scholarships have changed Dartmouth for the better," says President Hanlon. "A diversity of backgrounds, perspectives, and life experiences broadens the impact of our academic programs for all, fuels creativity, and contributes to a more enriching campus life."
"Honoring those in Dartmouth's history who opened doors for others fosters a deeper sense of community," says Shontay Delalue, senior vice president and senior diversity officer. "It sends a signal that says to our students, 'You belong here.'"
Expanding access and affordability through increased availability of scholarships is a top priority of The Call to Lead campaign. The College is seeking to grow its scholarship endowment by $500 million during the campaign. With this latest commitment, Dartmouth has secured $312 million toward that goal.
A Recommitment to Dartmouth's Original Mission to Educate Native Americans
An early proponent of scholarship support, Daniel Simon, a member of the Narragansett tribe, was the only Native American to graduate from Dartmouth during the lifetime of Eleazar Wheelock, the College's founder and first president. Although Dartmouth's 1769 charter created the College "for the education and instruction of Youth of the Indian Tribes in this Land" as well as other students, the College didn't advance its founding mission, and fewer than 20 Native Americans graduated from Dartmouth during its first 200 years.
Since the early 1970s, when President Kemeny recommitted the College's original mission, approximately 1,200 Native Americans have graduated from Dartmouth, more than the other Ivy League universities combined. The Department of Native American and Indigenous Studies annually presents the Daniel Simon Award to a Native or Indigenous student for outstanding academic achievement.
Simon, who went on to serve as a teacher and minister, was an early proponent for increased scholarship support to help students in financial need. In a letter held by the Rauner Special Collections Library, Simon wrote to President Wheelock complaining that the physical work required of students from poor families was interfering with their education. "Wo unto that poor Indian or white man that Should Ever Com to this School, without he is rich," he wrote.
"To be able to draw this line of continuity between Dartmouth's founding purpose and its first Native graduate to the modern day highlights two important commitments Dartmouth has made," says N. Bruce Duthu '80, the Samson Occom Professor of Native American Studies. "It reflects the College's continued recognition that the needs of many Native American families remain urgent in the sense of being able to afford higher education and also our dedication to offer a meaningful, accessible education."
Recognizing Dartmouth's Contemporary Pioneering Leaders
Laurel Richie served on the Dartmouth Board of Trustees from 2012 to 2021, the final four years as chair. An active alumna in her class and across the alumni-volunteer community, she is a co-chair of The Call to Lead campaign and she chairs the Hopkins Center Advisory Board.
Richie was the first Black woman to lead a major U.S. professional sports league, serving as president of the Women's National Basketball Association for five seasons. Prior to that role, she served as senior vice president and chief marketing officer for the Girl Scouts of the United States of America and as a senior partner and executive group director at Ogilvy & Mather.
"This inspired gift creates a fuller picture of the legacy of leaders at Dartmouth," says Steve Mandel '78, chair emeritus of the Dartmouth Board of Trustees and a member of the Campaign Executive Committee. "Talented, pioneering individuals such as Laurel Richie will now be known to future generations for their achievement and service."