Hanlon Calls on Community to Finish Strong as Campaign Reaches New Heights
The Call to Lead surpasses $3 billion with focus on discovery, community, and access
With broad support from across the Dartmouth community, The Call to Lead campaign has exceeded $3 billion, a transformational investment in Dartmouth that is affirming and strengthening its position as one of the world's leading institutions of higher education.
Speaking to the Faculty of Arts and Sciences on Monday, President Philip J. Hanlon '77 publicly announced that The Call to Lead is now entering its final phase to secure the necessary investment in Dartmouth's strategic vision and to advance teaching and scholarship in areas where the institution is poised to have significant impact on pressing global challenges.
Over the weekend at an event honoring campaign leaders, President Hanlon thanked the Dartmouth community of alumni, families, and friends for sharing the campaign's lofty ambitions and for positioning Dartmouth to be the unequivocal global pioneer in educating adaptive, empathetic, creative leaders who shape the world's future. The campaign's multiple achievements, he said, are enhancing the breadth of the Dartmouth experience.
"Thank you for believing in our students. Thank you for believing in our potential. And thank you for believing in our vision for the future of this great institution," said President Hanlon, adding that the full mission of the campaign is not yet realized.
"At Dartmouth, we don't stop before the final play is made, the final chapter is written, the final experiment is run. We know we have more important work to accomplish as part of this campaign—and we will get it done with the continued support of this community."
President Hanlon emphasized that in a time of uncertainty and challenge, the greatest issues of the day require Dartmouth's full engagement. The three principal areas of focus that will drive the campaign through to its completion—expanding the availability of financial aid to ensure full access to the Dartmouth experience, igniting innovation in two interdisciplinary districts of learning and scholarship, and ensuring a diverse, healthy, and safe campus—build on the campaign's achievements and are more crucial than ever given global trends that demand scholarly inquiry, innovative thinking, and courageous leadership.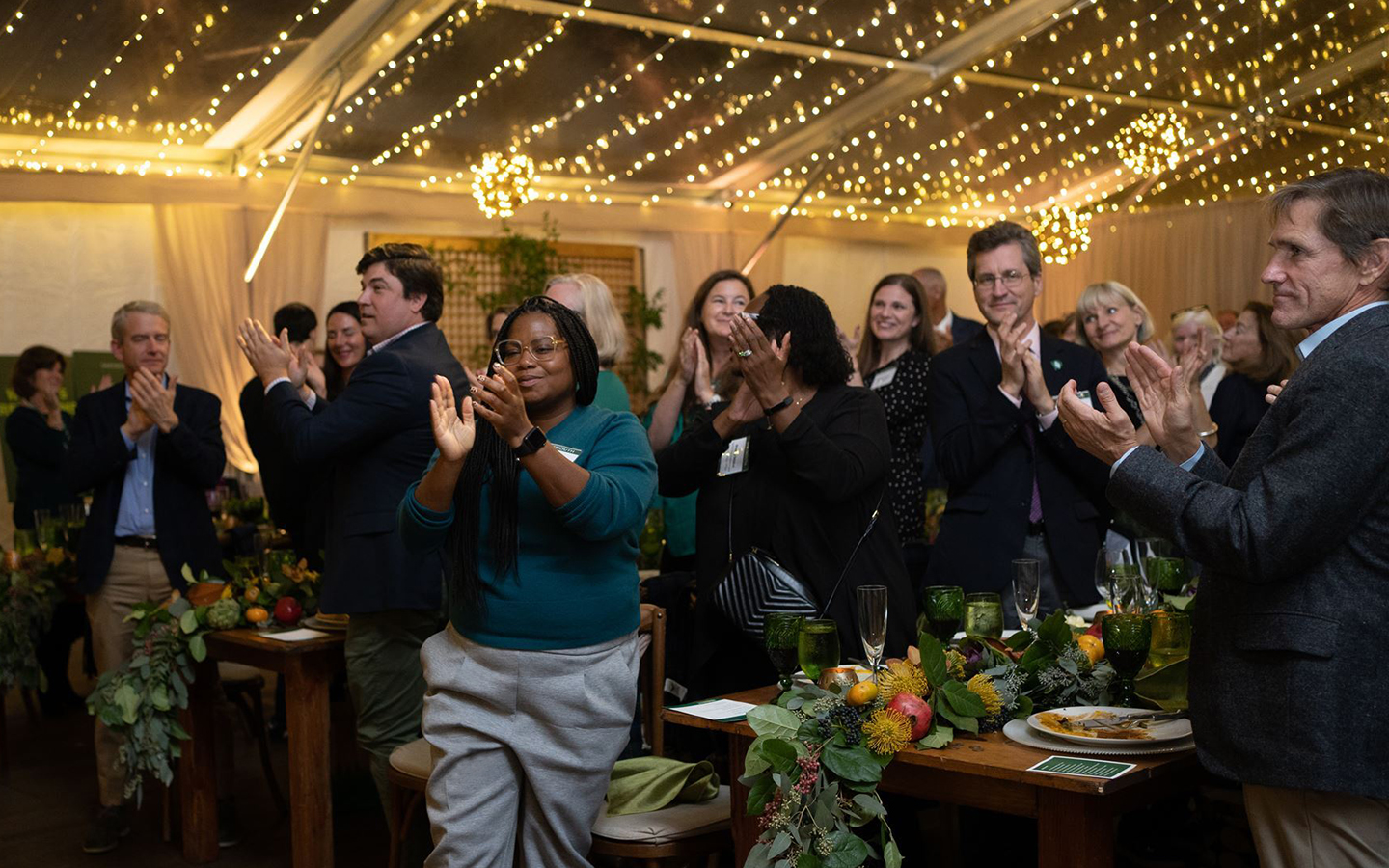 Successes reaching every corner of campus
Dartmouth is one of fewer than 30 institutions of higher education globally to exceed $3 billion in a comprehensive campaign and, with Caltech, is one of two smallest in terms of alumni population. Already Dartmouth's most successful comprehensive campaign, The Call to Lead has touched nearly every facet of the Dartmouth experience—capital projects and endowment funding for academic programs, faculty teaching and research, and student financial aid—and will benefit countless students in the coming decades and beyond.
"We appreciate that this is an extraordinary number," said campaign co-chair Ellie Loughlin '89, referring to the $3 billion milestone. "But when we look at the importance of Dartmouth's mission to educate leaders, we are tremendously grateful for every campaign gift. Each contribution has had, and will continue to have, a positive impact on our students."
The campaign has mobilized more than 90,000 members of the Dartmouth community worldwide, including 56 percent of all alumni affiliated with all parts of the institution: the Geisel School of Medicine, Guarini School of Graduate and Advanced Studies, Thayer School of Engineering, Tuck School of Business, and the Faculty of Arts and Sciences.
One important component of the campaign's success has been the number of bequest intentions that alumni have made for future support of the College, more than 2,200 since the campaign began.
"We saw the bequest campaign as an easy point of entry for alumni of all ages, backgrounds, and means," said Rick Kimball '78, a campaign co-chair. "The response has been exceptional as members of the community have discovered how easy it is to make a planned gift, and that is very gratifying."
Publicly launched in 2018, The Call to Lead has been championed through the efforts of more than 150 volunteer leaders across the globe. The College's 250th anniversary in 2019 accelerated enthusiasm for the campaign, which provided momentum as Dartmouth pivoted to virtual campaign programming in response to the global pandemic. The campaign's strategic direction is provided by the nine co-chairs of the Campaign Executive Committee: Kathryn and Richard Kimball '78, Elizabeth '89 and Philip Loughlin '89, Sharon and Gregory Maffei '82, Laurel Richie '81, and Peggy '79 and David Tanner.
The Call to Lead is strengthening Dartmouth's distinctive third path, fusing a best-in-class undergraduate college with a dynamic research university. The campaign has:
Distinguished Dartmouth's place among America's leading research universities, with Dartmouth joining the prestigious Association of American Universities in 2019, increasing external research support, and creating a new school to intensify research outcomes—the Frank J. Guarini School of Graduate and Advanced Studies.
Positioned Dartmouth to be a major global contributor to questions defining the next century, including energy, international security, the future of the Arctic, and cancer cures and prevention. Thirty faculty cluster hires are seeding further interdisciplinary research between schools and across the university.
Strengthened access and affordability through the power of the Dartmouth College Fund and more than 300 new scholarship endowments.
Dramatically expanded experiential learning opportunities in the classroom and beyond, grew undergraduate research and internships, and completed the most comprehensive investment in the student-athlete experience in Dartmouth's history, including the groundbreaking Dartmouth Peak Performance program.
Celebrated Dartmouth's singular student experience and sense of place with comprehensive renovations of the Moosilauke Ravine Lodge campus and the Dartmouth Outing Club House.
Inspired diverse philanthropic communities to help shape Dartmouth's future with industry-leading participation by women, parents, international alumni, entrepreneurs, and young alumni. Capturing national attention, Dartmouth alumnae are redefining women's philanthropy in American higher education through bold, collective acts of generosity, including the $25 million renovation of iconic Dartmouth Hall.
"These are remarkable achievements. We have shown once again why we are a preeminent institution of higher education," said Board of Trustees Chair Liz Cahill Lempres '83 TH'84. "This should motivate us to raise our aspirations even further to deliver the distinctive programs that will continue to attract the most talented students and faculty. Through The Call to Lead campaign and the celebration of our 250th anniversary, we've engaged our entire community in a way that is uniquely Dartmouth."
Three principal themes
As the campaign enters its final phase, Dartmouth is focusing on $350 million in remaining programmatic priorities organized around three principal themes:
Attracting the most talented students through financial aid
Dartmouth is dedicated to the principle that talented students come from families across all income levels and that all students benefit from learning in a socioeconomically diverse undergraduate community. A robust and distinctive financial aid program is the key to talent, community, and leadership development for every Dartmouth student, not just those who receive scholarships. Dartmouth is resolute in its audacious goal to become one of only six universities in the United States to offer need-blind in admissions for all students, including international students, and to lift the burden of indebtedness by eliminating loans from its awards.
Sparking innovation and creativity through integrated learning districts
Dartmouth is redefining two areas of campus in a way that underscores a broad "hands-on" liberal arts education characterized by creative confidence and a facility with technology. Challenges such as creating a sustainable energy future and ensuring cybersecurity require leaders who can harness the power of innovative technology within the context of a liberal arts education—and Dartmouth is making that happen in the business, entrepreneurship, and technology-focused West End of campus.
Another form of innovation, artistic expression, is at the heart of Dartmouth's Arts District. With construction beginning as early as 2022, Dartmouth aims to undertake a major expansion and renovation of the Hopkins Center for the Arts, which alongside the renovated Hood Museum of Art and Black Family Visual Arts Center will establish Dartmouth's Arts District. When the Hopkins Center's renovation is complete, students will have unprecedented opportunities to explore the arts as a component of their complete liberal arts experience.
Encouraging student success and supporting a healthy, welcoming campus community
Dartmouth is expanding its focus on initiatives that will promote a campus that is healthy, inclusive, and safe for all community members. The College is pursuing a series of initiatives to sustain growth in historically underrepresented faculty to more than 25 percent and expand landmark programs that will establish Dartmouth as the leading training ground for underrepresented groups in science, technology, engineering, and mathematics.
Dartmouth is also seeking to expand mental health and wellness services for students, an initiative embraced by the Young Alumni Campaign Advisory Committee, which has launched the Vox Clamantis Fund for student mental health.
A gift to sustain Dartmouth's distinctive teacher-scholar model of education
Speaking during the weekend's Campaign Leadership Preview, President Hanlon thanked Patricia McKee and Don Pease, husband and wife faculty members in the Department of English and Creative Writing, for establishing a bequest that will support an endowed chair in the Faculty of Arts and Sciences. He said Dartmouth's commitment to the teacher-scholar model is at the heart of The Call to Lead and is embodied by Pease, who joined the Dartmouth faculty in 1973 and taught English 5 to then-freshman Phil Hanlon.
"Patti and I both are chaired professors. I'm the Ted and Helen Geisel Professor and Patti is the Edward Hyde Cox Professor, and we want to give back what was given to us," said Pease. "That honor was so animating and invigorating for our careers that we want to help fellow faculty experience what we experienced."
Pease added that the bequest is an expression of support for President Hanlon's vision for Dartmouth. "Phil has linked the great strengths of Dartmouth with the challenges we must confront, and he has developed creative, imaginative, and what I would call poetic solutions."