Gifts Propel Dartmouth's Leadership in Global Security and Arctic Issues 
$13 million investment expands research, teaching, and thought leadership in two areas of global concern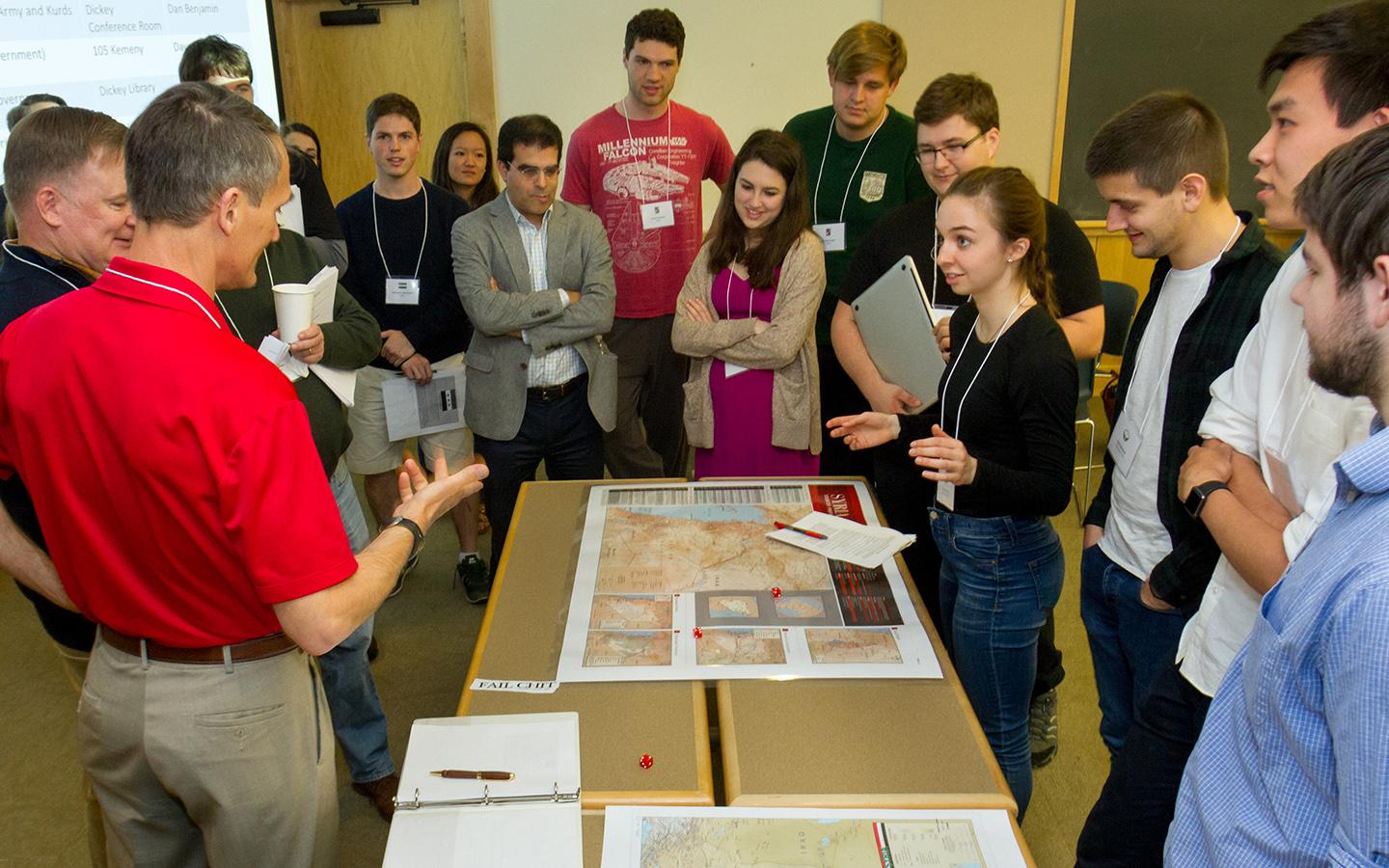 Dartmouth undergraduates in the War and Peace Fellows program participate in a 2017 Syrian civil war simulation. The new Initiative for Global Security will expand leadership experiences such as this. Photo by Lars Blackmore
Dartmouth has announced two gifts totaling $13.1 million that will advance its expertise and impact in international security and Arctic studies, both urgent and rapidly evolving fields of scholarship. 
Through these investments, Dartmouth will prepare future leaders who will help steer the world through two of the most pressing issues facing humankind in the coming century—while also accelerating faculty and student scholarship in these matters.  
  
The first gift, for $8.1 million, will heighten Dartmouth's ability to convene global security experts, policymakers, and leaders from the military and private sectors, and conduct research to shape a more secure, peaceful future. It is the first gift toward Dartmouth's Initiative for Global Security, which, when fully funded, will establish an interdisciplinary institute.  
  
The second gift, for $5 million, will leverage Dartmouth's decades of leadership in the Arctic region and expand the scope of urgently needed research conducted there through Dartmouth's Institute of Arctic Studies.  
  
These commitments—each from an anonymous donor—are the latest gifts in The Call to Lead campaign that are elevating Dartmouth's international profile and positioning the institution as a nexus of teaching and learning focused on many of world's most pressing challenges. Other initiatives launched through the campaign are addressing the global energy transition, the use of computational tools to further just societies, and the development of innovative cancer treatments.  
  
Mark Brzezinski '87, the United States ambassador to Poland, notes that both gifts build on Dartmouth areas of distinction. 
 
"Dartmouth has some of the top global security faculty experts in the U.S.," he says. "The new Initiative for Global Security is an amazing opportunity to leverage that expertise on a larger scale."  
  
A former executive director of the U.S. Arctic Executive Steering Committee, Brzezinski adds: "The issues of the Arctic are global—the immense impact of climate change, the surge in shipping, and maritime security—and Dartmouth brings a special credibility to Arctic issues. Dartmouth is an internationally recognized educational institution, has a global alumni base, and has a deep connection to Native American communities in Alaska and the Arctic, where more than half of all federally recognized tribes live. All these distinctions put Dartmouth in a prime position to make change happen." 
  
The two programs supported by these gifts are part of Dartmouth's John Sloan Dickey Center for International Understanding, which seeks to address great issues of the day through education, research, leadership, policy engagement, and global partnerships.  
  
"These gifts are a prime opportunity for Dartmouth to enhance what it does well: convene expert researchers and policymakers from around the world on the very timely issues of international peace, global security, and climate change, and strengthen partnerships with Indigenous Peoples," says Victoria K. Holt, the Norman E. McCulloch Jr. Director of the John Sloan Dickey Center for International Understanding.

Setting Sights on Global Peace
Immense global challenges, including modern warfare, the human repercussions of war, and conflicts over resources arising from climate change, require the intellectual strength of the world's top universities to analyze and interpret their complexity, inform policy choices, and prepare future generations of global security experts. 
 
  
The $8.1 million gift to the Initiative for Global Security will support two principal objectives: to generate and disseminate new knowledge of critical importance to global peace and prosperity, and to prepare the next generation of leaders who will create policy in a multifaceted global environment. Dartmouth seeks $25 million to endow the initiative, which will establish the Institute for Global Security.  
 
Dartmouth has a long history of providing policy-driven security research and offering timely analysis of current events, particularly through its highly regarded international relations scholars across campus. In recent weeks, for example, multiple faculty members have been featured in leading international media to discuss Russia's invasion of Ukraine and the conflict's far-reaching ramifications. 
 
The Call to Lead campaign has further strengthened Dartmouth's expertise in security matters. The E. John Rosenwald, Jr. '52 TU'53 Fellows Program in U.S. Foreign Policy and International Security, announced this past year, supports outstanding postdoctoral candidates who are focusing on global security questions. The innovative undergraduate War and Peace Fellows Program gathers students from multiple disciplines to discuss global conflict and pathways to peace. The need-based Eyal and Marilyn Ofer Scholars Program attracts and supports talented undergraduates with a strong interest in the social, political, moral, and technological dimensions of international cooperation. 
 
Building on these achievements, the Initiative for Global Security will elevate Dartmouth's research in global security, introduce a program of visiting scholars with a wide range of geographic and topical expertise, and provide undergraduates with more research and experiential learning opportunities.  
   
"This gift will bring the outstanding policy research that happens here to a wider audience for greater visibility, taking our research to policymakers, journalists, and opinion shapers to establish Dartmouth as the place, internationally, to find the latest in research on real-world security questions," says William Wohlforth, the Daniel Webster Professor of Government and the initiative's faculty director.  
  
One of the initiative's principal objectives is to increase contact between students and security experts on and off campus, fueling discussion and analysis. When the initiative is fully funded, Dartmouth will offer more residencies for policymakers, journalists, and leaders of non-governmental organizations. It will host its first annual security forum in Washington, D.C., in May.   
Arctic Challenges: A Global Concern   
The Arctic regions have been difficult to access for most of human history. Due to climate change, however, sea ice is melting at an alarming rate, ecosystems are transforming, and nations are competing for rights to minerals, oil, and gas, which in turn is raising tension between global powers in the Far North.  
  
The $5 million gift will expand the Dickey Center's Institute of Arctic Studies (IAS), which has a long history of collaborating with Indigenous and non-Indigenous communities in the Arctic. The gift is a first step toward a $25 million goal to endow the institute.  
 
"This gift is a tremendous opportunity for Dartmouth," says Melody Brown Burkins GR'95 GR'98, director of the IAS. "In working with our Arctic partners—governments and community leaders—we are helping to build co-produced, co-designed solutions to urgent Arctic issues. This work is Dartmouth's unique strength. This gift will help us heighten our work, expand our opportunities for undergraduates in hands-on learning in the Arctic, and drive our research more toward policy change. Climate change is happening rapidly, and the research we're doing is research that people in the Arctic and around the world need today." 
 
When fully endowed, the expanded IAS will be a leading source of rigorously developed research and analysis into Arctic science, policy, and diplomacy. Through initiatives such an undergraduate scholars program and an Arctic science and diplomacy summer school, Dartmouth will facilitate the robust exchange of ideas and perspectives by sending more faculty and students into the Arctic and bringing more Indigenous and non-Indigenous leaders and young scholars to campus. Each initiative will invest in the IAS priorities to develop interdisciplinary, policy-relevant scholarship that can directly inform pressing challenges facing the Arctic and the planet.  
  
"We can't have enough interdisciplinary research around understanding how climate change is affecting the Arctic and the rest of the world," says Ross Virginia, the Myers Family Professor of Environmental Science and former director of the IAS. "This gift will expand our research and how we engage with people of the Arctic because they are the people experiencing these changes and are being forced to adapt under complicated conditions." 
In the fields of global security and Arctic studies, events in recent years have only accelerated the demand for new means to gather parties together and apply new ways to explore and resolve complex issues, says Holt.  
  
"We've witnessed fast-moving and discouraging trends on so many fronts in recent years. Friction between China and the U.S. and Russia's invasion of Ukraine have underscored the possibility of a new Cold War. And the heightened sense of competition among powers that want to exploit Arctic regions is stressing an already difficult situation," says Holt. "Through these inspired new investments, and with longstanding expertise in these matters, Dartmouth is uniquely positioned to prepare students today who may lead the global response on these issues in the future."