George Boateng's Research is Improving the Lives of Others
E. E. Just Fellow and Neukom Prize for Outstanding Undergraduate Research in Computational Science recipient is making a mark in international health care and education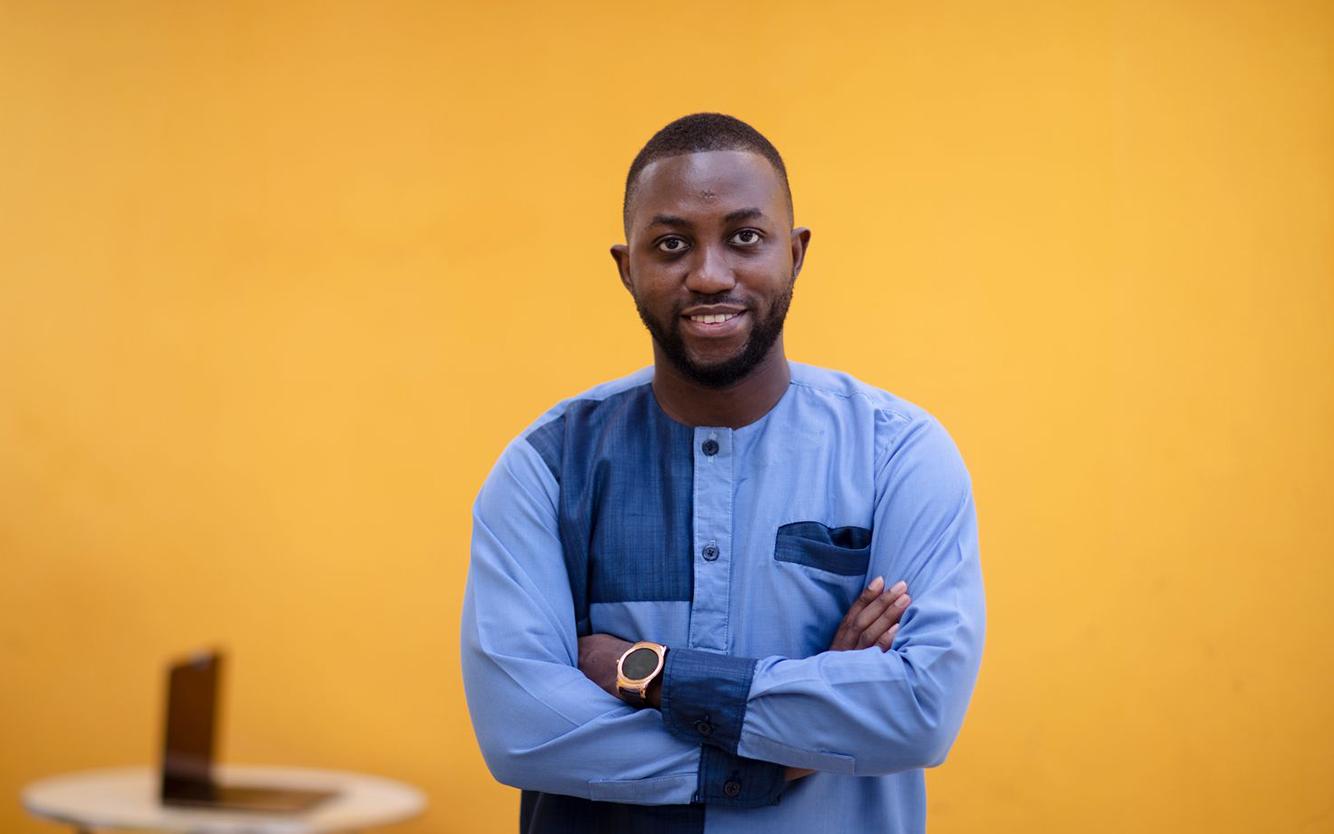 George Boateng '16 TH'17 recalls the moment as a child in Ghana when he found his passion for science.
"My family was visiting my grandmother and I found some encyclopedias in her library, and I asked if I could take them home with me. I saw all these science experiments that I could do and things I could build."
Soon he was inviting school friends over to work with him on his projects.
After high school he got into a program run by the U.S. embassy that helped mentor and support students who were applying for college in the United States. He applied to Dartmouth and was admitted.
At Dartmouth, Boateng found himself in the kind of hands-on research environment he had been looking for, and, in a collaboration with Clemson University, he began developing applications to improve public health.
For his undergrad thesis, he developed StressAware, a stress-monitoring app that ran on Amulet, a Fitbit-like smartwatch. For his master's project, he created ActivityAware, an app that measured physical activity in young people. He also created Geriactive, an activity monitor for seniors.
You Can't Be What You Can't See 
Throughout this time, Boateng's participation in Dartmouth's E.E. Just program—as an undergraduate and then as a graduate student Fellow—connected him with other students, faculty, and professionals of color in the STEM fields.
There was funding for research and summer research internships, Boateng says. "We got to attend the E.E. Just Symposium, where top scientists are invited to Dartmouth to speak to us and talk about their research. Seeing Black scientists who were accomplished in their fields—that kind of representation is really important. It says, 'You can do this, too.'"
Amid this heady hive of innovation and discovery, Boateng also got his first taste of teaching as a mentor to undergraduates—and liked it. "Having a community of other Black students in STEM and interacting with people who looked like I did was really great. As somebody said, 'you can't be what you can't see.'"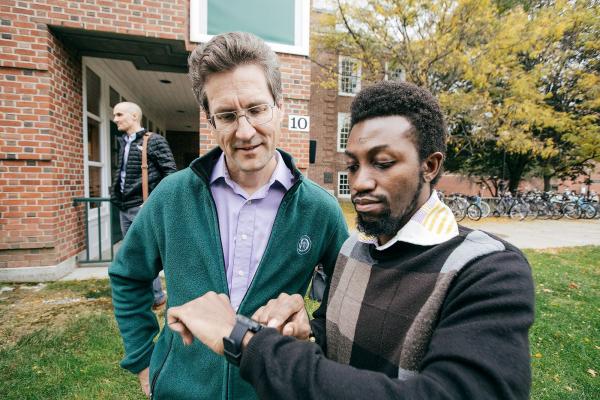 "We need to take research out into the real world so that it can impact the lives of people." 
Inspiring Young People to Become Problem Solvers 
Boateng is such a powerhouse of productivity it's hard to plot it all out on a timeline. In addition to his studies, he cofounded the Nsesa Foundation (Nsesa means "change" in Akan, the Ghanaian language) with the mission to inspire innovation in Africa's young people and give them the STEM skills they need to make an impact in their communities.
Nsesa runs a summer innovation bootcamp for 15–30 high school students each year. They also offer SuaCode, an eight-week online coding course designed to be taken entirely on the students' phones. "Not every student has a laptop," Boateng says, but most of them have a cell phone. In just a few years, the program has seen exponential growth: More than 2,000 students from 69 countries applied for last year's coding course.
"A lot of our past students are now studying engineering or computer science in various top universities like MIT, Columbia—and of course, Dartmouth!"
All of this hard work has not gone without notice. Boateng received the Neukom Prize for Outstanding Undergraduate Research in Computational Science for his senior thesis. At graduation he was awarded the Ernest Everett Just Award in Mathematics and the Sciences and the Dean's Service Award from the Thayer School of Engineering. As a research scientist in Dartmouth's computer science department, Boateng won Dartmouth's Martin Luther King Jr. Social Justice Award for Emerging Leadership. And out of more than 500 nominees this year, Boateng was chosen for inclusion in MIT Technology Review's 2021 Innovators Under 35.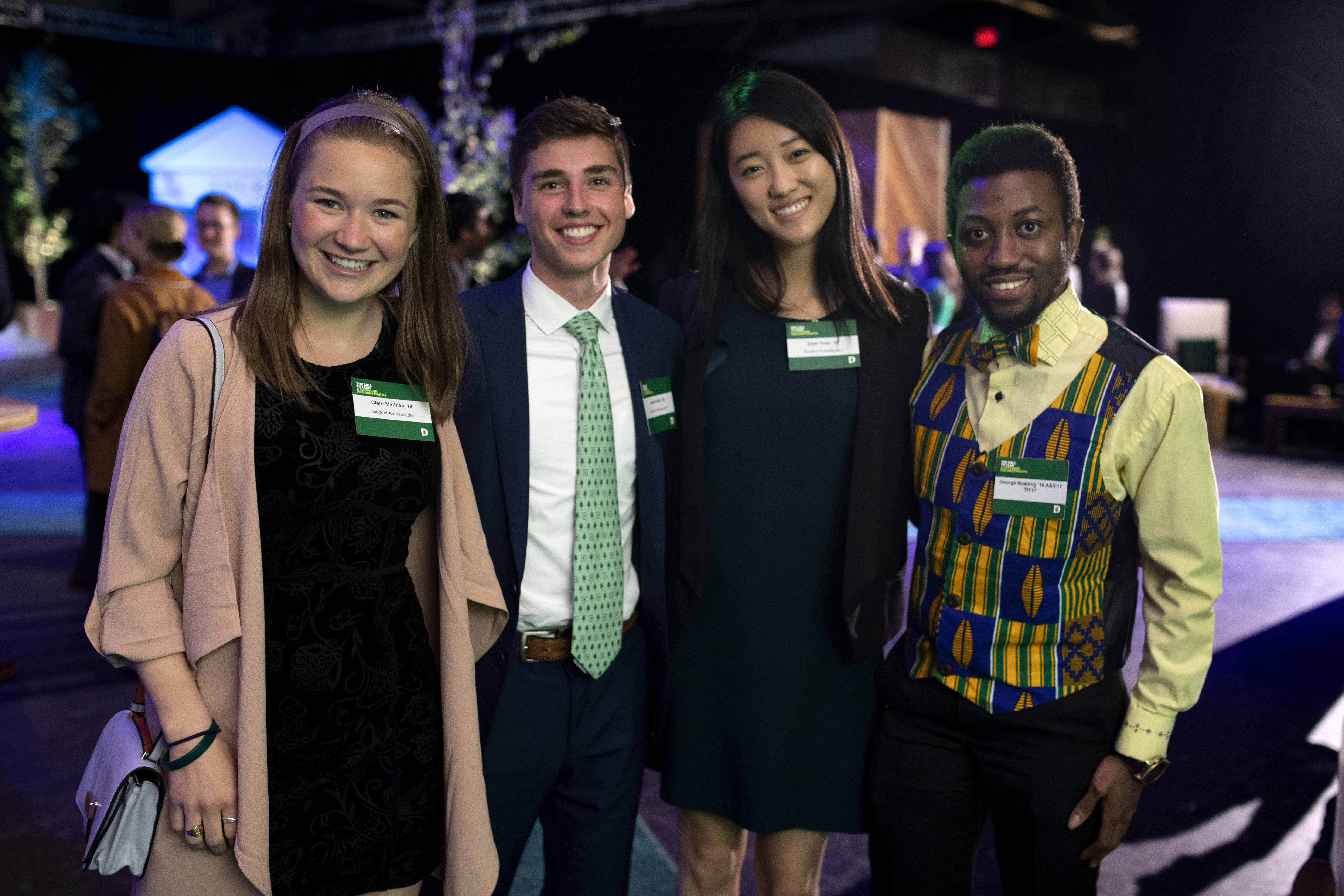 Teaching and Positive Entrepreneurship 
Today, Boateng is working on completing a PhD at ETH Zurich, a leading science and technology university. Working as part of a research group called The Center for Digital Health Interventions, he is developing a smartwatch-based program that helps support couples who are managing a chronic disease.
"For couples in which one partner has a chronic disease, the burden of management of the disease is often shared between them both. It takes a toll on not just the patient, but also on the partner. If we can recognize the emotions and well-being of both partners as they go about their daily activities, this could inform the delivery of interventions and the management of the disease," Boateng explains. "We are working with social and health psychologists at the University of Zurich to run the study."
Once he has completed his doctorate, Boateng wants to go into academia and become a professor.
"I think it's the best way for me to accomplish a lot of my goals. I'm interested in doing research with real-world impact, not just publishing papers. And I'm interested in entrepreneurship, creating companies that impact the lives of people."