Determination and Grit
Vivian Bhushan MED'20 is pursuing medicine to help underserved populations access care.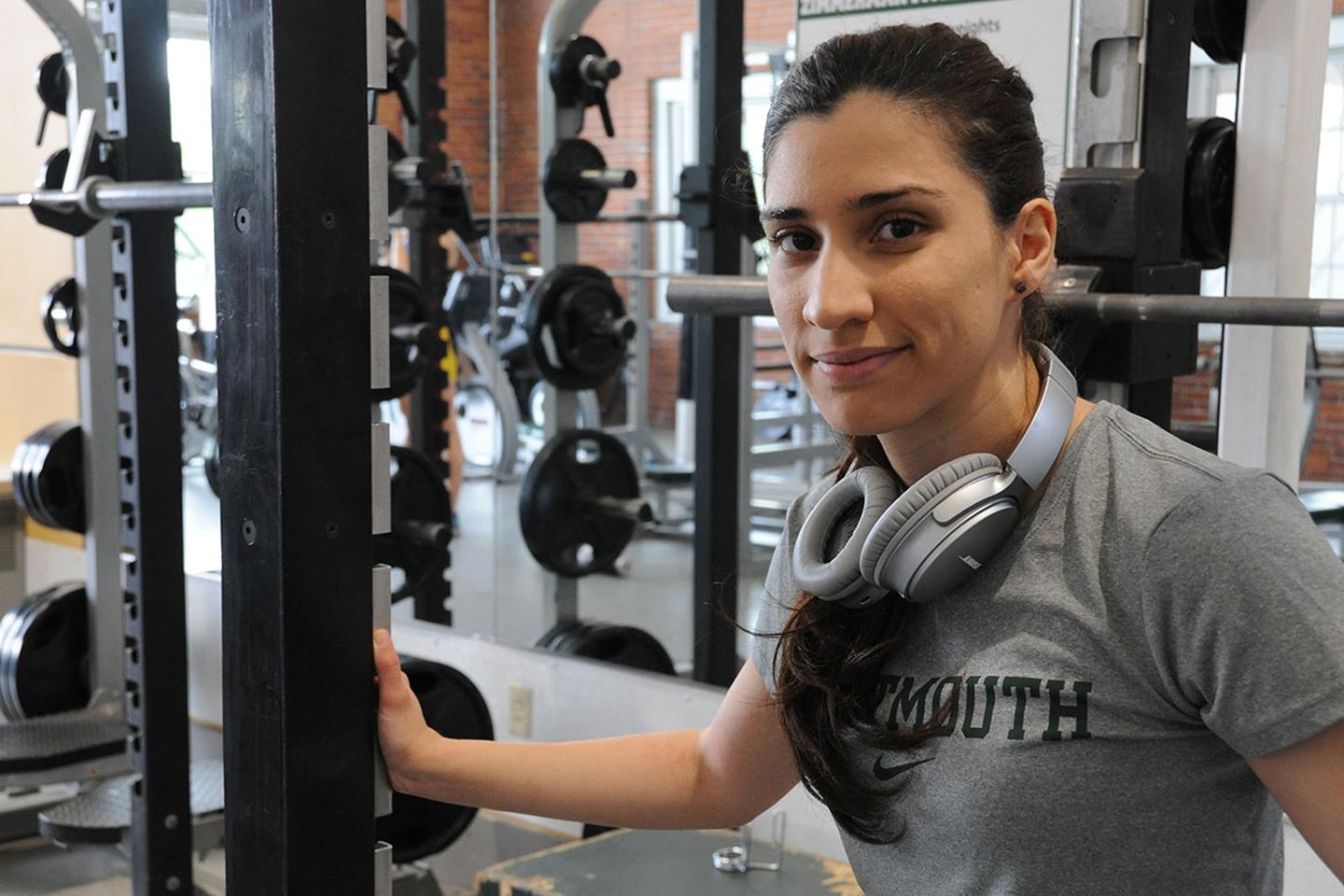 Native New Yorker and Geisel School of Medicine student Vivian Bhushan grew up as a child of immigrants in East Elmhurst, a culturally diverse and medically underserved neighborhood in Queens, where she and her family had limited access to health care.
Diagnosed at age 13 with Hashimoto's disease, an autoimmune thyroid disorder, she bore witness to the health disparities of those living in humble circumstances. "My parents each worked multiple jobs and they were only available to take me to a doctor over the weekend," Bhushan says, recalling the difficulties of seeking medical care. "This is something that influenced me to become a physician—providing care to underserved populations."
Once diagnosed, she says she read as much as she could about the disease. "Some of it scared me," she says. "But I decided to radically change my diet and to make sure I stayed active in order to avoid other medical issues."
Getting more exercise was easy for the self-described sports fanatic—she played soccer and took long walks around the neighborhood. Changing her diet took more effort. Bhushan describes the East Elmhurst of her youth as a food desert with little access to healthy foods.
"When I was young, McDonald's, Burger King, and Wendy's sat on nearly every corner, and I remember eating at one of those places every day after school."
These early life experiences fueled her strong desire to raise awareness about the plight of those living in unfortunate circumstances and to advocate for people to get what they need to live healthier lives.
"Growing up, I was never given opportunities, I had to work hard to create them," Bhushan says. "Hard work is something that was instilled in me at a very young age and I learned it from my hard-working parents."
With medical school in her future, she had to figure out on her own which courses to take and to find shadowing opportunities. "It would have been nice to have guidance, but I went to a high school with a very low graduation rate, and had I followed the trajectory of my peers I wouldn't be where I am now," she says.
With the same grit and determination, she pursued a bachelor's and master's degree in chemistry.
As an undergraduate, Bhushan channeled her passion for sports into color commentary and play-by-play coverage of men's basketball on her college's radio station, including calling a St. John's game in New York's Madison Square Garden—St. John's University is an NCAA Division I school. And she also called a Duke-St. John's game in Spanish. She has, at times, merged her love of travel with her love soccer, following the U.S. Men's National Soccer Team as a member of the American Outlaws, an unofficial group dedicated to supporting the national men's and women's soccer teams.
In graduate school while studying for the Medical College Admission Test and taking care of her father, she held down three jobs to stay afloat financially—teaching chemistry as an adjunct professor, tutoring students, and working with the nonprofit organization Mentoring in Medicine (MIM), which helps minority students interested in pursing careers in health care prepare for medical school.
She also taught a biology/health care professions elective at a high school in the Bronx, and participated in MIM's community outreach efforts—raising awareness of health disparities within the community and promoting preventive medicine through lifestyle changes.
Bhushan says that as a physician, one of her goals is to create a mentorship program for urban youth from underprivileged backgrounds interested in health care professions.
For someone dedicated to serving an urban community, choosing Geisel School of Medicine with its rural location may appear to be counterintuitive.
"I feel that Geisel actually offered more opportunities to be exposed to broader and dispersed minority populations—in the city you are exposed to specific neighborhoods with specific racial demographics that are concentrated," Bhushan says. "Here those populations are scattered, but as an Urban Health Scholar you get to see how health care is delivered in a variety of urban settings, such as Boston, New Orleans, and Manchester."
Bhushan says coming to Geisel was one of the best decisions she's made—she likes the balance of lectures to small group sessions and even enjoys quizzes. Using a sports analogy, she says, "Not everyone is a fan of having quizzes every two weeks, but I treat them as scrimmages preparing for a soccer game."
Her advice to anyone considering Geisel: "If you are someone who enjoys intimate relationships, and moving out of your comfort zone, this is the place to be. There are a lot of things you can make happen here—everyone listens. They really want the students to be happy, and that's important."
By Susan Green