Dartmouth Wins Three CASE Circle of Excellence Awards
Advancement Talent Management and Marketing & Engagement won awards, including grand gold.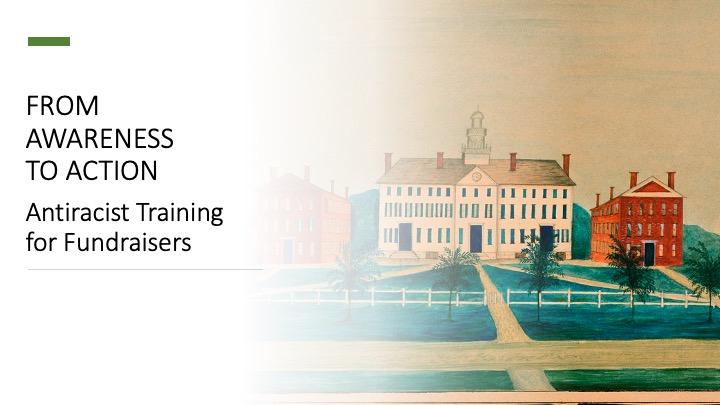 Dartmouth has received three Circle of Excellence Awards from the Council for Advancement and Support of Education (CASE), including a grand gold award for a distinctive program for Advancement staff on diversity, equity, and inclusion and a silver award for The Call to Lead campaign enewsletter. CASE is the leading membership organization for educational advancement professionals, with 583 member institutions from 22 countries.
From Awareness to Action: Antiracist Training for Frontline Fundraisers, developed by Dartmouth Advancement Talent Management, received both a CASE grand gold award in the Diversity, Equity, and Inclusion category and a CASE gold award in the Talent Management category. The three-part training series provided fundraising staff with a deeper understanding of Dartmouth's 254-year history of race relations, including its treatment of Indigenous people and enslaved Black people, as well as modern-day efforts to create a more inclusive and welcoming institution.
The program not only broadened staff's understanding of Dartmouth's complex race history, but also prepared them to be antiracist change agents. In a post-training survey, 100 percent of participants reported that the program had enhanced their ability to discuss DEI campaign initiatives with donors.
CASE judges praised the program for exemplifying "leadership, strategy, and dedication to the principles of diversity, equity, and inclusion."
The judges wrote, "We believe this approach to antiracist training for volunteers represents a fundamental shift in the role of advancement departments in working toward an organization's DEI goals. This is something we hope to see widely considered and replicated at other institutions for the benefit of our entire field."
The Advancement Division's Marketing & Engagement team created The Call to Lead campaign email newsletter to keep the Dartmouth community informed and engaged with the campaign, and to help Dartmouth achieve its goal of $3 billion. The campaign closed on June 30 with $3.77 billion in commitments.
As the primary voice of the campaign, the enewsletter, which won a silver award from CASE, shared stories of significant campaign achievements and milestones, such as the opening of the new West End District, Dartmouth alumnae's extraordinary fundraising effort for the renovation of Dartmouth Hall, and the elimination of student loans for undergraduates, as well as new global teaching and research initiatives. It also highlighted key campaign giving opportunities and profiled distinctive alumni. As the Dartmouth community's main source of information about The Call to Lead, the enewsletter provided both a broad and intimate view of the campaign and helped drive a substantial increase in fundraising.
The enewsletter, wrote the judges, "excelled as a great email newsletter, capturing readers' attention with its compelling content and eye-catching design. [It] successfully engaged the audience and effectively communicated its message."
Dartmouth's Legacy with CASE
CASE's Circle of Excellence Awards are the premier recognition program for educational advancement. These peer-selected and adjudicated awards honor universities, colleges, and schools worldwide whose staff have advanced their organizations with resourcefulness and ingenuity. The awards recognize "exceptional achievement in advancement services, alumni relations, communications, fundraising, and marketing."
Dartmouth has received 23 CASE Circle of Excellence awards in the past five years. In addition, CASE recognized Dartmouth in 2019—along with Harvard and Stanford—for "overall performance" in the category of private research/doctoral institutions with endowments over $1.2 billion. In 2020, Dartmouth also received a CASE Sustained Excellence Award for consistent fundraising success.
"The CASE national awards are the highest form of recognition in our field," says Bob Lasher '88, senior vice president for advancement at Dartmouth. "This year, they recognize two trailblazing projects of institutional storytelling that are authentic, inclusive, reflective, and compelling. The work makes us proud! We thank all our team members who conceived and realized them."