Dartmouth Names New Technology Center for Class of 1982
State-of-the-art engineering and computer science facility honors $50 million in philanthropic leadership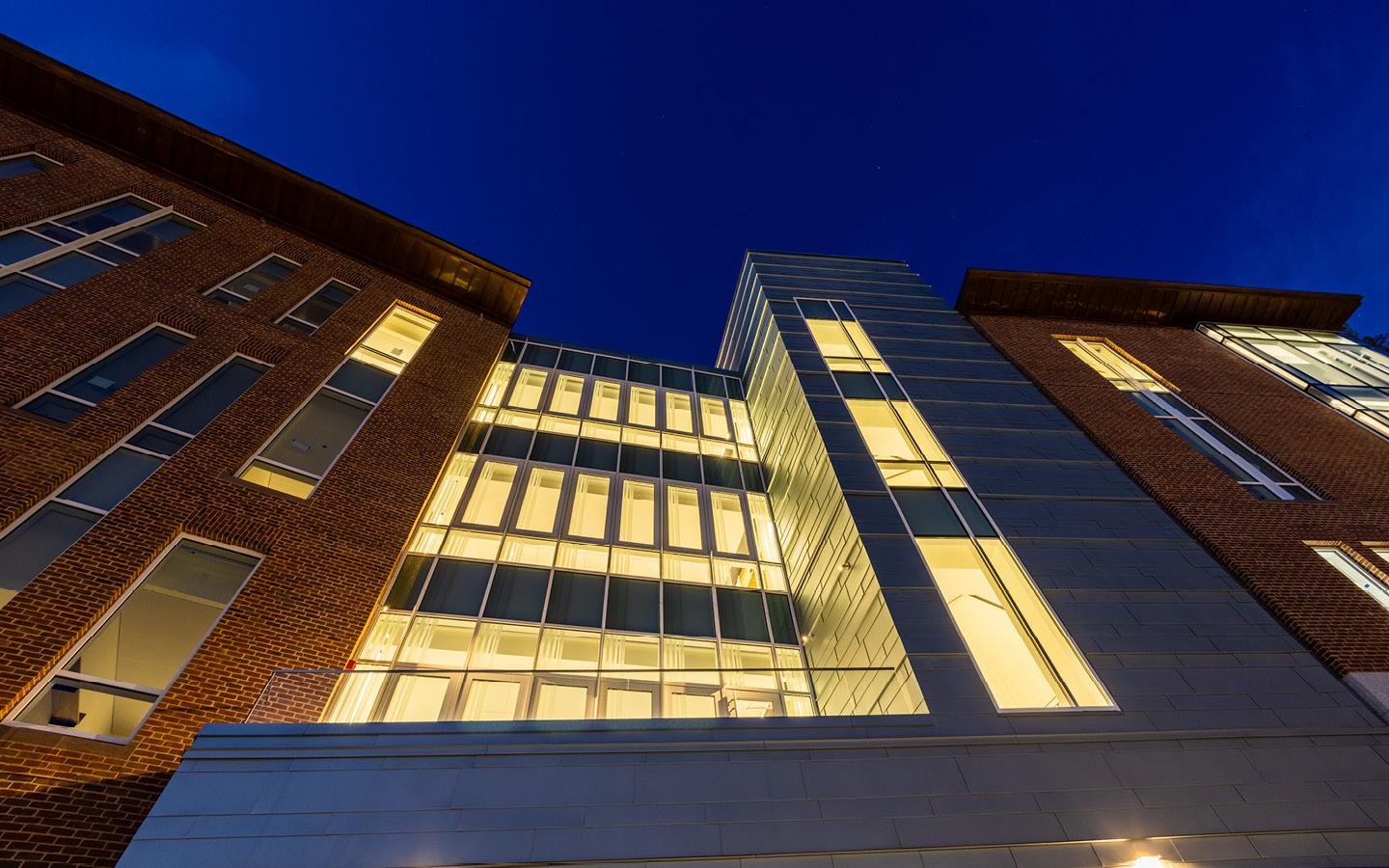 Dartmouth has capped the largest construction project in its history by naming the new West End District's epicenter of technology and entrepreneurship in honor of the Class of 1982, whose members' generous giving made the interdisciplinary academic building possible. The Class of 1982 Engineering and Computer Science Center, as the new facility will be known, will have its formal dedication next Friday, May 13, in a public ceremony as part of the Dartmouth Innovation and Technology Festival.
The Class of 1982 Engineering and Computer Science Center is fueling collaboration among Dartmouth schools and redefining how to deliver a technology education within the institution's distinctive liberal arts experience.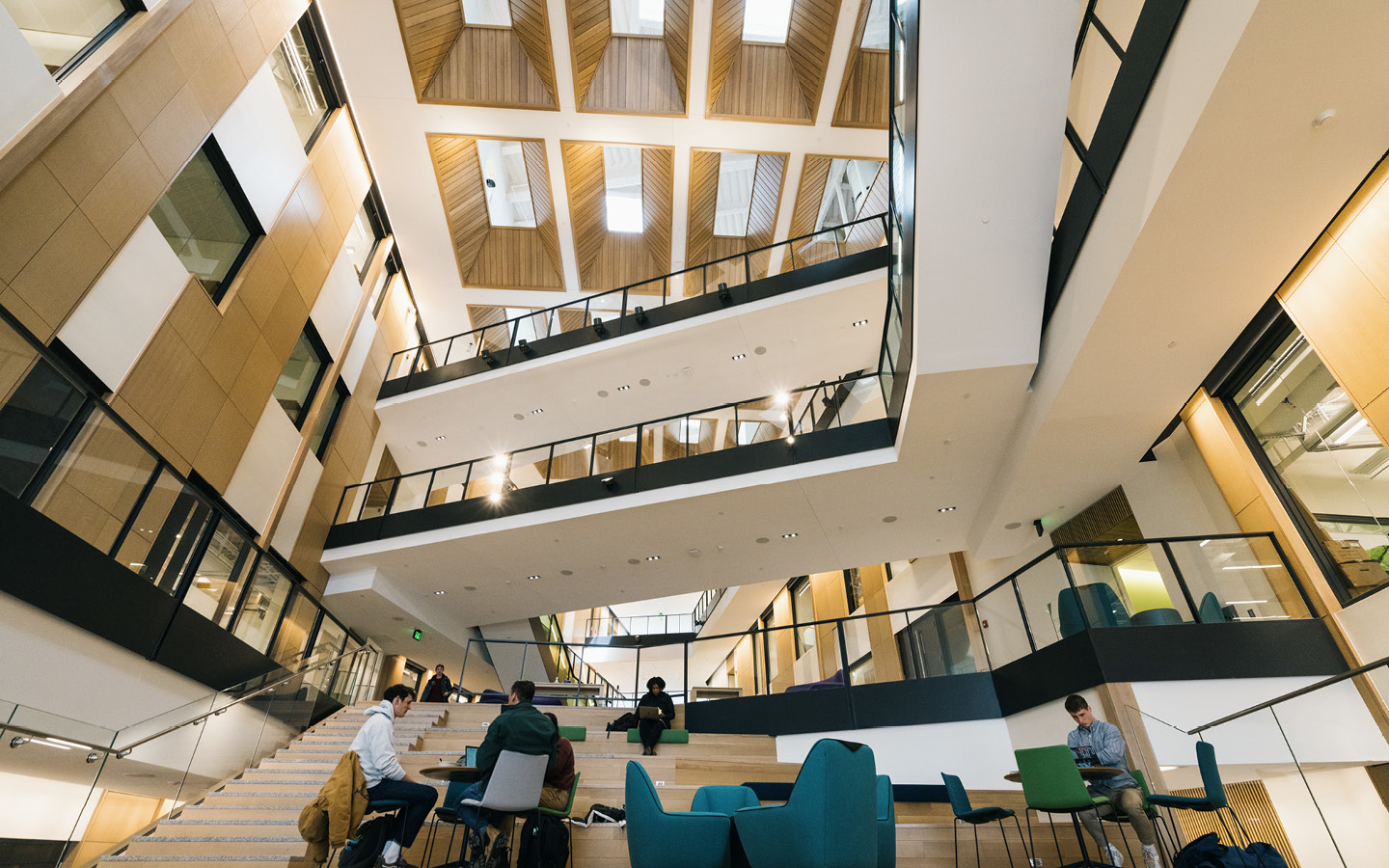 The 160,000-square-foot building and related investments in engineering and computer science faculty recruitment—adding more than 40 faculty positions during The Call to Lead campaign—will ensure that all undergraduates can incorporate humanity-driven technology into their Dartmouth liberal arts education. The building and recruitment efforts are core to the vision advanced by President Philip J. Hanlon '77 to foster interdisciplinary, inter-school, and intergenerational collaboration that will prepare leaders to tackle many of the world's most vexing issues.
Opened at the start of spring term, the Class of 1982 Center, for which Dartmouth is seeking LEED Platinum certification, houses the Department of Computer Science and doubles the footprint of the Thayer School of Engineering, two of Dartmouth's fastest growing academic programs.
For students across campus, from all majors, who are curious to explore the frontiers of technology, this building will be the go-to place for pursuing new ideas, faculty-mentored research, and hands-on learning. –Devin Balkcom, Chair, Department of Computer Science
"We moved in just a few weeks ago, and we're already seeing the promise and potential of this new building. Conversations between computer science and engineering faculty point to an exciting future with more collaborative research and co-taught courses," says Professor Devin Balkcom, chair of the Department of Computer Science. "For students from across campus, from all majors, who are curious to explore the frontiers of technology, this building will be the go-to place for pursuing new ideas, faculty-mentored research, and hands-on learning."
The Class of 1982 Center features more than a dozen classrooms and instructional labs able to accommodate 400 students, more than 80 faculty offices, and a variety of labs—all ringing a central light-filled atrium. Including the 340-vehicle parking garage under the academic spaces, it is the largest construction project in Dartmouth history.
With the nearby Tuck School of Business and Arthur L. Irving Institute for Energy and Society, the Class of 1982 Center is a key element of a $500 million development transforming the West End of campus into a flourishing, welcoming crossroads of discovery.
Trustee Greg Maffei '82, a co-chair of The Call to Lead campaign, spearheaded his class's fundraising effort with Emily Bakemeier '82 and Terry McGuire TH'82.
"Two of Dartmouth's greatest strengths are our unwavering commitment to the power of a liberal arts education and our legacy of technological innovation, from the first clinical X-ray performed in America to the creation of BASIC computer programming language to amazing research taking place on our campus today," says Maffei. "The Class of 1982 Engineering and Computer Science Center and the entire West End accelerate our leadership in STEM teaching and research within a unique liberal arts context. My classmates and I are excited about the knowledge, ideas, and new ventures that will be imagined and realized in this tremendous building."
The Class of 1982 Center is the largest single priority of The Call to Lead campaign. A total of 121 individuals and families have committed $191 million toward the building's $200 million fundraising target. Members of the Class of 1982 have rallied to provide more than $50 million of the funds raised to date. Class members who have committed to the project are: Michael A. Berg '82; Virginia Beutner and Austin M. Beutner '82; Anna Cameron and William M. Cameron '82; Penny S. Coulter and James G. Coulter '82; Eileen Chamberlain Donahoe '81 and John J. Donahoe '82; Glenn A. Grube '82 TH'83; Sharon A. Maffei and Gregory B Maffei '82; Carolyn Marie Alongi and Brian P. McDonough '82; Carolyn Carr McGuire TU'83 and Terrance G. McGuire TH'82; Jeanne R. Pritzker and Anthony N. Pritzker '82; Andrea G. Ralston and Geoffrey D. Ralston '82; Beth Johnston Stephenson '82 and Scott G. Stephenson; and one classmate who has chosen to remain anonymous.
"Dartmouth has long been at the forefront of defining essential leadership skills. As the digital world touches nearly every aspect of our lives, technology literacy is indispensable today, and in the West End we are expanding our students' understanding of how technology can be a powerful tool in whatever career they pursue," says President Hanlon. "I want to thank every member of our community who gave to this magnificent building, in particular the members of the Class of '82, who were leaders in seeing this project through to completion."
George Thompson '82, president of the Class of 1982, says Dartmouth's decision to name the building in honor of his class was a remarkable but fitting tribute.
"So many members of the Class of '82 have excelled as entrepreneurs, business leaders, engineers, and leaders in the computer sciences, education, and health care—all professions that have been transformed by technologies that were just taking off as we were leaving Dartmouth," says Thompson. "I describe our class as having big brains, big hearts, and big character. I'm tremendously proud of what my classmates have achieved together and the lasting impact they have had on Dartmouth."
Beth Johnston Stephenson '82 says she and her classmates have been inspired by Dartmouth's technology leadership in many ways, beginning with the Dartmouth president who welcomed them to campus: John Kemeny, co-developer of BASIC. The former Kiewit Computation Center was "an example of innovation before its time," she says, adding that she and her husband Scott were pleased to support the new landmark West End building.
"It will accommodate the growing numbers of Dartmouth students exploring computer science, engineering, and data science," says Stephenson, "and it honors the vision of excellence of President Phil Hanlon, another Dartmouth mathematician."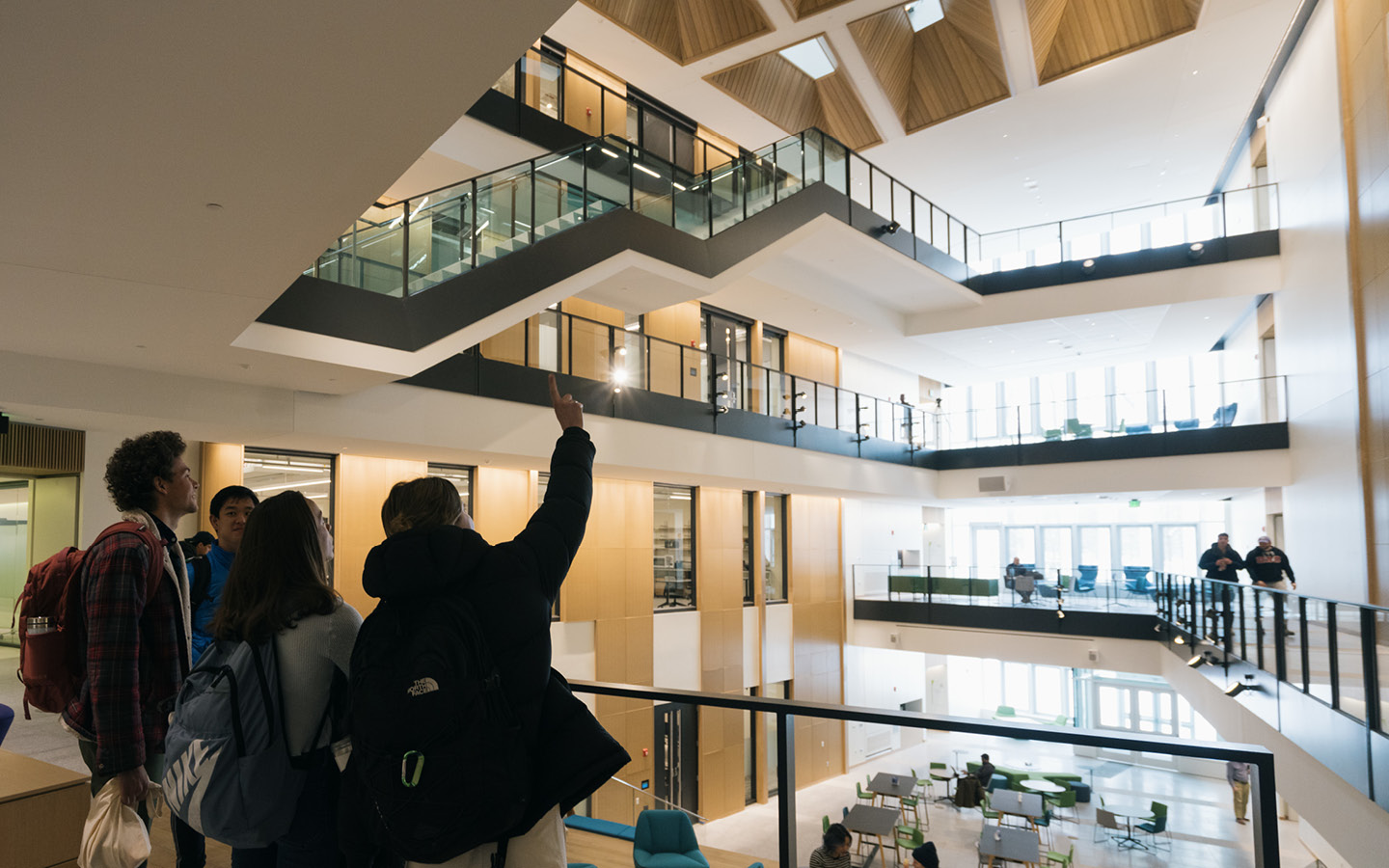 The Magnuson Center for Entrepreneurship is also located in the building, serving as the focal point for students, faculty, and alumni who want to turn ideas and research into products and services that will have societal impact. Geoff Ralston '82, president of the startup accelerator Y Combinator and a member of the Magnuson Center's board of advisors, recalls "practically living in the basement of Kiewit" and being amazed by the technological advances of the early 1980s. The speed and capability of digital technology are enormously greater today, he says, but one element of discovery and entrepreneurship has not changed: the value of bringing brilliant minds together.
Why not let the great minds of Dartmouth take on the most difficult problems facing societies today? –Geoff Ralston '82
"One reason Silicon Valley is Silicon Valley is because there's something in the atmosphere when you gather together all sorts of people who have the potential to change the world," he says. "The Magnuson Center and the West End are all about developing that atmosphere at Dartmouth, where the natural creativity of Dartmouth students can flourish in an entrepreneurial way, in a way that, as we say at Y Combinator, creates things people want and therefore makes positive change in the world. Why not let the great minds of Dartmouth take on the most difficult problems facing societies today?"
Facilitating a robust exchange of ideas
Bakemeier, vice provost at Yale, Dartmouth trustee emerita, and former chair of the Board of Trustees Academic Excellence Committee, says the Class of 1982 Center has been designed to facilitate faculty and student discussions, both formal and casual, that may have far-reaching impact.
"This will be a wellspring for astounding new ideas that no one could have thought of before because there are going to be so many intersections of different people, different disciplines, and different ways of thinking," says Bakemeier. "Phil Hanlon's North Star is academic excellence. And this building, the largest capital venture ever at Dartmouth, is all about providing space for academic excellence while still supporting a healthy community in which people can share ideas."
Approximately 70 percent of all Dartmouth undergraduates take at least one engineering or computer science course; even more students would, but many of the programs' most popular courses are over-subscribed. Campaign investments in the building and faculty recruitment will enable 100 percent of undergraduates to take courses in these disciplines if they choose to.
"Today's students need to be educated broadly in the language of the moment, and the language of the moment is technology," says McGuire, a member of both the Thayer School Board of Advisors—serving as chair for much of the campaign—and The Call to Lead Campaign Executive Committee, and a cofounder of Polaris Partners. "Whether you're preparing for a career in government or economics or even most artistic work, you need this integration of technology. We at Dartmouth have an obligation to make sure that our students will be comfortable in the language of the world."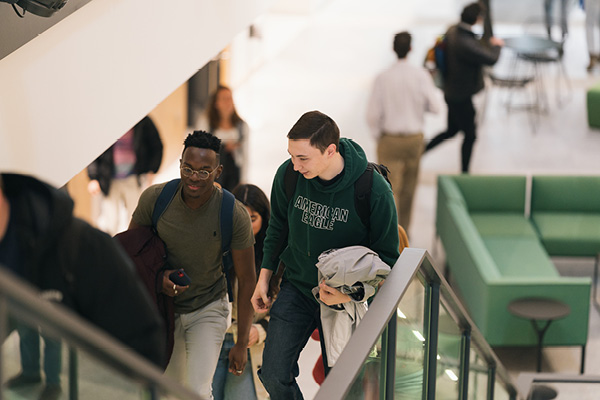 Faculty in the building are organized by areas of academic inquiry—such as machine learning, robotics, cybersecurity, biotechnology, energy technology, design thinking, and advanced materials engineering—and not by department. Dynamic spaces throughout the center enable more courses to feature design, fabrication, and problem-solving experiences. The ground floor is dedicated to experiential learning and includes the Digital Applied Learning and Innovation Lab, now part of the Magnuson Center, the Stuart Family Design Suite, and a makerspace where students can start the design-and-build process.
Provost David Kotz '86 says that the differentiator for how Dartmouth delivers a technology-rich education is that it's embedded within the College's liberal arts curriculum.
"Technology can enrich and advance so many aspects of society. But it also has potential to be extremely detrimental. It's important for us to study those potential benefits and risks and to help students understand how to make wise decisions about future technology, because today's students are tomorrow's thought leaders," says Kotz. "The liberal arts provide a broad-based education in which students learn multiple ways of thinking, helping them become better engineers, computer scientists, business leaders, or policymakers who are aware of the implications of technology, positive and negative."
A festival for the entire community
The Class of 1982 Engineering and Computer Science Center dedication will be a central part of the Dartmouth Innovation and Technology Festival, taking place May 12–14. The festival is open to the entire Dartmouth community, residents of the Upper Valley, and anyone curious about the power of technology to advance scholarship in all disciplines and help realize a brighter future.
In addition to celebrating the West End's two new buildings—the Class of 1982 Center and the Arthur L. Irving Institute—the weekend's activities will include presentations and panel discussions on topics such as artificial intelligence, health care, transportation, and cryptocurrency; makerspace demonstrations; interactive learning experiences; and family-friendly activities, including a community picnic and Friday evening light show. The festival's program and schedule are available online. Registration for the weekend is free and encouraged.
Anyone interested in making a gift to the Class of 1982 Engineering and Computer Science Center can give online or email matthew.t.rizzo@dartmouth.edu to learn more.