Dartmouth College Announces Outreach, Partnership with Native American Communities
Four-year pilot program will enable students to work with Native American communities on health care, economic, and governmental challenges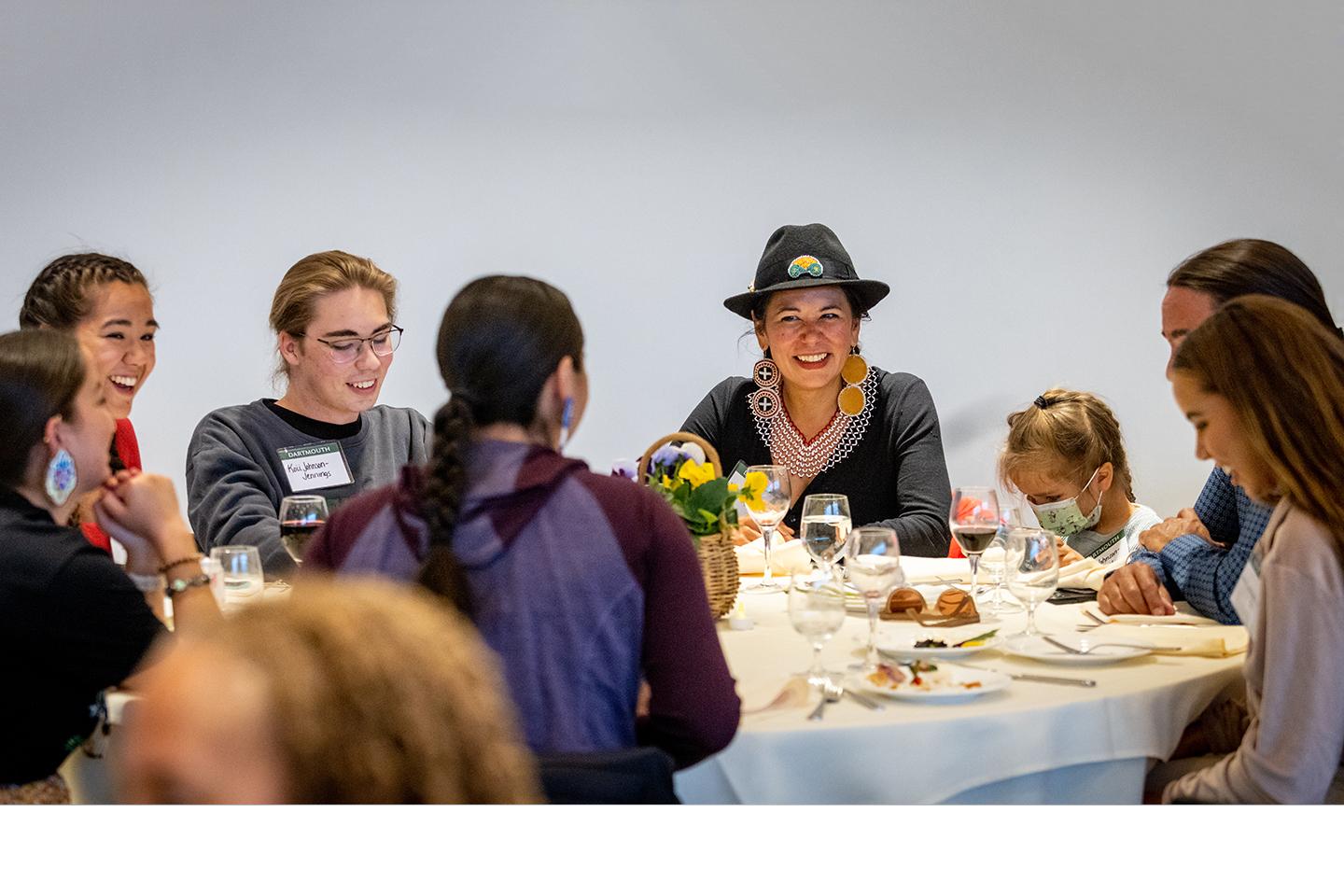 Dartmouth has secured $1 million in gifts to launch the Tribal Service and Solutions Project, a four-year pilot program that will enable teams of students, faculty, and alumni to partner with Native American communities and develop solutions to long-term challenges in health care, economic development, and government relations.
The milestone achievement was announced Saturday evening, May 7, by N. Bruce Duthu '80, the Samson Occom Professor of Native American Studies, during the 50th anniversary Powwow Honoring Dinner, hosted by the Department of Native American and Indigenous Studies, the Native American Alumni Association, and the Office of Alumni Relations.
The dinner capped off an exciting day that began with the 50th annual Dartmouth Powwow, returning after a two-year hiatus due to the pandemic. The popular event, held on the Green, brings hundreds of participants and spectators from neighboring and distant tribal homes to connect with friends and continue the Powwow tradition. A large gathering of Native dancers in full regalia took part in honoring and round dances, followed by competitions in special categories—creating a colorful display driven by powerful rhythms and singing from three visiting drum groups. This year's Powwow was organized and led by Native students and alumni of Dartmouth, a collaboration model that will also be reflected in this new initiative.
The Tribal Service and Solutions (TSS) Project will advance Dartmouth's educational mission by providing students a hands-on opportunity for learning, leadership development, and critical thinking. It opens an important new chapter—one framed by a desire to heal and restore—in Dartmouth's foundational history and forges a new, living connection between the campus and tribal communities. The scholarship created from this work will be relevant and accessible to other communities to utilize in their own remediation and revitalization efforts.
"With the launch of the Tribal Services and Solution Project, we are getting closer to what Samson Occom envisioned: Native students coming to Dartmouth and not checking their Indian identity at the door," says Duthu.
Dartmouth alumni from many backgrounds—Native American and non-Indigenous—came together to support the TSS Project. "My support for the Tribal Services initiative hearkens back to the College's original charter and honors President Kemeny's renewal of Dartmouth's commitment to Native American students 50 years ago," says Hoyoung Huh '91.
"Dartmouth has a long but uneven history in our relationships with tribal communities. The Tribal Services and Solutions Project represents an important step forward as we commit College resources and talent in a partnership with these communities to ensure better lives and opportunities for tribal citizens," says Caroline Hribar '00, member of The Call to Lead Campaign Executive Committee.
The Tribal Services and Solutions Project is part of The Call to Lead campaign and its $60 million goal to make Dartmouth a more equitable, welcoming, and healthy community for all its members.
"We still have a lot of work to do."
Speaking at the honoring dinner, Mae Hueston '86, who together with husband John Hueston '86 previously endowed the Mae and John Hueston Distinguished Professorship in Native American Studies and helped Dartmouth reach the $1 million TSS goal, recalled her personal struggles as a Native American student four decades ago. Returning home to the Navajo reservation during a school break, she questioned if she really wanted to go back to Dartmouth.
"But I came back with a determination that if I could make it through this, it would be a gift to myself and to our family." Thirty-six years later, she says, "Things have gotten better for students. But we still have a lot of work to do." The strong support for the Department of Native American and Indigenous Studies and the Tribal Services and Solutions Project, Hueston adds, "shows us that we have a lot of power."
Dawson Her Many Horses TU'10, who led the fundraising effort, is a member of The Call to Lead Campaign Executive Committee and Dartmouth's Native American Visiting Committee, the group that proposed the Tribal Services and Solutions Project to President Philip J. Hanlon '77. "We want to build on the legacy that had been created since Dartmouth recommitted itself to educating Native American students 50 years ago, and to ensure that the College remains a compelling place for the best and brightest students from Indian Country," he says.
"As our students go out into tribal communities and learn from hands-on experience, they will also bring Native knowledge back to campus, ranging from food sovereignty, language preservation, to sustainability and kinship—not only to our immediate and extended family, but to our community, to the world, and to the environment," Her Many Horses says.
First Tribal Services and Solutions Fellow and Intern Announced
The TSS Project is already underway with the announcement of the first recipients of an annual fellowship and internship.
Caitlin Wanic (Ojibwe) '21, a citizen of the Bay Mills Indian Community in Michigan, is the inaugural recipient of a TSSP one year fellowship that will begin in June 2022. Caitlin will be working under the supervision of Dr. Loretta Christenson, the Chief Medical Officer of the Indian Health Service, to help develop a new residency program in rural medicine to improve the preparation of health professionals working in Indian Country. Caitlin majored in Native American Studies and Studio Art at Dartmouth and recently completed a MEDPREP post-baccalaureate program at the University of Michigan as preparation to enter medical school during the fall of 2023.
Trinity Osborn (Choctaw) '25 of Oklahoma is the inaugural recipient of a TSSP summer term internship in 2022 to work with the National Indian Health Board under the supervision of Dartmouth alumnus, Chris Chavis (Lumbee) '12, Policy Center Director of the NIHB. The NIHB is a national non-profit organization providing advocacy, policy analysis and research on Indian health issues. In her letter of application for this internship, Trinity noted that she specifically mentioned the National Indian Health Board in her college application to Dartmouth to signal her interest in working as an advocate for Native peoples for improved health care services. She plans to major in Government and Native American & Indigenous Studies.