Community Celebrates Dartmouth's Enduring Values and Looks Forward at Boston Event
Volunteer service and generous support for endowed scholarships highlight a dynamic year that marked 250 years of achievements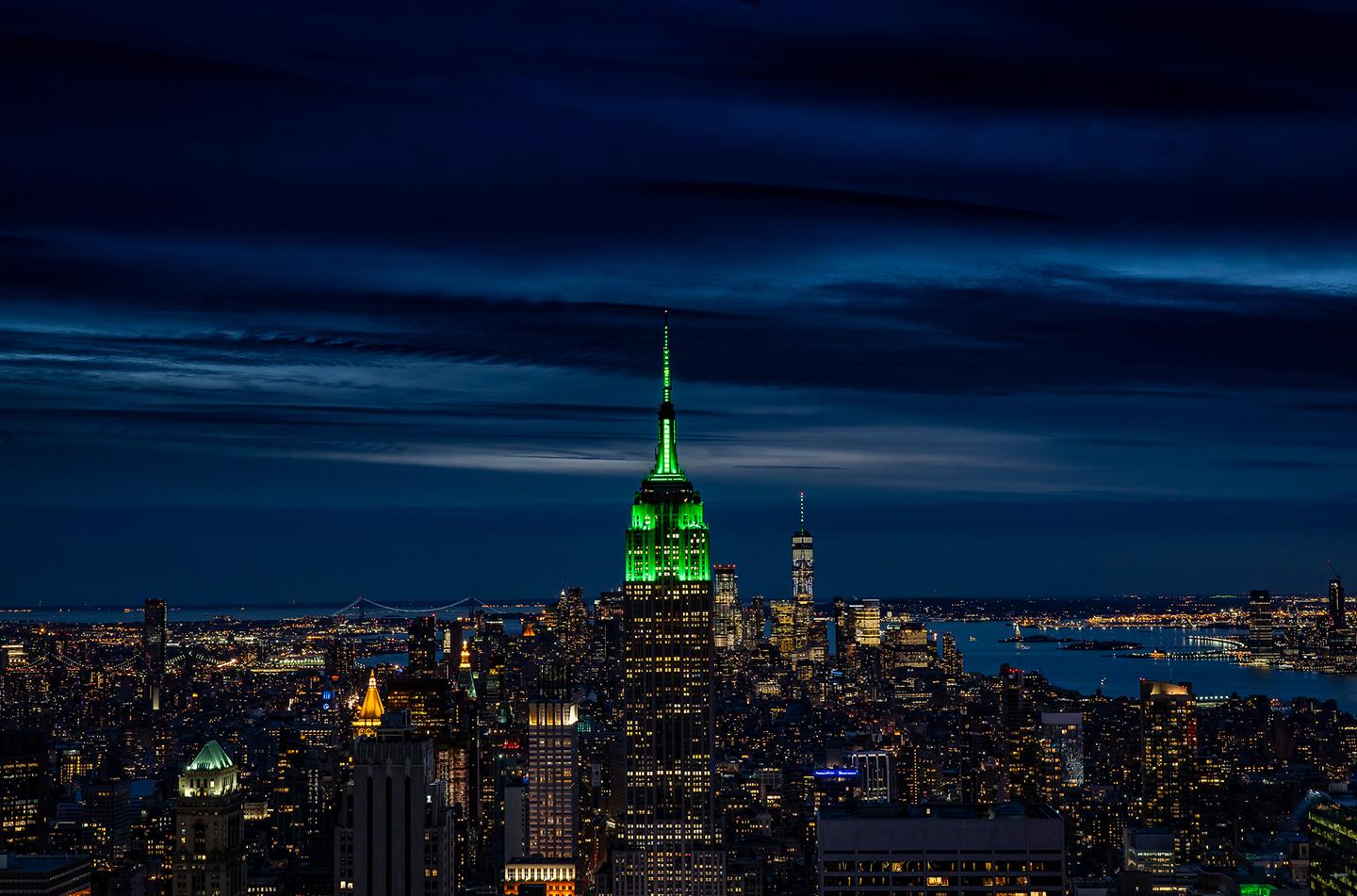 The Dartmouth community concluded the College's 250th anniversary year—12 months filled with reflection, dedication to service, and a reaffirmation to create an even brighter future—with a Charter Day celebration in Boston and landmarks across two continents awash in green.
As with the dozens of other 250th anniversary celebrations that have taken place around the world in 2019, the Boston gathering on December 13 offered moments to reflect on Dartmouth's complex history and to reaffirm the College's commitment to offer an exceptional, distinctive model of education that melds research and the liberal arts, to improve the human condition, and to prepare students for lives of wise leadership.
Charter Day marks the date when Eleazar Wheelock, Dartmouth's founder, received a royal charter fromGovernor John Wentworth, on behalf of Britain's King George III, to establish a school at the edge of what was then the Northern New England wilderness. Beginning modestly, with only four students in its first graduating class, Dartmouth today is one of the nation's most respected institutions of higher education, annually graduating hundreds of students who will become leaders across all sectors of society.
Sestercentennial events during the past year—lectures, debates, exhibitions, and re-enactment of a landmark case before the U.S. Supreme Court—examined not only the College's proud achievements but also tragic chapters in its history, such as Wheelock's ownership of slaves.
"At once the origin and culmination of the sestercentennial celebration, Charter Day bears the promise of a perpetual re-founding moment: It is what offers the entire Dartmouth fellowship the occasion to honor and learn from the best of what we are and have done and to imagine and wholeheartedly embrace future possibilities for improving ourselves and the world," said Donald Pease, the Ted and Helen Geisel Third Century Professor in the Humanities and co-chair of the 250th anniversary celebration.
The College community is committed to bringing all voices into the Dartmouth story. The Black Alumni of Dartmouth Association on Charter Day launched an initiative to gather archival material for a collection at Rauner Library that will document the black experience at Dartmouth. During the past year, Dartmouth has celebrated other populations marginalized during periods of the College's history, including women, Native Americans, and LGBTQ students and alumni.
Beyond exploring the College's history, Dartmouth leveraged its 250th anniversary to reaffirm the many ties that bind its community of alumni, parents, faculty, staff, and students.
"This whole year has shown us what happens when we come together as a community, when we bring people off the sidelines and reconnect them to the College, to each other, to the Dartmouth family and the values we share," said Cheryl Bascomb '82, vice president of alumni relations and 250th anniversary co-chair. "We want to keep this spirit alive into the new year—and beyond."
More than 500 alumni, students, parents, and friends gathered for the Boston celebration.
Several prominent alumni spoke at the event, including CNN's Jake Tapper '91, actor and comedian Rachel Dratch '88, and retired NHL standout Lee Stempniak '05.
The Call to Serve
Service to others was a central component of Dartmouth's yearlong sestercentennial celebration. In January, the College announced The Call to Serve, an initiative that invited members of the Dartmouth community to volunteer more than 250,000 hours of service in 2019. Through December 13, that number had topped 280,900 hours—nearly half of that provided by students.
The Call to Serve's many achievements across 42 countries and all 50 states include:
40,000 hours given to education and literacy efforts
36,000 hours volunteered for health and wellness services
18,000 hours donated to sports programs
Helping build 17 Habitat for Humanity homes
Erasing Financial Barriers
Exceptional philanthropic support also marked the past year. Donors to The Call to Lead—Dartmouth's $3 billion comprehensive campaign, publicly announced in April 2018—have pushed total giving past the $2.2 billion mark. One of the campaign's top priorities, with a $500 million fundraising target, is to eliminate financial barriers that would prevent prospective students from attending Dartmouth. Through the campaign, the College seeks to:
To accelerate progress on these ambitious financial aid goals, the College launched a special initiative to have 250 donors establish endowed scholarship funds by the close of 2019. On Charter Day, President Philip J. Hanlon '77 announced that 265 donors had endowed scholarships of at least $100,000. These scholarships are adding more than $190 million to the Dartmouth endowment.
"One of the most enduring values of this institution is our belief in the power of a Dartmouth education and our resolve to open our doors to those who demonstrate an exceptional ability to think and learn, regardless of their family's ability to pay," said President Hanlon. "That was true on Charter Day 250 years ago, and it remains true today, as we recruit students from across the globe, offering need-blind financial aid to nearly half of all our students through more than 2,000 scholarships each year."
Remarkable Venues and Landmarks Glowing Green
From Boston and New York to Toronto and London, Dartmouth brought its 250th anniversary celebrations to many of the world's most famous venues, providing lively opportunities—for alumni, parents, and students—to learn about Dartmouth's past and plan for its future. During the past year, Dartmouth has hosted anniversary events at Lincoln Center, London's Guildhall, and Paisley Park in Minnesota.
While guests at the Charter Day celebration were enjoying themselves at the Kendall Square Skating Rink, nearby Boston City Hall glowed a bright Dartmouth green—the latest in a series of internationally recognized landmarks greenlit during the past year, including the Tower of London, the Empire State Building, Boathouse Row in Philadelphia, Lima's Torre Interbank building, Niagara Falls, Toronto's CN Tower, and Los Angeles City Hall.