Reunion Giving to Dartmouth College Fund Connects Alumni with Today's Students
Reunion tradition of class gifts keeps Dartmouth accessible for all students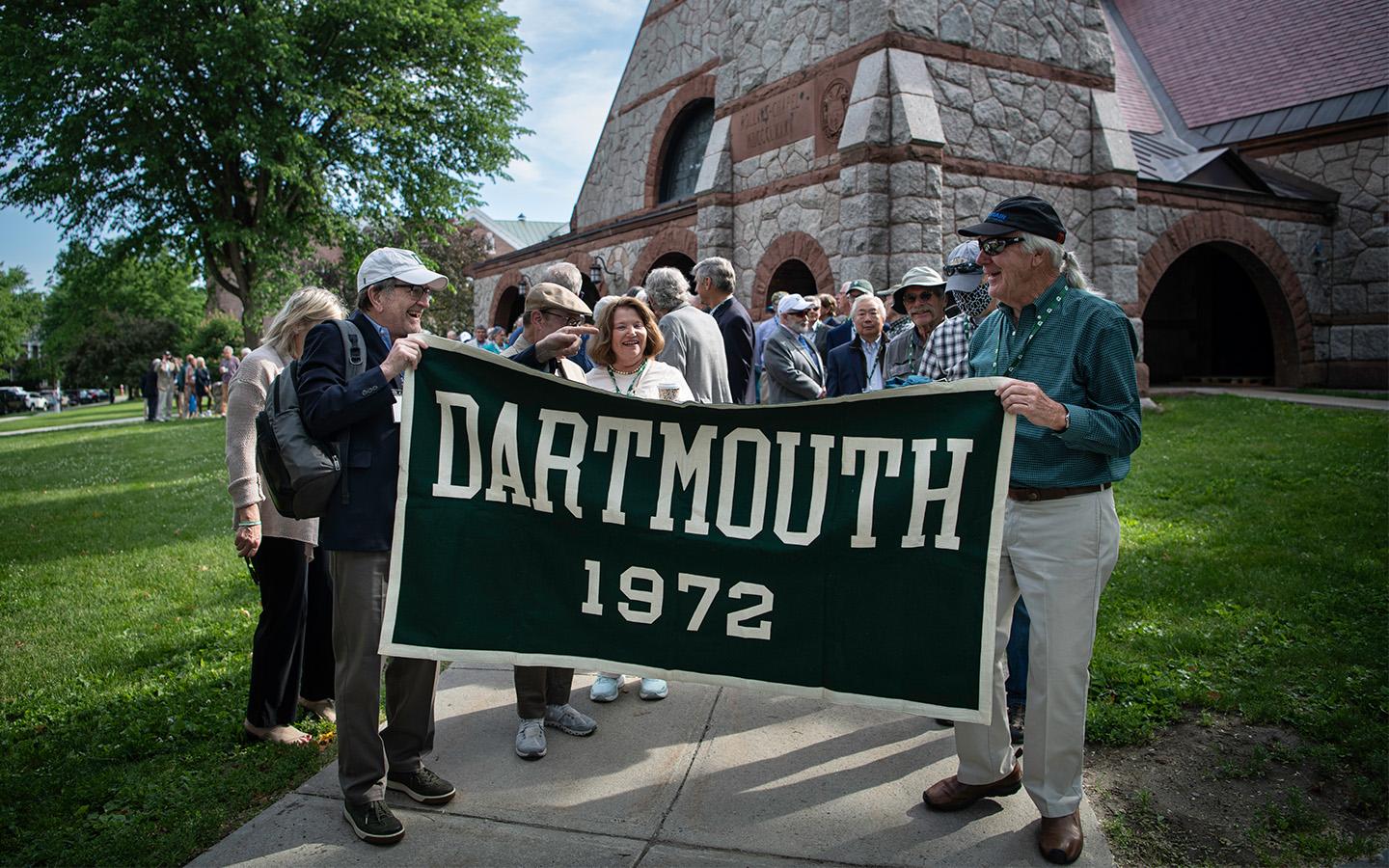 After a two-year hiatus due to the pandemic, on-campus class reunions are back on the calendar and alumni are renewing their Dartmouth connections in person.
Class gifts, an ongoing Reunion tradition, are again a big part of the conversation. These gifts can take many forms, but the most immediate may be the financial aid that is raised for students by alumni and channeled through the Dartmouth College Fund (DCF).
It's easy to underestimate the full collective impact that these gifts make each year—but it's impressive. There are typically 17 reunion classes each year, and in the 2021-22 fiscal year, these classes provided $20 million to the DCF for student financial aid, effectively supporting one-quarter of annual financial aid for all students.
Additional gifts (from individuals and non-Reunion classes) brought the DCF's annual total to approximately $43 million. All told, this supports about 1,000 students who rely on financial aid each year—or approximately half of all students who are receiving this aid.
In fiscal year 2021-22, reunion classes provided $20 million to the Dartmouth College Fund for student financial aid, effectively supporting one-quarter of annual financial aid for all students.
Head agents from each class year work with a DCF manager to recruit a team of volunteers who will keep fundraising efforts on track to meet their class's goals—usually measured as both dollars raised and the percentage of participating donors in the class. Some volunteers may focus on leadership gifts—larger amounts given by an individual class member, for instance—while others connect with their class through past shared experiences in student organizations, fraternities, sororities, or sports teams.
Over time, there can be generational differences in how individual classes interact and the motivations that make them give, agents say. Older alumni are motivated more by class solidarity and participation, while younger alumni, influenced by their recent time on campus, want to provide the same experiences they enjoyed for the incoming student class—including Green Key weekend, Sophomore Summer, and Senior Week.
Occasionally, challenges from alumni that match gifts dollar-for-dollar are offered to incentivize and raise the fundraising bar, and a playful sense of interclass competition adds a fun factor. The Dartmouth College Fund's annual Granite Challenge, which runs over the entire month of March, encompasses both, as 16 most recent classes vie with each other to win an additional $5,000–$10,000 to add to their fundraising bottom line for the year. Camp Granite, held on a Saturday during the challenge, brings together a mix of volunteers who call or text fellow alumni personally and encourage them to give.
The legacy of giving to Dartmouth begins even before graduation. Senior class gifts—a parting gift of thanks and appreciation to the College from graduating seniors—also help sustain financial aid. Seniors are encouraged to base the amount of their gift on their class year, so for a Class of 2022 senior the suggested gift is $20.22. All dollars raised by the senior class go to support incoming first-year student scholarships.