Campaign Achieves Two Major Milestones in Final Weeks
Unprecedented $500 million raised for student scholarships, future gifts
With just seven weeks remaining before The Call to Lead's conclusion, Dartmouth hosted the campaign's final major event in Hanover Tuesday for more than 300 faculty, staff, and students.
Give A Rouse Hanover: A Celebration
As part of the celebration, President Philip J. Hanlon '77 announced the attainment of two ambitious campaign priorities, reflecting the extraordinary support of Dartmouth's global community.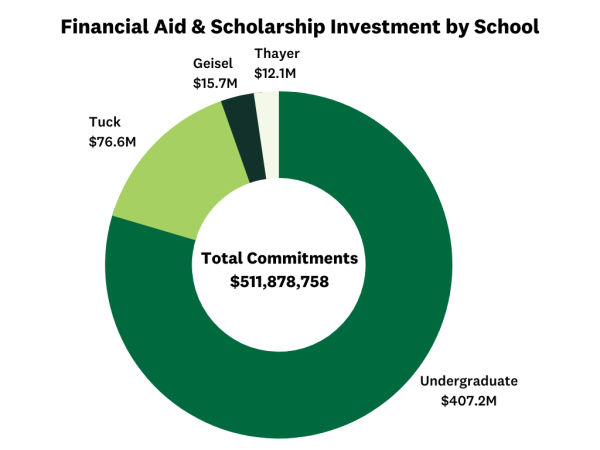 Over $500 Million Committed
President Hanlon stated that alumni, parents, and friends have together committed more than $500 million to fully transform the accessibility and competitiveness of Dartmouth's financial aid program, making it one of the premier programs in the nation. He also reported that alumni have documented more than $500 million in estate plans, seeding Dartmouth's financial strength for future generations of students.
Both accomplishments were achieved through the coordinated effort of hundreds of volunteers and staff across the College and the professional schools. Their work has resulted in more than 98,000 donors contributing nearly $3.65 billion in support of the community's shared vision for the campaign.
"This has enabled us to invest where it matters most—in talent, creativity, and leadership—and in so doing, amplify our collective impact on the world," said President Hanlon.

The Call to Lead campaign has touched nearly all aspects of Dartmouth's academic programming and student life experience. Campaign investments have: elevated the institution's teaching and research excellence, resulting in Dartmouth being named an R1 university under the Carnegie Classification of Institutions of Higher Education and invited to join the prestigious Association of American Universities; transformed the College's financial aid program through initiatives such as eliminating required loans from all financial aid awards; and added more than 500,000 square feet of academic, athletic, and student life space for learning and leadership development.
Tuesday's event was the last stop in the Give a Rouse! tour, as Dartmouth leaders have traveled across the U.S. and abroad to thank everyone who has participated in the campaign.
First photo: President Phil Hanlon '77, and deans Alexis Abramson '93a, Scott Brown '84, Duane Compton, Provost David Kotz, Elizabeth Smith '73a, and Matthew Slaughter.
Several members of The Call to Lead Campaign Executive Committee attended Tuesday's celebration, including Co-Chair Phil Loughlin '89, who thanked members of the campus community who have helped make the campaign an unprecedented success.
"Faculty, students, staff, and community members, you have been Dartmouth's most loyal champions and the greatest inspiration for the success of The Call to Lead," said Loughlin. "You are all what makes Dartmouth, Dartmouth."
Board of Trustees Chair Liz Cahill Lempres '83 TH'84 closed Tuesday's program by inviting leaders of the Class of 2023 senior class gift campaign and Executive Committee to join her on stage and thanking them for their support of the Dartmouth College Fund.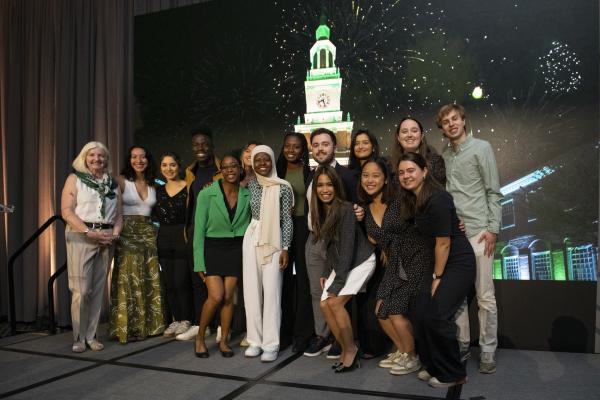 "In a few short weeks, the Class of 2023 will throw their caps in celebration, forever becoming part of the Dartmouth alumni family," said Lempres. "Like the classes who have come before them, they've expressed their gratitude to Dartmouth through the senior class gift, which directly supports financial aid for the incoming Class of 2027."
A transformative investment in financial aid
Dartmouth launched The Call to Lead campaign with an ambitious goal of securing $500 million in gifts for financial aid and scholarships to ensure Dartmouth could attract exceptional undergraduates and graduate students from across the globe, provide financial relief for middle-income families, and eliminate the burden of student loans.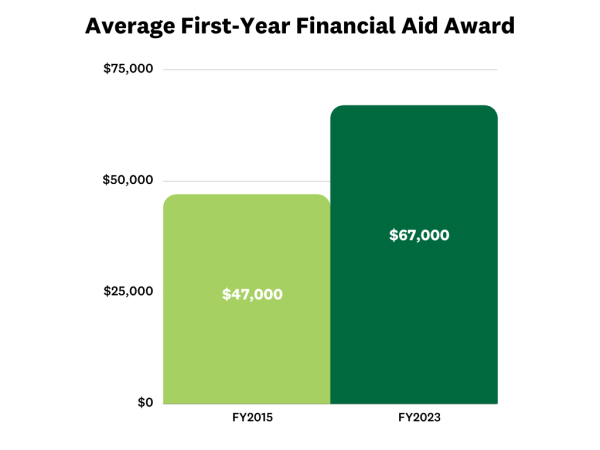 Dartmouth community members responded enthusiastically, with the establishment or expansion of 480 endowed scholarships, totaling more than $511 million. As a result of this historic investment, and coupled with annual giving to the Dartmouth College Fund, the average first-year undergraduate financial aid award has grown from $47,000 in fiscal 2015, the first year of the campaign, to more than $67,000 today. During the 2021–22 academic year, 47 percent of all undergraduates received need-based aid.
Associate Professor of Anthropology Zane Thayer '08, who was a financial aid recipient as a Dartmouth undergraduate, said the College's expanded financial aid program is helping all students develop important skills they will use throughout their lives.

She pointed to the example of seminar courses, where she encourages students to learn from one another's experiences. "With more diverse classes in recent years, there is greater variation in lived experiences and perspectives, which is important when discussing difficult, complicated subjects. Students gain more insight, understanding, and empathy through these conversations, and they're developing core skills that they'll use beyond their Dartmouth experience."
Giving to the endowment during The Call to Lead has specifically enabled Dartmouth to:
Become just one of seven U.S. institutions of higher education to offer need-blind admissions to all undergraduate applicants while meeting 100 percent of demonstrated need regardless of citizenship

Eliminate required undergraduate student loans by replacing them with expanded scholarship grants

Eliminate the parental contribution for families with annual incomes of $65,000 or less and typical assets

Extend financial aid support to undergraduates studying off campus, including terms abroad

Expand support for students in Dartmouth's professional and graduate schools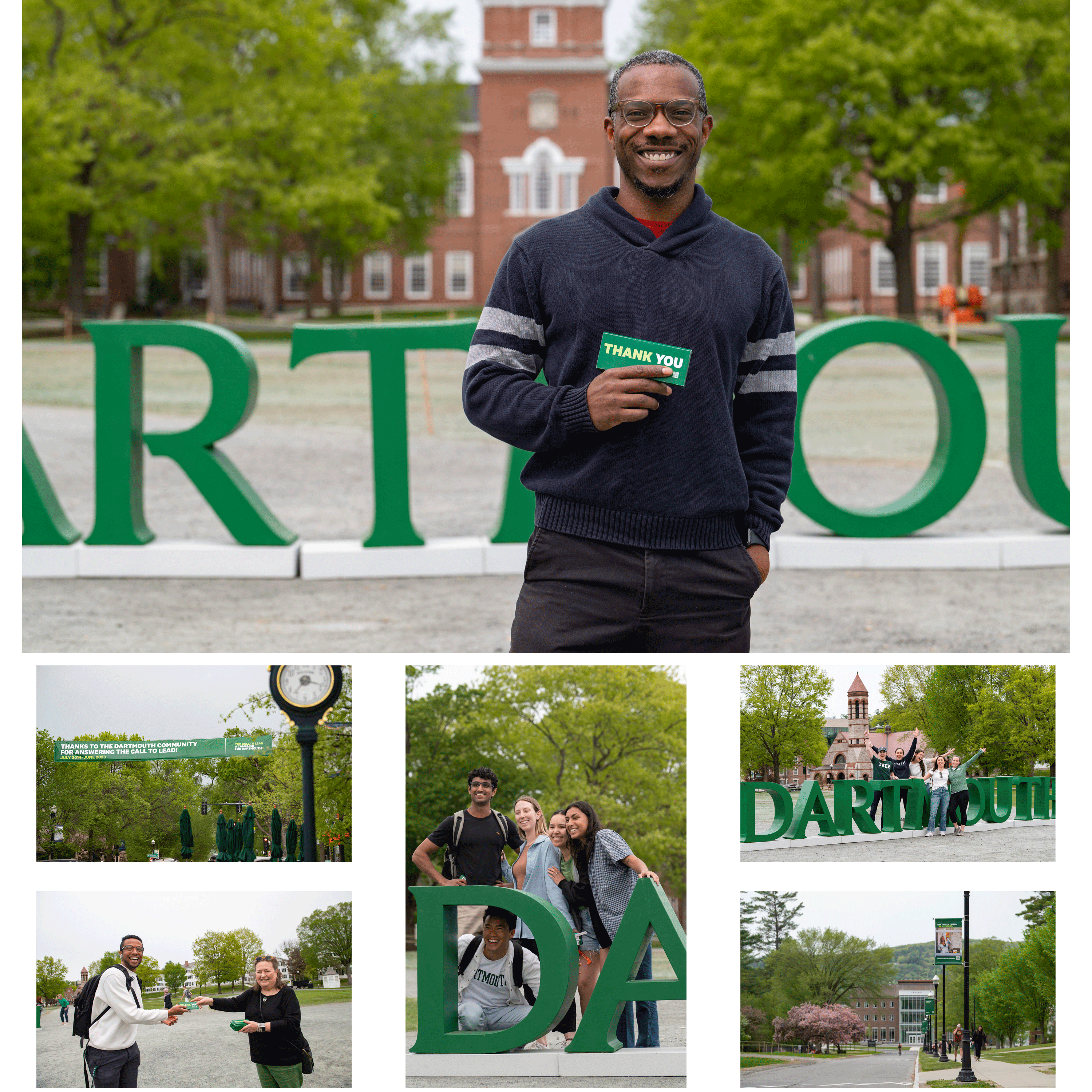 A celebration on the Green with "Thank You" candy bars to thank the Dartmouth community
Deferred acts of giving for future generations
Planned gifts—gifts through wills and estates that often are not realized until many decades after they have been pledged—are a deeply meaningful way for individuals to leave a legacy at Dartmouth and support faculty and students well into the future. Dartmouth has received more than 675 bequest pledges during the campaign, two-thirds of them unrestricted, totaling $503 million and representing alumni from the Class of 1938 through the Class of 2016.
"This is truly phenomenal news—we're talking about over $500 million for bequests and more than $500 million for endowed financial aid," said Trustee Caroline Kerr '05. "As I've been reflecting on the bequest news, I'm struck by how many of our young alumni have provided for Dartmouth in their estates. There's this perception that estate planning is something that people do later in life, but we're seeing younger alumni participating in the campaign this way."
Multiple estate-planning vehicles have made these gifts possible, including bequests, gift annuities, charitable remainder trusts, and beneficiary designations of retirement funds, life insurance, and donor advised funds.
Thanks for 10 years of leadership and what remains
Tuesday's program included a special expression of gratitude to President Hanlon, who is stepping down in June after a decade of service, and his wife Gail Gentes '77a, a member of the Campaign Executive Committee and a volunteer leader for several Upper Valley organizations.
"Phil and Gail, thank you for your leadership and inspiration, your kindness and courage," said Board of Trustees Chair Emerita Laurel J. Richie '81.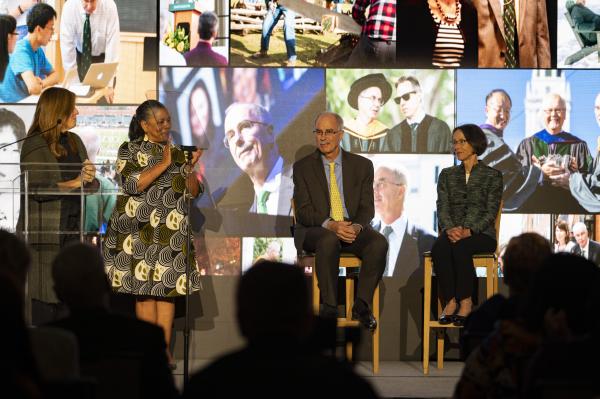 Members of the Dartmouth community still have time to participate in The Call to Lead campaign, which will conclude on June 30, 2023. Top remaining priorities include supporting the Dartmouth College Fund and the annual funds of the professional and graduate schools; student health and wellness; the Class of 1982 Engineering and Computer Science Center; and renovation of the Hopkins Center for the Arts.