The Call to Lead Give a Rouse Tour: Join the Celebration
Applaud campaign achievements to date and look ahead to what still needs to be done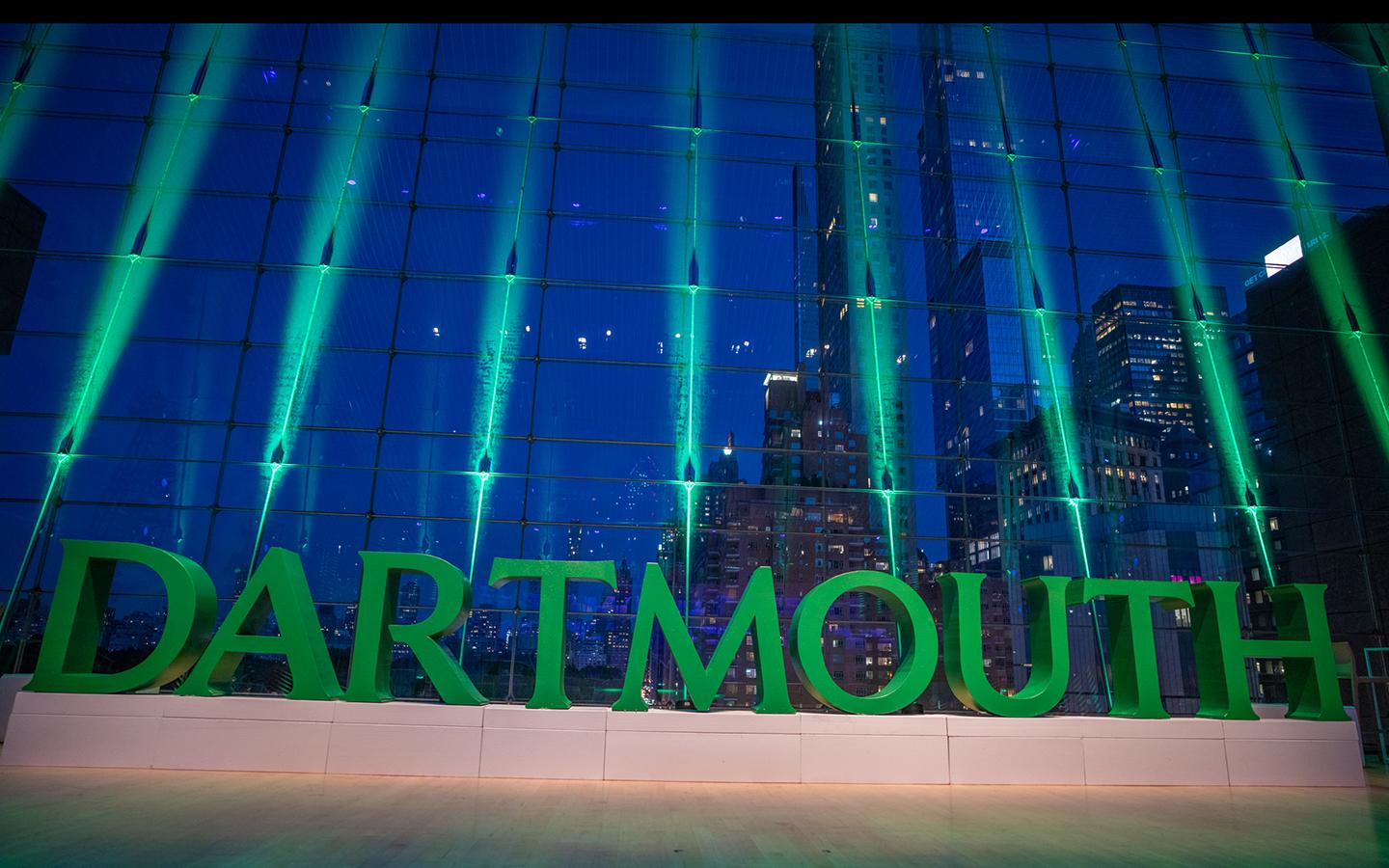 Dartmouth called. You answered. So let's give a rouse for you!
All members of the Dartmouth community are invited to gather with classmates and friends in a series of celebrations for The Call to Lead campaign.
Dartmouth launched the Give a Rouse tour in London and then brought the celebration to the the Dartmouth community nationwide with a series of effervescent evenings. Each event—at New York's Jazz at Lincoln Center, the Wang Theatre's Boch Center in Boston, the Warner Theatre in Washington, D.C., Moonlight Studios in Chicago, and August Hall in San Francisco—drew hundreds of alumni and friends of all ages. 
"Our success is measured not by funds raised but by lives changed and the impact we are having on the world."

-President Philip J. Hanlon '77
As the record-setting campaign enters its homestretch, each stop on the Give a Rouse tour provides a lively evening of insights into the myriad ways The Call to Lead has advanced Dartmouth's mission and what remains to be done. Top priorities for the campaign's final months include endowed undergraduate scholarships, expansion and renovation of the Hopkins Center for the Arts, and final fundraising for the Class of 1982 Engineering and Computer Science Center.
Each celebration is an opportunity for President Philip J. Hanlon '77 and campaign leaders to thank everyone who has helped make The Call to Lead an unprecedented success. Giving through the campaign has expanded learning experiences for students, enriched campus life, furthered faculty and student research, and erased financial barriers to attend Dartmouth.
"As proud as I am of what we've achieved over the past decade, I'm equally proud of how we achieved it—by bringing the Big Green together under the biggest tent possible. We wanted each member of our community to know their power as an individual to help shape and elevate their alma mater," said President Hanlon at the New York celebration. "We learned that when the Dartmouth family comes together, we are unstoppable."
Dartmouth is on the threshold of notching a campaign achievement no other college or university has accomplished: receiving more than $3 billion in gift commitments with 60 percent undergraduate alumni participation. Gifts from just 300 more alumni will put the campaign over the 60 percent participation mark.
The Give a Rouse celebrations also provide community members with a chance to thank President Hanlon for leadership as Dartmouth's 18th president and his commitment to Dartmouth's famed teacher-scholarship model of a liberal arts education, which is at the heart of the campaign.
"Our students graduate with the skills, flexibility, and hunger to live lives of ethical action."

-Elizabeth Smith, Dean, Faculty of Arts and Sciences
Board of Trustees Chair Emerita Laurel Richie '81 praised President Hanlon for raising Dartmouth's academic profile during the past decade while limiting tuition increases to their most modest levels since the 1970s. His greatest achievement, she said, may be the changes he has brought to the campus community.
"The initiatives and investments his administration has made to attract the highest level of talent to our campus, to improve the campus culture, and to create a more diverse, equitable, and inclusive community for faculty, staff, and students  will benefit all of Dartmouth for generations to come," said Richie.
Give a Rouse Celebrations
Join in on the fun by sharing event photos—be sure to use the hashtag #DartmouthLeads!