The Call to Lead Campaign Co-Chairs Awarded Presidential Commendation for Distinguished Service
President Hanlon honors eight alumni and parents for exceptional leadership and service to Dartmouth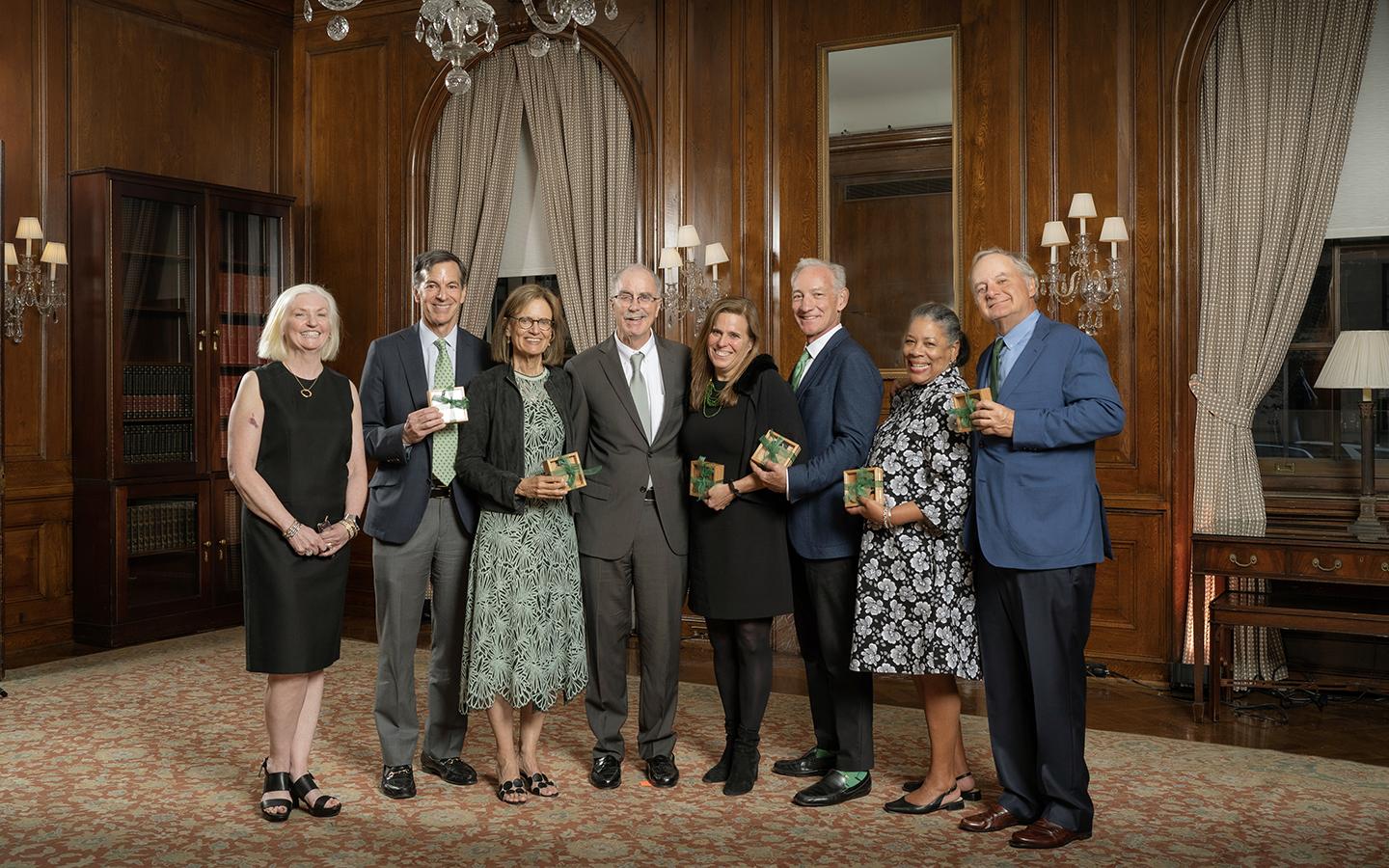 President Philip J. Hanlon '77 has honored the eight co-chairs of The Call to Lead campaign with a first-of-its-kind award, as the record-breaking campaign has exceeded expectations and expanded Dartmouth's global reputation and impact.  
The Presidential Commendation for Distinguished Service, commissioned by President Hanlon, recognizes the highest leadership and service to Dartmouth. At a Tuesday evening gathering of volunteer leaders in New York, President Hanlon presented a specially made bronze medallion to each of the eight Campaign Executive Committee co-chairs: Richard Kimball '78, Elizabeth Mahoney Loughlin '89, Philip Loughlin IV '89, Gregory Maffei '82, Sharon Maffei, Laurel Richie '81, Peggy Epstein Tanner '79, and David Tanner.
"Eight years ago, when we set goals for The Call to Lead, the outcome wasn't so clear. But the remarkable group of individuals standing here committed that we would take this campaign journey together," said President Hanlon Tuesday evening as he prepared to present the medallions. "In just 60 days, Dartmouth will complete the most extraordinary capital campaign in its history, which I'm thrilled to announce has now crossed the $3.6 billion mark and continues to rise."
"Every generation of the Dartmouth family commits to leaving the institution better and stronger than the last. And so Dartmouth is lifted up each day by the generosity and sacrifice of alumni and parent volunteers. Those assembled here on the stage have been true leaders in that effort."
One side of the medallion presented to the co-chairs is modelled after the bicentennial medallion struck in 1969. Its design features the Lone Pine, a traditional gathering place on campus and a symbol of Dartmouth's history and traditions. The reverse side features the College's motto, Vox Clamantis in Deserto, a call to action in the campaign, and the tower of Dartmouth Hall, which was completely renovated during the campaign through a landmark act of collective giving by Dartmouth alumnae.
The Impact of Strong Leadership
The campaign co-chairs organized a worldwide philanthropic enterprise with 150 campaign leaders, representing each school at Dartmouth, who mobilized and inspired alumni, parents, and friends across the globe. The committee's efforts have resulted in unparalleled achievements for the institution. More than 90,000 members of the Dartmouth community have made gifts and pledges through the campaign.
The Campaign Executive Committee designed The Call to Lead to be ambitious in dollars raised but equally broad and welcoming. The co-chairs have welcomed grassroots campaign fundraising efforts as classes and alumni affinity groups embraced various campaign priorities.
The Call to Lead campaign has touched nearly all aspects of Dartmouth's academic programming and student life experience. Campaign investments have: elevated the institution's teaching and research excellence, resulting in Dartmouth being named an R1 university under the Carnegie Classification of Institutions of Higher Education and invited to join the prestigious Association of American Universities; transformed the College's financial aid program through initiatives such as eliminating required loans from all financial aid awards and extending need-blind admissions to international students; and added more than 500,000 square feet of academic, athletic, and student life space for learning and leadership development.
Members of the Campaign Executive Committee are committed to rallying support for the remaining campaign priorities. The Call to Lead will conclude on June 30.
Image: Board of Trustees Chair Liz Cahill Lempres '83 TH'84, left, and President Philip J. Hanlon '77, center, join six co-chairs of The Call to Lead campaign, who received the Presidential Commendation for Distinguished Service Tuesday in New York. The co-chairs are, from left: David Tanner, Trustee Emerita Peggy Epstein Tanner '79, Trustee Elizabeth Mahoney Loughlin '89, Trustee Emeritus Gregory Maffei '82, Board of Trustees Chair Emerita Laurel J. Richie '81, and Trustee Emeritus Richard Kimball '78.