The Bigger, Bolder Hood Opens in January
The reimagined Hood affirms its position as one of the world's finest teaching museums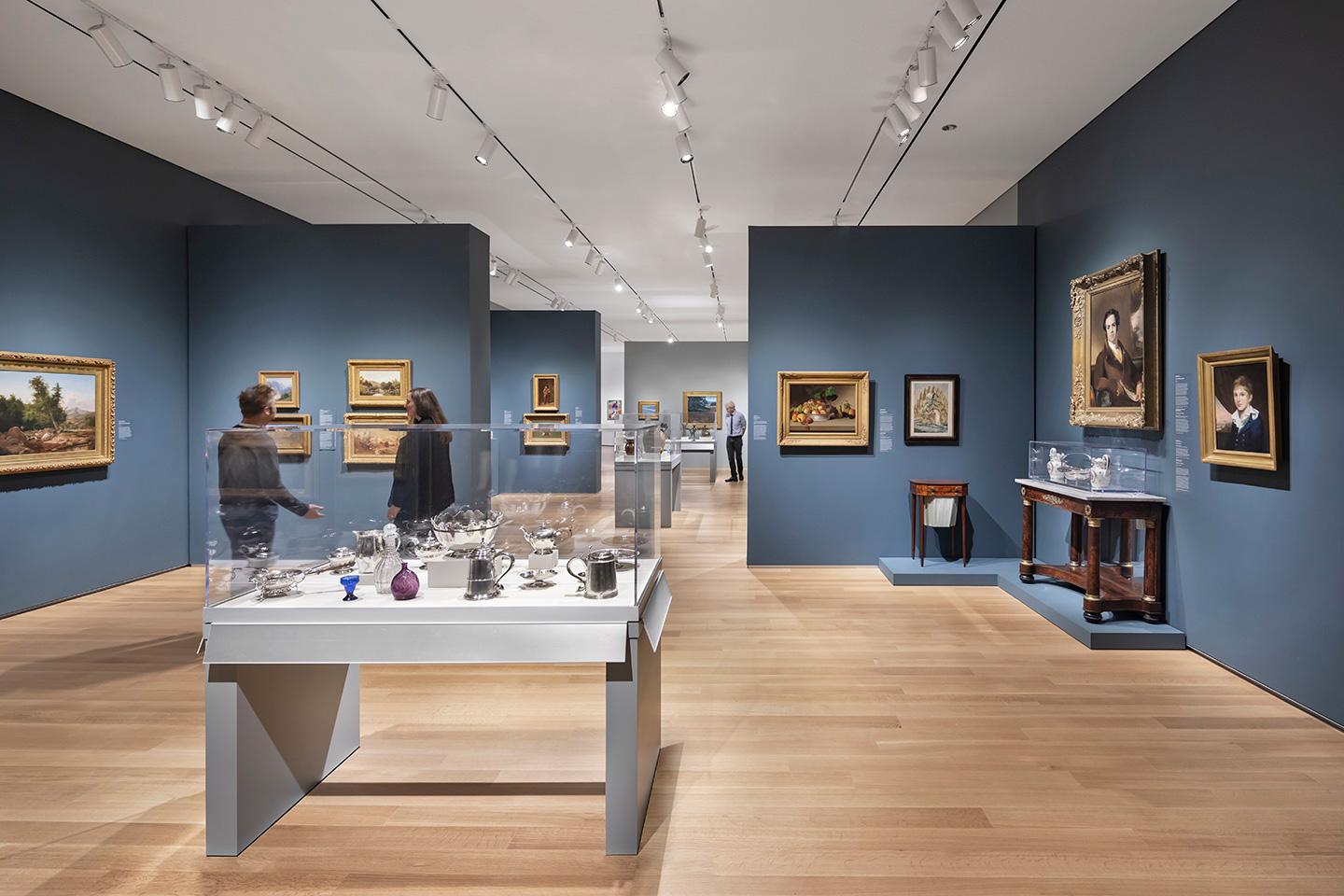 The renovated and expanded Hood Museum of Art will reopen to the public in January—and everyone in the Dartmouth community is invited to come and explore.
Designed by acclaimed architects Billie Tsien and Tod Williams, the $50 million expansion is one of the first physical manifestations of The Call to Lead campaign. Featuring three new classrooms for studying art objects and 40 percent more gallery space, the larger museum robustly advances Dartmouth's distinctive teacher-scholar model of education.
With the Hood now prominently visible from the Green, the expanded museum proclaims Dartmouth's commitment to the fine arts. More faculty and students than ever before will be able to use the Hood's collections for teaching and learning.
In addition, the museum's new atrium will be open to students every day, from 6 a.m. to midnight, which will weave the Hood more tightly into the fabric of campus life.
"The new Hood will offer opportunities for experiential learning on a very large scale," says John Stomberg, the Virginia Rice Kelsey 1961s Director. "We've been exceptionally good at teaching with objects for 30 years, but on a pretty small scale. We're now set up to embrace the entire campus. Every faculty member on campus will be able to come in and use the Hood's collection. I hope that we become the poster child for experiential learning."
The Hood will open to the public on January 26, 2019. Visit  hoodmuseum.dartmouth.edu to learn more.
A sampling of observations from members of the Dartmouth community who have seen the Hood's new spaces:
---
"Tod and Billie did an exemplary job of appreciating the legacy Charles Moore structure while also transforming the museum into an integrated and enhanced building capable of fulfilling the Hood's mission-critical pedagogical and exhibition objectives."
JEFF CITRIN '80
Co-Chair, Board of Advisors
---
"The museum is no longer hidden. It now sits prominently on the Green. It's also an avenue from the Maffei Arts Plaza up to the Green. The museum will be a well-trafficked part of campus, meaning people who might otherwise not have found their way to the museum might well come through the building."
DANIEL BERNSTEIN '87
Co-Chair, Board of Advisors
---
"The new Hood signals, 'Come, walk in my doors.' The way that it's facing the Green, and really welcoming the community—the wider New Hampshire community as well as Dartmouth students, faculty, parents, and alumni—is going to be transformative."
MEGAN FONTANELLA '04
Curator, Modern Art and Provenance, Solomon R. Guggenheim Museum
Former Class of 1954 Curatorial Intern
---
"I'm really glad to see so much art from different cultures here, including a big focus on Native American art. We have a wonderful Aboriginal art collection, and we're focusing heavily on global contemporary art—so there are many different voices."
GEORGINA TUGWELL RUSSO '77
Member, Board of Advisors
---
"To stand in that gallery and look around and see works by Rothko, Scully, Ruscha, and Stella made me realize the incredible power of the Hood's collection."
JONATHAN COHEN '60 TU'61
Former Chairman, Board of Advisors
photo by:Michael Moran