Arts and Sciences Faculty Receive $10 Million to Foster Early-Career Research
Announcements at Washington, D.C. event include Sherman Fairchild Foundation grant supporting teacher-scholars; Rockefeller Center reaching campaign milestone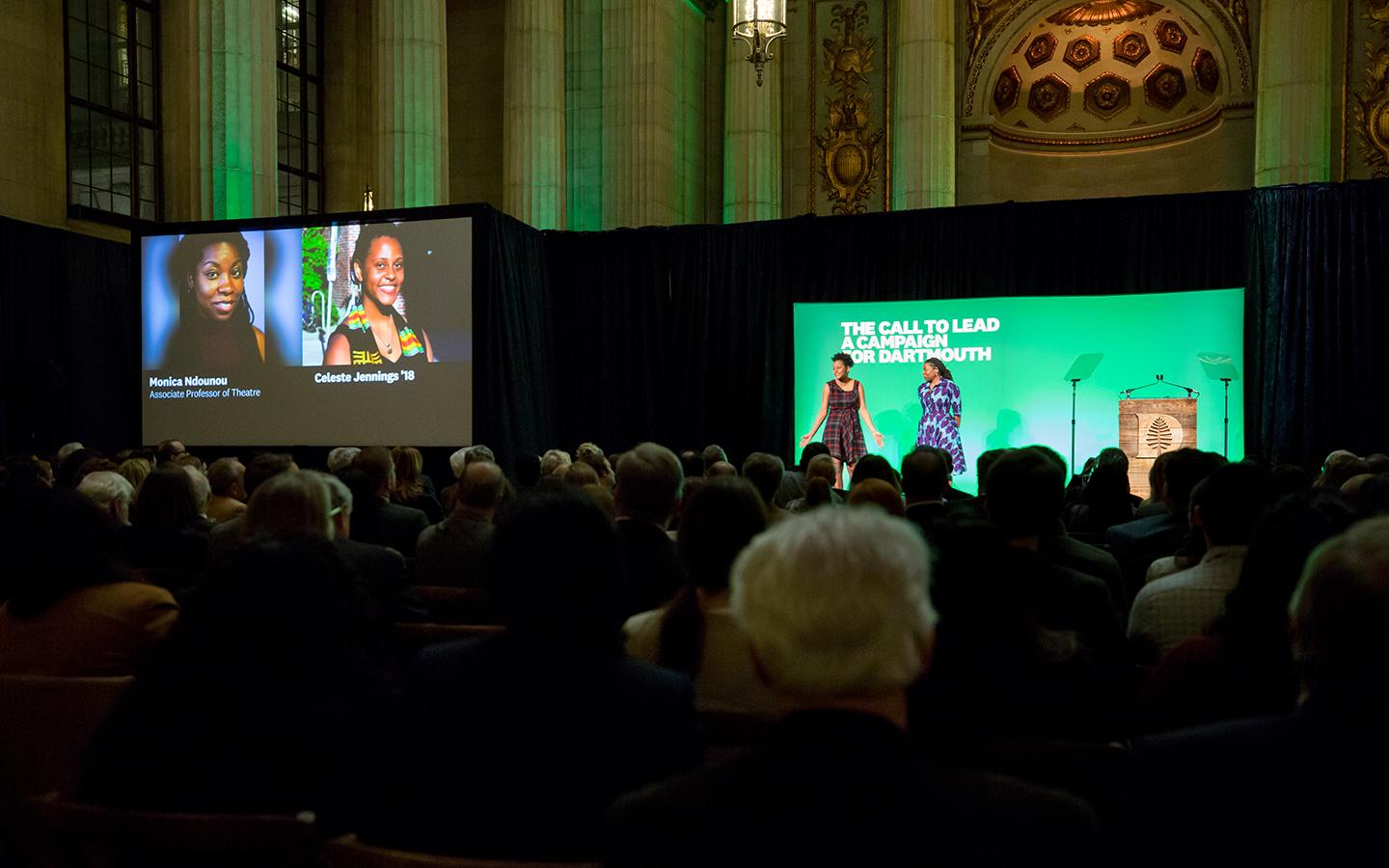 Dartmouth has announced a $10 million commitment from the Sherman Fairchild Foundation to bolster the College's efforts to recruit, nurture, and retain early-career faculty who will become world-class scholars—a major step toward the goal of becoming the unparalleled leader in undergraduate liberal arts education.
"This gift will strengthen our ability to compete for highly sought-after scholars," President Philip J. Hanlon '77 said Tuesday in Washington, D.C. "Specifically, it will enhance the Burke Research Initiation program, which provides awards to junior faculty in the early stages of their careers, and establish a new endowment for high-potential faculty recruits."
President Hanlon announced the gift to a crowd of some 400 alumni, parents, and friends at an event celebrating Dartmouth's 250th anniversary and The Call to Lead: a Campaign for Dartmouth.
More than 400 Dartmouth faculty members have benefitted from the Burke program since 1987. The new $10 million grant will enhance the program in two ways: $5 million for the College's existing fund, which will raise the total award to a recipient to $30,000; and $5 million to establish a new endowment to recruit sought-after faculty in the arts and sciences.
Faculty members note the importance of the program in their own work and for Dartmouth as a whole.
"The Burke Award made a huge difference in the early stages of my career, helping me to travel to archives, attend conferences to present my work, and take part in a larger scholarly discussion," said Barbara Will, the A. and R. Newbury Professor of English and associate dean for the Faculty of Arts and Humanities.
"To this day, I can see how crucial the support of the Burke Award is to young faculty scholars, allowing them freedom to not worry about their resources and to stay focused on producing scholarship of the highest quality."
"This gift will strengthen our ability to compete for highly sought-after scholars."
- President Philip J. Hanlon '77
Decades of Supporting Dartmouth
The Sherman Fairchild Foundation and its late president, Walter Burke '44, chairman emeritus of the Dartmouth Board of Trustees, have been among Dartmouth's most generous supporters for decades. In addition to the Burke Research Initiation Award, the foundation's wide-ranging philanthropy has included the lead gifts for the Sherman Fairchild Physical Sciences Center, the Burke Laboratory, and the Sherman Fairchild Distinguished Professorships in Emerging Fields. 
Walter Burke and his widow, Constance, also supported Dartmouth's Faculty of Arts and Sciences, the Hood Museum of Art, the Class of 1978 Life Sciences Center, and the Nelson A. Rockefeller Center for Public Policy and the Social Sciences.
Alumni at Tuesday's gathering responded enthusiastically to the announcement.
"What's really exciting about this gift is that it will help Dartmouth bring in great young faculty members with new ideas," said Nicole Cannizzaro '07, who lives in Washington, D.C.
"We all know that Dartmouth is a special, magical place, but faculty are also receiving offers from other institutions. This will help show that Dartmouth really has more to offer."
Rockefeller Center Reaches $8 Million Goal
Also at the event, President Hanlon noted that the Nelson A. Rockefeller Center for Public Policy and the Social Sciences has reached its $8 million fundraising goal through The Call to Lead campaign. 
"Ever since it was established in 1983, Rocky has been giving students unprecedented opportunities for civic engagement and leadership," President Hanlon said. "In fact, we've got several students in the audience tonight who are doing Rocky-sponsored internships here in D.C., and I know they'll tell you that their experiences have been transformative."
Funds raised through the campaign will support the Rockefeller Center's three signature programs, which provide students with hands-on experiential learning opportunities in the public policy realm and help cultivate the next generation of citizen leaders. Through the Rockefeller Center, Dartmouth students engage with agencies such as the National Science Foundation and Brookings Institute; mentorships with Dartmouth alumni in government and public service; and intensive policy research projects with local and state legislatures in Vermont and New Hampshire.
 
President Hanlon also shared a new plan to raise $90 million to support scholarships for international students, which would allow Dartmouth to extend need-blind admissions to students from around the world. 
To launch the initiative, an anonymous donor has made an initial commitment of $500,000. On top of that, the Black Heart Foundation, a UK-based organization that supports educational access for students around the world, has initiated a $500,000, dollar-for-dollar match. Gifts of any size to the International Student Scholarship Fund will be doubled until the $500,000 match is fully activated.  
Graduates Describe Transformative Projects
In addition to reports on campaign progress—The Call to Lead has so far raised $1.93 billion of its $3 billion goal—the audience heard from two recent graduates and their professors about their transformative work at Dartmouth.
Celeste Jennings '18, along with associate professor of theater Monica Ndounou, discussed Jennings' experience designing costumes for theatrical productions, writing her own play, composing poetry, and learning from faculty members as well as professional artists. 
"I came to Dartmouth as a studio art student, but I never thought I could actually make a living as an artist after graduation," Jennings said. "Thanks to the endless support of Professor Ndounou and the other professors, I'm currently working as both a costume designer and playwright."
Charlotte Blatt '18, joined by assistant professor of government Jeffrey Friedman, discussed a paper she wrote on the U.S. military surge in Iraq in 2007. Her analysis eventually was published in Parameters, the top peer-reviewed journal of the U. S. Army War College. 
"Working on the Parameters paper shaped both my Dartmouth experience and my future career," Blatt said. "It led directly to my senior honors thesis, helping me to understand how to take ideas and put them into publishable form. I'm more committed than ever to a career in foreign policy and national security, and working on this paper gave me a huge head start toward that goal."
The next Dartmouth 250th anniversary and campaign celebration will be in New York City on April 2. Learn more and register for upcoming campaign events.