Alumni and Parent Leaders Honor Hanlon Presidential Legacy
Gifts of $32 million create Hanlon Scholars Program to attract undergraduates committed to making positive global change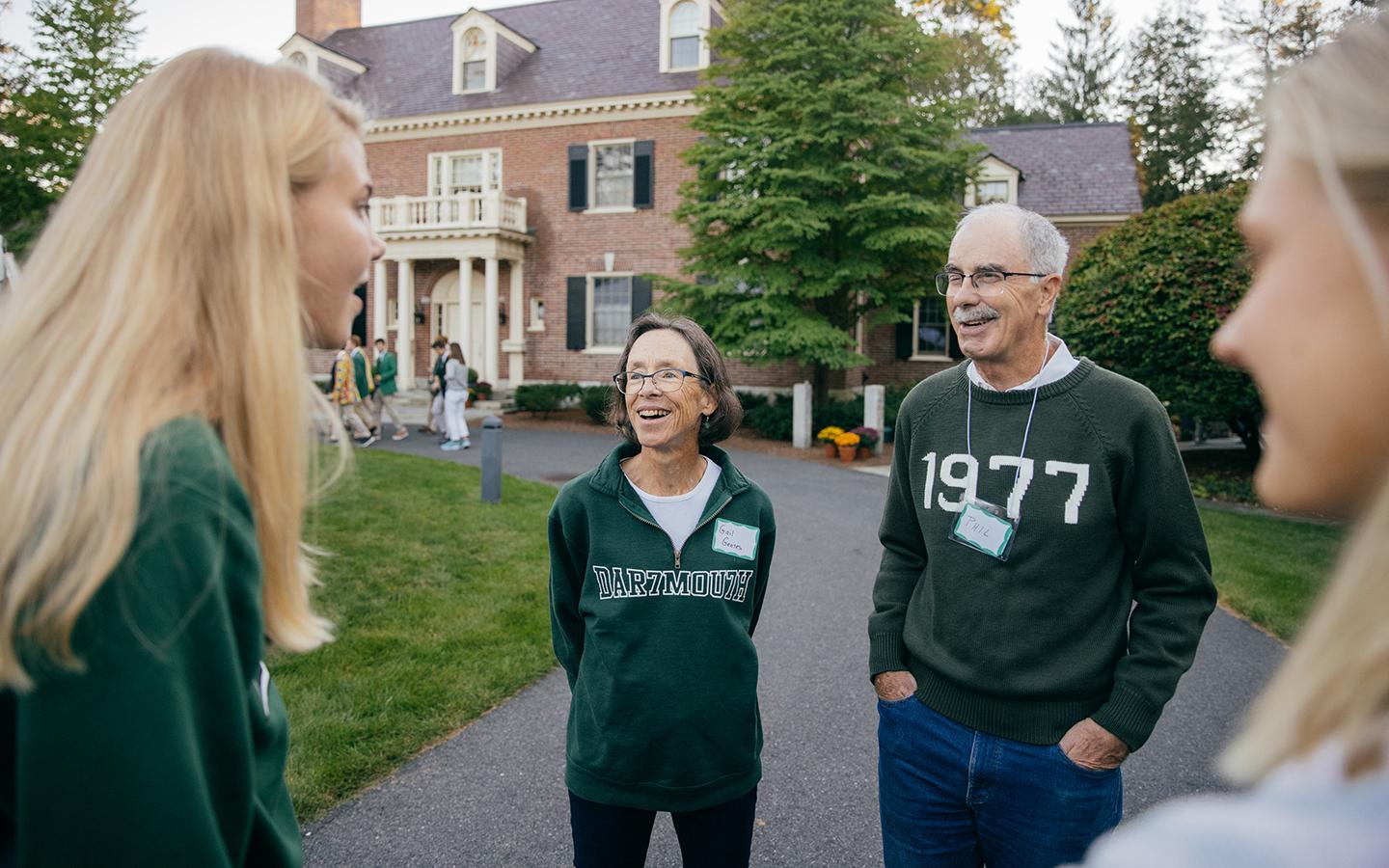 Dartmouth will launch an innovative scholars program to honor President Philip J. Hanlon '77, who is stepping down in June after a decade of leadership. The program, aimed at empowering undergraduate ideas and initiative to make positive change in society, will roll out over the next year and select its first class of scholars from applicants to the Class of 2028.
Board of Trustees Chair Emeritus Steve Mandel '78 made the surprise announcement at a gathering of Dartmouth leaders in New York City Tuesday evening. More than 100 alumni and parent volunteers who have served alongside President Hanlon and his wife Gail M. Gentes '77a over the past 10 years have made gifts to establish the Philip J. Hanlon '77 Scholars Program, including current and past trustees, members of The Call to Lead campaign leadership committees, and the President's Leadership Council.
Bringing the most talented students and faculty to Hanover was always Phil's number one objective.
"Phil and Gail have accomplished so much for Dartmouth over the past decade," says Mandel. "Bringing the most talented students and faculty to Hanover was always Phil's number one objective. The launching of this scholars program named in his honor helps fulfill that goal, providing a curated four-year experience to attract top students and equip them with the knowledge and tools to positively impact the world. It has been gratifying to see so many people rally to support the Hanlon Scholars Program. Their response speaks volumes about what Phil and Gail have meant to Dartmouth."
Attracting students committed to positive social change
The Hanlon Scholars Program aims to attract exceptional undergraduates who demonstrate a vigorous commitment to driving meaningful societal change. The program is designed to empower their idealism and initiative within a peer cohort of eight scholars per entering class, for a total of 32 students, through programming and rigorous research experiences across their undergraduate years. All Hanlon Scholars will work closely with faculty advisors and the program director to develop the confidence and skills to think independently and initiate their own solutions to challenges at the community, national, and international levels.
Dartmouth will promote the Hanlon Scholars Program globally to attract academically distinguished students who exemplify Dartmouth's commitment to leadership and service. Candidates accepted into the program will be named Hanlon Scholars upon admission.
Experiential learning grants named in honor of Gail M. Gentes '77a
A key feature of the program will offer all participating students experiential learning grants to pursue their ideas during each of their undergraduate years. These grants will be named for Gentes, a champion of experiential learning, and will empower Hanlon Scholars to pursue hands-on learning through research, internships, and independent creative or entrepreneurial ventures. Research opportunities will be offered across the university wherever undergraduates are able to participate, including the Geisel School of Medicine, Thayer School of Engineering, and Tuck School of Business, as well as with members of the Faculty of Arts and Sciences.
"The Hanlon Scholars Program will provide undergraduates with the opportunity to participate in boundary-pushing research alongside our acclaimed faculty," says Dean of the Faculty of Arts and Sciences Elizabeth F. Smith. "We know that the sustained practice of independent research is one of the best avenues for experiential learning. I can't wait to see what these young scholars discover over the coming decades."
Aligning with Dartmouth's commitment to need-blind scholarships
Consistent with College policy, selection to the Hanlon Scholars Program is need-blind. All scholars who demonstrate financial need will receive scholarship support for all four years. Cohort programming and individual grants for travel, research, internships, and other learning experiences will be available to all scholars, whether they receive financial aid or not.
Mandel led the initiative with current Board of Trustees Chair Liz Cahill Lempres '83 TH'84, Bill Helman '80, Dave Hodgson '78, Rick Kimball '78; Ellie Mahoney Loughlin '89; Greg Maffei '82, Laurel J. Richie '81, and Peggy Epstein Tanner '79. To date, gifts to the scholars program exceed $32 million. Its endowment will fund undergraduate financial aid scholarships, research stipends and experiential learning grants, internships, travel for scholars, and a faculty program director's position within the Office of Undergraduate Advising and Research.
President Hanlon's legacy and the success of The Call to Lead
Establishment of the scholars program is a fitting tribute to President Hanlon, who has placed academic excellence and societal impact squarely at the heart of The Call to Lead, the most successful campaign in Dartmouth's 253-year history. The Call to Lead has made strategic investments across the university to promote leadership at two scales: preparing students for lives of impact and expanding the institution's global reach. Dartmouth publicly launched the campaign in 2018 with a $3 billion fundraising target. Alumni, families, and friends have committed more than $3.6 billion to date, with two months remaining before the campaign's June 30 conclusion.
"Hanlon Scholars and its programming adds another exciting opportunity to showcase Dartmouth's experiential liberal arts curriculum to high-achieving students around the world," says Lee Coffin, vice provost for enrollment and dean of admissions and financial aid. "As president, Phil Hanlon has often referred to the College as 'a magnet for talent,' and this new scholarship in his honor is a tangible representation of that idea."
Anyone wishing to express their gratitude for President Hanlon's service to Dartmouth may make a gift toward the financial aid scholarship portion of the program.